Great weather, natural beauty and plentiful places to play (indoor and out) are just three things that make Orlando a lovely place live. Yes, locals hit theme parks from time time -- those discounted Florida resident passes make it easy -- but there are a zillion other things do in aptly nicknamed City Beautiful.
Neighborhoods
Lake Eola: In heart downtown Orlando is pretty Lake Eola, surrounded high-rise apartments and quaint bungalows Thornton Park. Stroll paved one-mile loop around lake, feed swans, or pedal out fountain on a boat. weekly Sunday farmer's market offers local vendors and live music in an alfresco beer garden.
Mills 50: Mills Avenue between Route 50 (Colonial Drive) and Virginia Drive is Orlando's hipster main street. Wander landscaped tropical grounds Harry P. Leu Gardens (1920 N. Forest Avenue), grab Latin-influenced barbecue at Pig Floyd's Urban Barbakoa (1326 N. Mills Avenue), or sing along with lip-syncing drag queens at Divas Dinner Theater (924 N. Mills Avenue). Late night means indie bands at Will's Pub (1042 N. Mills Avenue).
This New Urbanist lakefront enclave was originally built with its executive employees in mind. Stroll paths and trails around lake before grabbing a sidewalk table for drinks and dinner in charming "downtown" that recalls an upscale Mayberry more than anything Mouse.
Dr. Phillips: This neighborhood's location, halfway between theme park region and downtown, makes it a convenient meeting spot for locals and visitors alike. There's a slew dining options on Restaurant Row, ranging from casual high-end, upping appeal.
Winter Park: No place in Central Florida is more charming than town Winter Park, just Orlando. Bookended Rollins College, city and its cobblestone streets are lined with shops and restaurants, quaint central park is filled with stately live oaks and beckoning wooden benches, and weekly farmer's market draws region's best artisanal producers.
Where Eat
Prato: Chef Brandon McGlamery brings Italy to Park Avenue, with tasty pizzas cooked in a wood-fired oven imported from Naples and an ever-changing menu handmade pastas and creative seasonal appetizers sourced from local producers. (124 N Park Avenue, Winter Park)
Columbia: This Cuban-Spanish restaurant opened its original outpost in Tampa's Ybor City in 1905, catering Latin cigar rollers who wanted a taste home. menu hasn't changed much, evidence 1905 salad, seafood-filled paella and tasty sangria. (649 Front Street, )
Hawkers Asian Street Fare: This hip eatery in Mills 50 District showcases various Southeast Asian cuisines in shareable plates. Don't miss roti canai, a fluffy Malaysian flatbread served with an addictive curry dipping sauce. (1103 N Mills Avenue, Orlando)
Cask and Larder: This "Southern Public House" shows Florida's rural roots, with homey dishes like hush puppies, catfish po' boys and a southern picnic with smoked pork shoulder, ham biscuits and fried pickles, all washed down with local beer brewed onsite. (565 West Fairbanks Avenue, Winter Park)
4 Rivers Smokehouse: Dig into juicy pulled pork, smoked chicken or Louis-style ribs, topped with restaurant's own tomato-based sweet or spicy sauce and paired with sides like hopping john and mac 'n' cheese. Founded in East Orlando, this popular local chain has now spread to nine outposts throughout Central Florida. (1600 West Fairbanks Avenue, Winter Park)
Santiago's Bodega: Orlando's hottest neighborhood is Lake Ivanhoe District, due in no part this funky Mediterranean-style tapas restaurant, sister original in Key We (802 Virginia Drive, Orlando)
deep blu seafood grille: This elegant restaurant, tucked inside Wyndham in Bonnet Creek, is one Orlando's best-kept dining secrets, with fresh seafood and authentic crab cakes that would please a Chesapeake Bay sailor. (14651 Chelonia Parkway, Wyndham Orlando Resort, Orlando)
Where Drink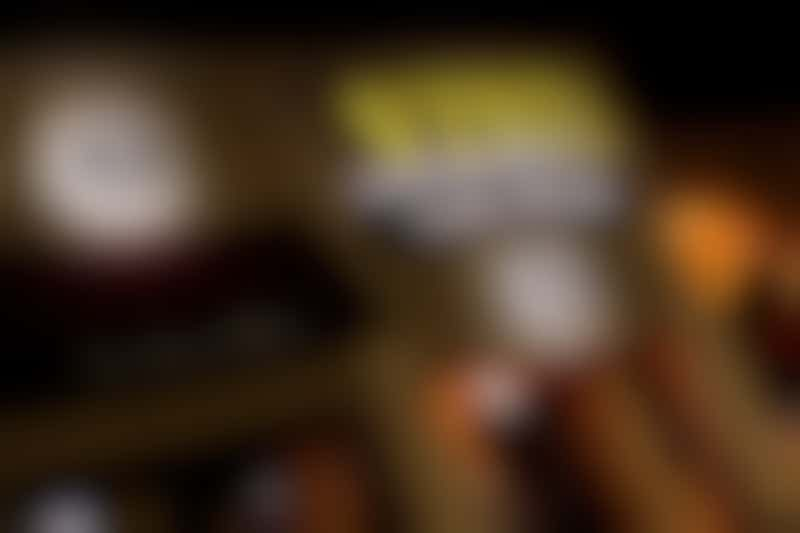 Vines Grille and Wine Bar (photo: Vines Grille and Wine Bar)
Courtesy: Creativity reigns at this downtown craft cocktail bar, where -batch spirits are combined with herbs and elixirs mixed onsite. (114 N Orange Avenue, Orlando)
Redlight Redlight Beer Parlour: This converted warehouse-turned-bar has a rotating selection well-curated drafts, 250 bottles, and wine and mead boot. bartenders are generous with tastings and education for craft-brew neophytes. (2810 Corrinne Drive, Orlando)
Vines Grille and Wine Bar: This popular spot on Restaurant Row wins raves for its wine list, as well as live music, which is a rarity in this part town. (7533 W Sand Lake Road, Orlando)
Bosendorfer Lounge: Set in Bohemian Hotel downtown, this elegant spot features live weekend jazz, plates and tasty cocktails. It's a great outing paired with a performance at neighboring Dr. Phillips Center for Performing Arts. (325 S. Orange Avenue, Orlando)
Where Shop
Artegon Marketplace: Part redevelopment Drive, Artegon Marketplace focuses on independent artisans, with 165 shops and stalls selling everything from art and jewelry handmade soaps. (5250 Drive, Orlando)
Park Avenue Shopping District: Winter Park's cobblestone main street is lined with a cute array unique shops. Pick up latest in chic fashions and accessories at well-curated Tuni (301 South Park Avenue), taste your way through more than 55 varietals extra- oils and balsamic vinegars at Ancient Olive (324 Park Avenue), or catch a reading from a Florida author at Writer's Block Bookshop (124 Welbourne Avenue).
Where Have Fun and Get Active
Gatorland: Opened in 1949, family-owned Gatorland is Orlando's original theme park. It's equal parts kitschy (yes, there's gator wrestling) and , thanks a marsh bird rookery that provides a nesting and roosting area for 20 species birds, including egrets, herons and roseate spoonbills. (14501 South Orange Blossom Trail, Orlando)
Wekiwa Springs State Park: Central Florida is home multiple freshwater springs. One most popular is located town in Apopka, with 13 miles walking trails in addition kayak and canoe rentals that allow you explore Wekiwa . Alligator sightings are all but guaranteed. (1800 Wekiwa , Apopka)
Cocoa Beach: Orlando's closest surf spot is Cocoa Beach, located due east, 60 miles away. Avoid crowds, and head for Lori Wilson Park, where concessions are limited lifeguards, showers and beach chair rentals. (1500 Avenue, Cocoa Beach)
Where Watch Local Teams Play
Orlando Magic NBA team plays downtown at Amway Center (400 West Church Street, Orlando), but most local pride is for Orlando City Soccer . Founded in 2010, you'll see team's purple and yellow logo all over town. Catch them at the Citrus Bowl (1 Citrus Bowl Place, Orlando), just west downtown. Baseball season starts early, as spring training brings a slew teams south. Atlanta Braves play at ESPN Wide Sports Complex (700 South Victory Way), while Houston Astros play at Osceola County Stadium (631 Park Way, Kississimee).
What Avoid
Every Central Floridian knows about traffic and how avoid it. Our best advice is stay off main throughway I-4 during rush hour, as it clogs in 20-mile downtown corridor from theme park zone tech suburb Lake Mary.
Where Get Scoop
There's a slew sites dedicated theme parks, but see what's happing in real Orlando, check out Orlando Weekly (orlandoweekly.com), a free city paper with listings for everything from concerts food trucks. Bungalower.com covers all happenings in Orlando's cute bungalow neighborhoods, tracking development, openings and closings throughout downtown region.