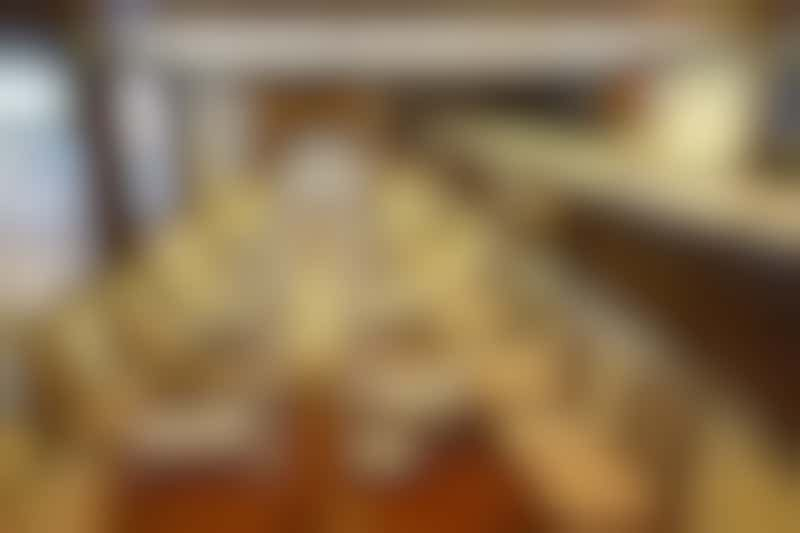 La Reserve on Oceania's Riviera (photo: Colleen McDaniel, Senior Executive Editor)
Wine and travel have a natural partnership. Throw in a fantastic multicourse meal, a skilled sommelier and great conversation, and you've got La Reserve on Oceania Cruises.
What It Is
La Reserve by Wine Spectator is a wine-pairing dinner offered on two Oceania cruise ships, Marina and Riviera. The seven-course meal is designed to be a culinary and wine journey, heavy on instruction, tasting and conversation. Three menus are offered: The Odyssey and La Cuisine Bourgeoise (designed by Jaques Pepin) menus are $95 per person each; and a Dom Perignon dinner, developed in concert with Moet & Chandon, is $295; an 18 percent gratuity will also be added to your bill. (the Dom Perignon menu includes higher-end wines and meal ingredients, such as caviar and truffles.) Dinners take place almost every night, and each night is dedicated to one menu (so you can't have the La Cuisine Bourgeoise menu while others have the Odyssey menu, for example).
Our Experience
We booked our reservations for Oceania's La Reserve on Riviera online before our cruise, and a formal invitation arrived in our cabin the day of our gastronomic journey. Frequent posters to Cruise Critic's message boards suggested we should arrive at the venue, located on Deck 12, early, so we ventured up to the restaurant about 15 minutes ahead of our 7 p.m. reservation. We were glad for the advice, as it gave us time to mingle with other diners while enjoying a welcome glass of Champagne and a goat cheese amuse-bouche in the lovely waiting area outside the restaurant.
Doors to La Reserve opened promptly at 7, and we took our seats at a table for six, laden with a variety of empty wineglasses -- a sign of what was to come. Among our tablemates were a couple and their 12-year-old son, Ethan. Children are allowed to attend on a case-by-case basis, and there is no discount for a child.
The sommelier quickly set the tone for how the meal was going to go, first pouring us a glass of brut rose Champagne then talking about the bubbly -- where it's from, what the differences are among Champagnes and even why it's served in the tall, narrow glass (fun fact: it gets the drink to your "sweet" taste sensors efficiently). Then, he explained how the meal would work and how you should drink your wine as it relates to the food (water and bread between courses, drink the wine first to establish the taste, take a bite of food, then take another drink to see how they pair).
We experienced a menu that featured a beautiful selection of courses, from sea scallops to pumpkin ravioli, foie gras soup and lobster pancakes. This all was building to the crescendo: slow-braised short ribs and gnocchi served with a full-bodied cabernet sauvignon. Along the way, waiters poured -- and poured and poured -- wines selected to complement the food. (Ethan had a fine vintage Sprite.)
Waiters left unfinished glasses on the table so passengers could try the various wines with other courses to compare the pairing and better understand the selections. Even for a novice like myself, this really helped to learn more about wine and making appropriate selections. Our sommelier answered questions about the wines and pairings as they came up, making jokes, engaging personally with passengers and generally making sure everyone was enjoying themselves.
Courses didn't come rapidly but were well timed to allow some conversation, drinking and digesting. Portions were surprisingly large, and I felt my stomach calling uncle around the fourth course. (I powered through to the dessert course by taking just one or two bites of the remaining courses; we saw others taking the same approach.)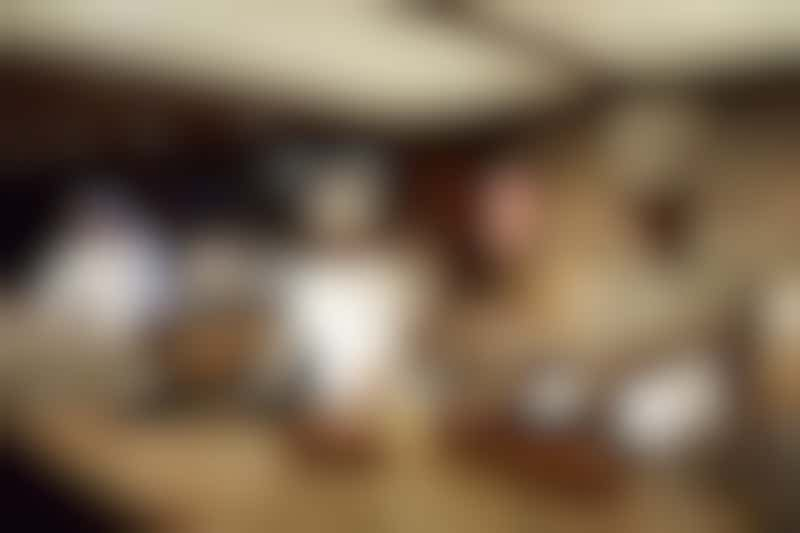 Our meal at La Reserve ended with a spectacular raspberry mille feuille. (photo: Colleen McDaniel, Senior Executive Editor)
Our final course was a raspberry mille-feuille, served with a sweet chenin blanc. While this was being served, we had the opportunity to see and cheer for our chefs, waiters and sommelier. Our sommelier even gave his email address to passengers in case they might have questions when they head back home and are picking their own wines. Our nearly four-hour meal complete, we said goodnight to our fellow diners, who now felt like friends, and rolled ourselves back to our cabin.
Worth a Try?
If you love -- or even just like -- wine, La Reserve is a perfect option for your evening meal. You'll learn along the way and genuinely enjoy the company and the experience. If you're not a fan, the food alone is worth trying, but, then again, dining on Oceania's ships is excellent, and you can eat at other exceptional venues that won't cost extra. If your spouse/partner/friend wants to go, you'll still enjoy yourself, even if you don't drink. (Though the meal is designed as a pairing, non-drinkers still pay the full price.)
Things to Note
Oceania limits the dinners to 24 passengers. It's much easier to get a reservation at the start of a cruise than at the end, as passengers learn about the experience and rush to book. There's also a minimum: Dinners might be canceled if not enough people have made reservations.
Allergies and food preferences are accommodated, but it's best to alert the staff ahead of time -- you can even do so when you make reservations online. Still, one person in our group didn't eat seafood or fish, and he alerted the staff when he sat down to dine. They made substitutions without blinking.
The 12-year-old at our table seemed quite mature and was comfortable socializing with adults and enjoying new foods, but he faded around course five. Meals are long; expect to spend three-plus hours dining at La Reserve. Not all kids (or even all adults) can handle a meal of that duration, and chances are, you'll miss that night's entertainment, so keep that in mind when booking.
If you don't want to commit to the full dinner, La Reserve also hosts other wine tastings and seminars.
All wines served are rated 90 or above by Wine Spectator.
Show Oceania Cruises