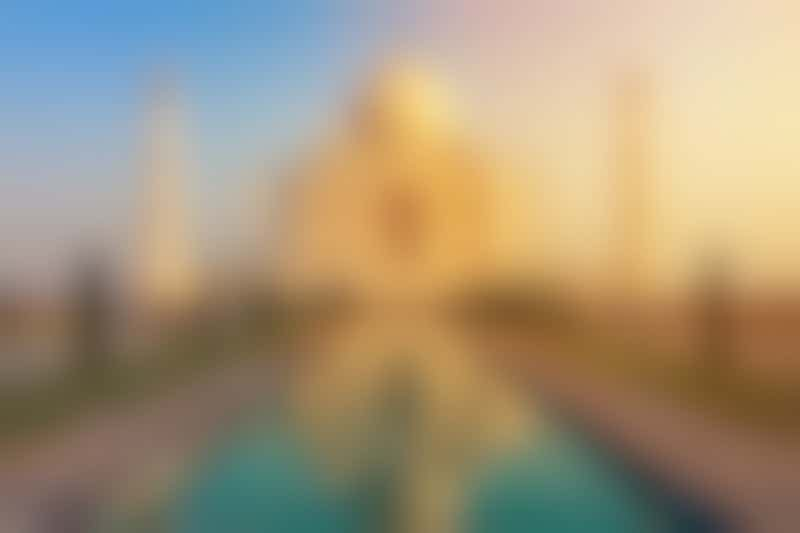 The Taj Mahal in Agra (Photo: YURY TARANIK/Shutterstock)
It's hard to think of a destination more overwhelming than India. With so many regions, so many cities and so many people, India confounds even the most sophisticated travelers, who find themselves staring at maps and guidebooks wondering where they should go first.
Luckily, there's a tried-and-true answer: India's Golden Triangle. Comprising New Delhi, India's capital as well as the site of the Taj Mahal, Agra and the "Pink City" of Jaipur, the Golden Triangle packs some of the country's greatest hits into a manageable package. Almost all cruise companies that sail the Ganges and Brahmaputra rivers offer pre- and post-trips to the Golden Triangle cities, as the urban experience compliments the more rural scenery you'll find on the rivers.
India has been described as an assault on the senses -- rightfully so -- and an easy entry into the country can go a long way into making you feel good about your vacation choice. Since the majority of Golden Triangle tours hit the area's highlights, your biggest decision between them will be the level of luxury you want. Some tour companies emphasize local interaction more than others, while some will put you up in hotels fit for a maharaja. Read the brochures carefully and consider, with a dose of self-awareness, what kind of experience will work best for you.
You'll read plenty of warnings about India's sanitary conditions before you go, and they aren't exaggerations. Trash is rampant, and you'll see cows, pigs, dogs and even camels roaming the streets of India's Golden Triangle cities. Modern sewage does not exist in many areas. A vigorous defense is necessary; use hand sanitizer liberally, drink only water that you've seen poured from a bottle and avoid all street foods, no matter how tasty they might look. Even then, it's best to pack meds with you and employ them as soon as issues arise; the sooner you can nip a stomach problem in the bud, the sooner you can get back to touring.
All that being said, a tour of India's Golden Triangle is well worth the hassles. The states that you'll visit on the trip have a heavy Islamic influence, with majestic monuments and superb artisan work. The Taj Mahal is one of the Seven Wonders of the World, but Delhi itself has three UNESCO World Heritage Sites and Jaipur has an astronomical observatory that will delight anyone remotely interested in the stars (astrology is still a bedrock of India's belief system). Even if your tour ensconces you in a luxury bubble of coaches and resorts, you'll still see sights that will shake you to your core -- and leave you wanting to learn more.
Best Time to Visit India's Golden Triangle
Tours on India's two rivers generally run from October to March, and those are also the prime times to visit the Golden Triangle. During December and the first two weeks of January, however, fog from pollution can cause issues, including delayed flights; the smog can be so thick at this time that you can't see the Taj Mahal at sunrise. February is one of the best month to go, with temperatures in the high 60s and low 70s. By March, the weather is too humid.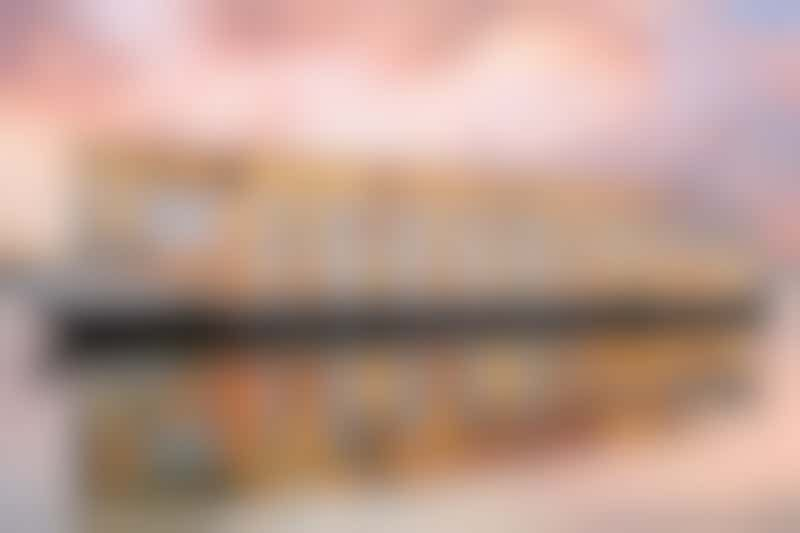 Ganges Voyager II (Photo: Uniworld)
India Golden Triangle River Cruise Tour Lines
Two river cruise lines frequented by Americans -- Uniworld and Vantage -- both offer multiday Golden Triangle tours as the first part of their Ganges river cruises. The difference between them is length of the trip, price and luxury level of the hotels, and inclusions on the ships. Abercrombie & Kent skips Jaipur on its cruise, focusing mostly on the Taj Mahal in Agra.
Pandaw offers the Golden Triangle after cruises on the Brahmaputra River, as does Far Horizon. International Expeditions runs an extension to Agra after its cruises on the Brahmaputra.
India Golden Triangle Itineraries
Traditional: The typical Golden Triangle trip hits Delhi, Agra and Jaipur; what differs is the amount of time you spend in each and what level of luxury hotel you are in. Because of the distance between the sites and transportation to or from your river cruise, expect to spend a minimum of four days -- and more is better -- to do the area justice.
Safari: Some travel companies (including Vantage) add a trip to the Ranthambore National Park, where you can see leopards, wild boars, 270 species of birds and -- the star of the show -- the elusive Bengal tiger. Adding this as a stop extends the itinerary by several days, but the chance to see exotic wildlife makes it essential for some.
Desert: Another option by some companies, such as Pandaw, is to visit a desert resort in Kalakho, where travelers visit the fortified city of Fatehpur Sikri, take a camel safari or do a home visit, and watch a cultural dance show by local tribes.
Varanasi: The sacred site of the Ganges is a popular pre- or post-trip stop after a river cruise, and most of the tour companies offer it. Varanasi is considered one of India's holiest cities and one of the oldest civilization centers in the world; many faithful spend their entire lives working toward a pilgrimage here in their later years (or preferably as a final destination -- if a devout Hindu dies in Varanasi, they will achieve instant enlightenment).
India Golden Triangle Cruise Tour Highlights
New Delhi: India's capital, New Delhi, has three UNESCO World Heritage Sites and it's the seat of the current government. Highlights here include Old Delhi, museums that focus on Mahatma Gandhi and his legacy and the monuments of the Mughals, a wealthy Islamic dynasty that ruled northern India from 1526 to 1857. The Red Fort, built by the same ruler who created the Taj, is also worth exploring, however.
Agra: Everyone comes to Agra for the Taj Mahal and it's one attraction that's worth the hype, even with the crowds. (For a more intimate experience, look for a river cruise company that returns to the site at sunrise.)
Jaipur: India's "Pink City" lies in Rajasthan, the country's western state. Almost as if to compensate for the arid landscape, the colors found in Jaipur's native dress and textiles are riotous. Come prepared to take a lot of pictures and to fulfill your India shopping list. (Just remember to haggle aggressively!)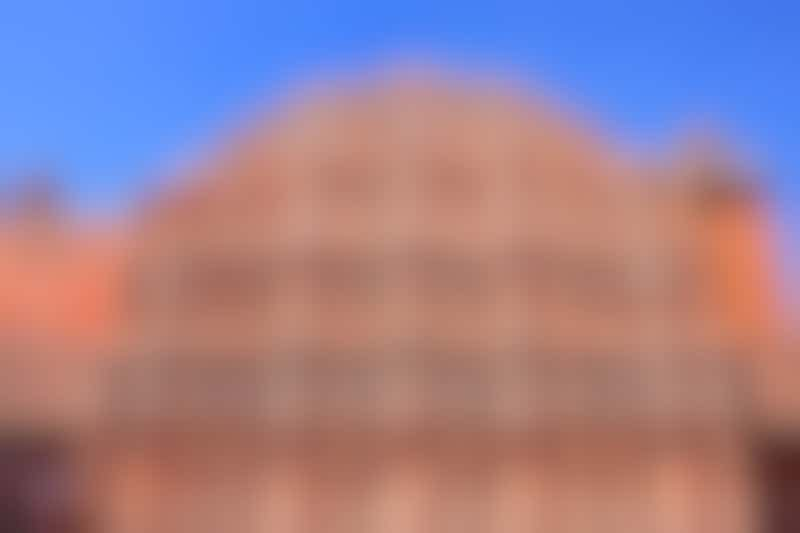 Palace of the Winds in Jaipur (Photo: Don Mammoser/Shutterstock)
India Golden Triangle Cruise Tour Tips
Get an e-visa. Traveling to India from the United States requires a visa, which you can purchase online within 30 days of your trip. The government's website can be a little difficult to navigate, but most people are approved within 72 hours.
Plan ahead for easy entry. Many flights get into Delhi in the wee hours of the morning, so you might need a day to relax at the beginning of your trip. Your river cruise company may or may not provide transfers; check to make sure you can get in your room early after the long flights.
Consider location. Before you book your tour, check the itinerary closely to see which hotels they use and how far they are from the major sites. Traffic in the Golden Triangle cities is atrocious, and if your hotel is too far away from the city center, you could be in for long bus rides (or not see parts of the city at all).
Budget for extras. Inclusions can vary on different cruise tours, and even the most expensive tour might not include all of your meals. Because sanitary conditions in India restaurants may not be up to Western standards, you might be forced to eat on the hotel property, at prices that are higher than you'd pay elsewhere. Check your itinerary carefully to see what meals are on your own -- and how much choice you'll have in where you can go.
Layer up. India has a reputation as a tropical climate, but the cities in the north can become chilly at night in the winter. Make sure you have a light sweater or jacket; this can also help with excessive air conditioning in hotels or coaches. You'll also want several pairs of socks, for times when you need to take your shoes off at temples or holy areas, and closed-toe shoes to protect against the general gunk on the street (remember those wandering cows!)
Plan for your currency needs. With its current prime minister, India has embarked on some monetary reforms and the amount of currency that you can exchange or draw from an ATM may be restricted. Your tour company should let you know about the best places to get the money you'll need and how much you can get at once.
Expect bus rides. The cities of the Golden Triangle don't appear that far from each other on the map, but the country's horrendous traffic can double the time spent on the roads. Most Western tour companies have modern coaches with restrooms, as well as bottled water, to keep you comfortable during the longer drives. While you might want to bring a book, it's more entertaining to look out the window as you go -- the cacophony of car horns belies the dexterity (and boldness) of Indian drivers!
Pack light. To get to your river, you'll be traveling on local Indian airlines that have stricter baggage restrictions than U.S. carriers. A typical weight limit is 33 pounds for a checked bag and 11 pounds for a carry-on. Don't worry too much if you go over; charges for overage fees are less than you'd find in the States. You will need rupees, however, to pay the charges (about 500 rupees for every 5 kilograms), so if your bag is beginning to feel heavy, make sure you have money changed.
Elephants? Traditionally, an elephant ride has been part of a visit to Amber Fort in Jaipur. Some river cruise companies, such as Uniworld, have adopted anti-animal cruelty policies that bypass the rides; Vantage still does them. If having an elephant ride is important to you, talk to your tour operator to see if they arrange them.
Bring meds. The term "Delhi belly" has been around for decades, and even the most iron-clad stomachs may become susceptible to the foreign flavors and microbes. At the very least, pack a prescription antibiotic such as Xifaxan or Cipro, as well as over-the-counter drugs such as Tums, Rolaids and Dramamine (for those long bus rides). Whether or not you'll need malaria medication is debatable; check with your travel doctor to see what they recommend. In addition, we never go anywhere without Xanax as a sleep aid and a prescription Z-Pack for any upper respiratory infections (most of India's major cities have serious pollution issues).