Before You Cruise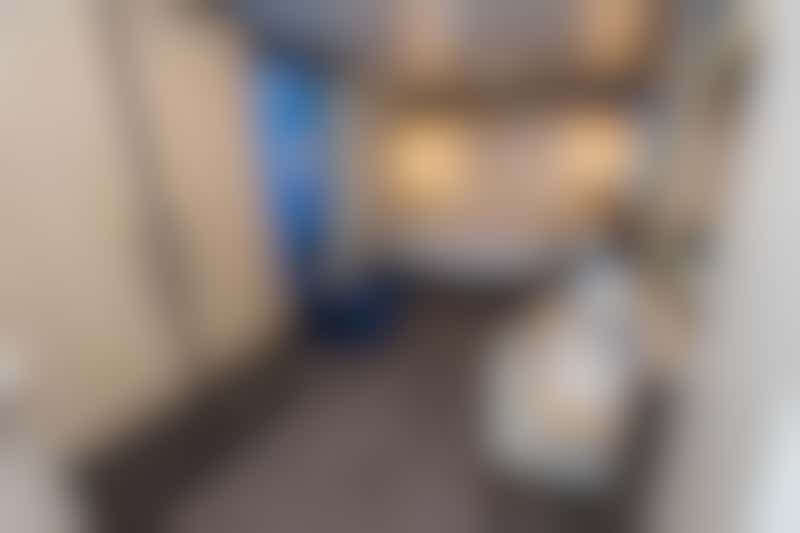 Pack enough clothes to avoid laundry.
Royal Caribbean does not offer self-service laundry, so pack what you need to avoid send-out laundry fees. If you know you're likely to run out of T-shirts and undies, look for a notice of a midcruise laundry special, where you pay one price for as much clothing as you can jam into a send-out laundry bag.
Bid for an upgrade.
Once booked, select cruisers are invited to go online and bid for a cabin upgrade. (If you're a repeat cruiser or signed up to receive marketing emails from the line, you stand a better chance of receiving an invite.) It's up to you whether or not you decide to bid, and how much. It doesn't cost money to try, and you might snag a bargain on a fancier room. You pay only if your bid is accepted.
Consider a specialty dining package.
The best way to save at extra-fee specialty restaurants, such as 150 Central Park, Izumi and the Chops Grille steakhouse, is to not indulge at all and stick to all the free dining options (of which Royal offers many). But, if you're a foodie wanting to experience everything culinary on the ship, consider prebooking a dining package.
There are different plans: Chops plus one other restaurant, three restaurants, five restaurants and unlimited dining at any of the specialty restaurants. The latter represents a savings of about 40 percent if you prebook the plan and do specialty dining every night of your cruise. You can also purchase a plan once onboard, but there could be limited availability at that point. Prices vary by ship and length of the cruise.
Look at booze options.
If you are planning to indulge big time on the ship, Royal's deluxe, bottomless beverage package, which costs $63 to $70 per person, per day (the price varies by sailing), can be a cost savings. Though you can purchase a package onboard, you'll likely receive discounted offers pre-cruise that will save you more.
The package covers cocktails, wine by the glass and such premium brands as Belvedere Vodka, Maker's Mark and Patron Silver. The plan also covers freshly squeezed juice, canned soda, cappuccinos and other premium coffee drinks (excluding Starbucks), and bottled water, and includes discounts on bottles of wine.
If you're only going to have a couple of cocktails over the course of your cruise, paying a la carte is the cheaper way to go. Look for drink specials (outlined below).
Buy a soda package or BYO.
If you're a big soda drinker, consider the line's Classic Soda Package. The onboard price is $12.99–$15 per person, per day, but look for discount offers that encourage you to book pre-cruise. You get a Coca-Cola souvenir cup to fill at special soda fountains; the package does not cover cans from the bar. Alternatively, there's a Refreshment Package ($29–$38/day) that includes premium coffee drinks, freshly squeezed juice, bottled water, fountain drinks and nonalcoholic cocktails.
You can save more by bringing your own soda or water. The line's allowance is 12 standard (17-oz.) cans, bottles or cartons of nonalcoholic beverages per stateroom -- in your carry-on bags.
Bring your own wine.
For wine- and Champagne-lovers, you can bring onboard two standard-size bottles in your carry-on luggage. There is no fee if you consume the beverages in your cabin (bring a corkscrew!), but there's a $15 corkage fee if you bring your wine to a dining room or bar. (If you don't finish a bottle, Royal crew will cork it and store it for your next meal.) The line's alcohol policy bans other bring-your-own booze.
Price shop for shore excursions.
Royal Caribbean offers discounts of between 5 percent and 25 percent for prebooked shore excursions. If you're planning to go the organized tour route, you'll want to see what is on offer rather than waiting until you are onboard to book. Compare what the line is proposing to deals on tours at third-party websites such as Viator.com (a sister company of Cruise Critic) and shoretrips.com.
Pack your own sports equipment.
If you're planning to snorkel on shore, including at Royal Caribbean's thrilling revitalized Perfect Day at CocoCay beach resort in the Bahamas, you can save by packing your own water sports equipment. Note that if you don't have your own snorkel vest, you will be required to rent one. Royal also allows passengers to bring onboard and store in your stateroom (for use on shore only) a surfboard, skateboard or bike.
Prebook an internet package.
The best way to save on internet is either to turn off your smart device completely or take advantage of free Wi-Fi at restaurants, cafes and visitor centers on shore. But, for those who can't live without Wi-Fi, Royal offers discounts of 20 percent or more on its high-speed VOOM service when you book a package before your cruise. VOOM is billed as the "fastest internet at sea."
---