The last day of a cruise is perhaps the saddest of all vacation days, between reconciling the bill for all your fun and packing up and saying goodbye to your floating piece of paradise, until next time.
Then comes another unsavory task: getting through that post-cruise crush of thousands of disembarking travelers crowding the busy airports near port cities that serve the industry's legendary mega-ships, such as Fort Lauderdale and Miami. Long lines at check-in and security, hordes of people throughout the airport and high tempers can kill that vacation buzz in no time flat.
Here are some tips for making that stressful airport journey a bit more manageable.
Give yourself time.
Some avid cruisers prefer sticking around the final port for a day or two and prolonging their vacation. But if you aren't able to swing that and have to fly back home immediately, make sure to schedule your return flight to give you several hours of buffer time to disembark, collect your luggage, get to the airport and navigate check-in and security lines during the post-cruise rush.
A general estimate of five hours will give you a good window of time to get to your flight following the end of your cruise. If your airport is several hours away from the port, you'll need more time. You might prefer a flight departing earlier, so as to waste less time in the airport, but ships can get delayed in customs clearance or have a slower-than-usual disembarkation, causing those with mid- or late-morning flights to miss their departure or cut it too close for comfort.
Related: 6 Myths About Booking a Flight for a Cruise
Optimize your carry-ons.
The night before debarkation, go over your carry-ons one final time to make sure you'll have everything accessible that you'll need at the airport. For example, ensure that your passports and other important documents are easily accessible, as well as snacks, gum, toys, reading material and medication that you might need close by on the airplane. This will save you time at the airport, so you're not digging through packed bags and reorganizing before your flight.
Related: Anatomy of a Cruise Carry-On
Check in for your flight early.
You might not want to think about going home while you still have a day left of your cruise, but make sure to check in for your flight on your phone or using the ship's computers and printers 24 hours before your flight. Doing this work ahead of time is one less step you'll have to take the next day at an overcrowded airport, and you'll be able to locate your confirmation number and change your seats in a leisurely, rather than frenzied, manner.
Check your bags...
Maybe you carried your bags onboard on your way to your vacation in order to ensure they wouldn't be lost and leave you without your necessities on your cruise. Since the risk is lower on the way back, and you're less likely to feel enthusiastic about lugging heavy bags around, treat yourself to checked baggage and lighten your load.
...Or check out any available luggage handling and shipping programs.
Lugging around heavy suitcases filled with souvenirs and evening gowns tops the list of inconveniences on your day of debarkation. To help alleviate that stress, some cruise lines, such as Holland America, partner with companies like Luggage Forward and Luggage Direct to help streamline that process.
Luggage Forward takes airlines out of the equation entirely by delivering your luggage directly from your doorstep to the cruise line and then vice versa at the end of your cruise. The fee depends on where you're traveling, but generally starts at about $100 per bag each way.
With Luggage Direct, for a fee starting at about $20 per person, you'll check your bags on the ship and the service will transport them directly to your airplane. You'll simply collect them from baggage claim after arriving home. Check to see if your cruise line participates in this type of program, or if you can arrange it on your own.
Strategize how you'll get to the airport.
With the widespread availability of ride-sharing services like Uber and Lyft, in addition to taxis and shuttles, you're not likely to have a problem finding your way to the airport at the end of your cruise. But it's worth thinking through the process in advance and exploring your options.
Maybe you'd prefer to arrange airport transfers in advance through the cruise line; that's generally the least stressful route, but also a bit more expensive than DIY options and you disembark in a crowd. Self-disembarkation and a ride-share to the airport might get you off the ship quicker, so you can beat the onslaught of travelers.
Book an excursion.
Did you book a later afternoon or evening flight in order to avoid the crowds? Ship-booked excursions at destination ports can be great ways to squeeze a little more out of your vacation itinerary and get a lift to the airport to arrive at a calmer hour. Just like regular shore excursions, these can be city tours on air-conditioned buses that give you a cultural and historical overview of the port, while also providing the benefit of stowing your bags for the day and getting you to the airport on time.
Related: Find Shore Excursion Reviews
Take advantage of airport lounges.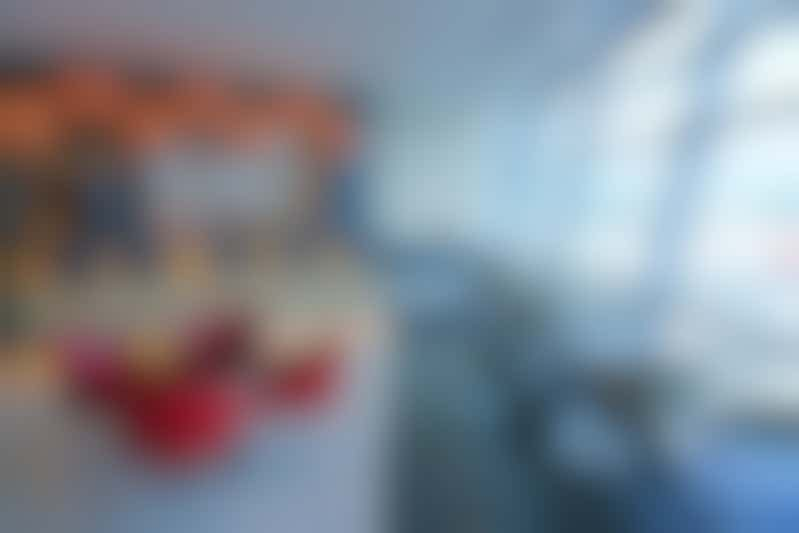 Want to savor some of that pampered experience from the ship to shore? Consider investing in an airport lounge pass, or see if lounge access is available using one of your credit cards. For example, the AAdvantage Executive card will grant you access to American Airlines' Admirals Club lounges, while Chase Sapphire Reserve comes with Priority Pass membership to lounges across the globe. American Express Platinum also gets you into Delta and Centurion lounges, in addition to Priority Pass clubs. You can unwind with a complimentary beverage and snack at most of these, as well as enjoy free Wi-Fi and a relaxing place to sit and wait for your flight back home.
Related: Is a Cruise Line Credit Card for You?
Ask for help.
There's no shame in asking for some assistance getting through the airport, whether it's assistance with your baggage or help getting to your gate. If you anticipate problems with walking through the terminal and you need wheelchair assistance, phone your air carrier (some have online forms) to ask for someone to help you when you arrive; the reservations agent can put a note in your record and alert the relevant airports. If you can, check with your airline a few days before your flight to make sure it can help you with wheelchair service. Airlines are required to help passengers get to their gate.
Enroll in TSA PreCheck or CLEAR.
For a smoother airport experience (not just on the last day of your cruise, but every time you travel), consider enrolling in TSA PreCheck or CLEAR. There is a fee involved for both programs.
PreCheck ($85 for five years) is a program administered by the TSA that prescreens passengers for security clearance and allows them to take advantage of separate, shorter lines and generally fewer hassles at airport security checkpoints. (For example, you generally won't have to remove your shoes or take out your laptop.) PreCheck also comes as an extra perk if you sign up for Global Entry ($100 for five years), which is run by U.S. Customs and Border Protection. Global Entry can also help you breeze through customs at Port Everglades.
Tip: Check to see if your credit card will cover these fees. Many travel-oriented credit cards (such as Chase Sapphire Reserve and American Express Platinum) will give you a credit for your application fee for these services every four years.
CLEAR is administered by a private company and utilizes your fingerprints and retina scan to verify your identity. Rather than making you wait in line to submit your passport or ID for inspection by a TSA officer, you can bypass this line and go directly to security screening. It costs $179 per year, and you can do same-day enrollment at any participating airport.
Don't worry. Be happy.
Sure, you might wish the cruise life could continue forever instead of dealing with the inconveniences of plane travel. But try to embrace a little of that laid-back vacay attitude and go with the flow. Know that the price you pay for your great trip sometimes involves a little waiting in line and even the occasional flight delay. Plug in some soothing or vacation-inspired tunes on your phone, smile and be polite to the people you meet. Try to extend that relaxed state of mind as long as possible.