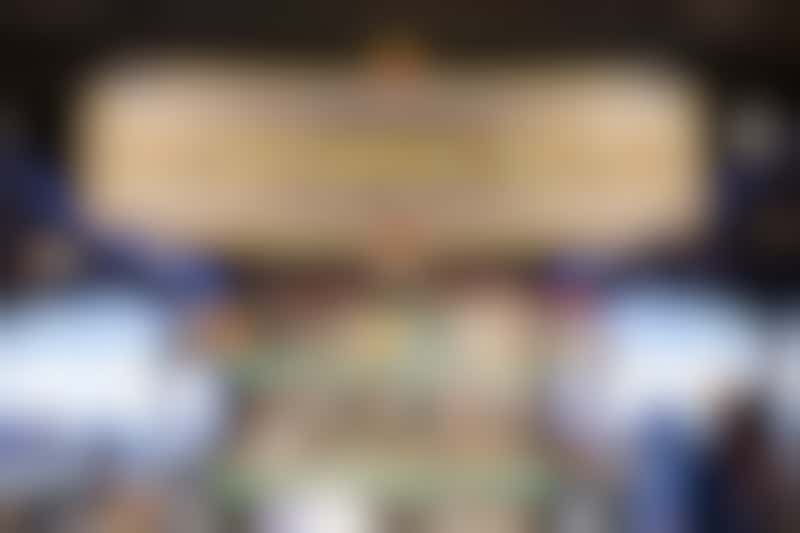 Havana Bar on Carnival Sunshine (Photo: Cruise Critic)
Located in the aft of the ship on Deck Five, the Havana Bar seeks to bring some Latin pizzazz to any ship it's on. What's more on some ships, there is a private pool area and sun deck for those booking the Havana Cabana cabin category, but the indoor lounge is open to all passengers.
---
Ambiance
The moment you step through the archway and pass through the columned entrance, you know the theme of this bar is something special. Gold-framed pieces of artwork and photography, antique maps and paintings of people through faux windows recreate the atmosphere of Havana. A long bar has plenty of seating, and the colorful accent tiles around the bar add to the ambiance.
One look at the drink and snack menu, and you'll see that Havana Bar is more than a gimmick. Great care was taken in the design of both the space and the menu, and when musicians take to the bongo drums on center stage, it is a sight to behold.
During the daytime, this is a quiet place to relax with Cuban coffee or snacks, but at night the lounge transitions to a lively bar and dance club once the band starts to play.
---
Drinks
Open the menu and discover a few options only available here. There's both Italian and Cuban roast coffee (the cortaditos are just the thing after a late night of dancing), freshly squeezed orange juice, Cuban sodas made with Yerba mate and coconut water, and a daily drink special.
The cocktail list includes well-known favorites like mojitos, Cuban iced tea and Cuba Libres.
---
Menu
Note: This is a sample menu and is subject to change by ship and itinerary.
---
Prices
Given the specialty nature of many of the drinks, the prices are rather fair. The specialty coffees all cost less than $3, and the cocktails go for under $10.
---
Ships
The Havana Bar is found on the following ships:
Carnival Horizon

Carnival Sunshine

Carnival Vista
See photos of the Havana Bar on Carnival Vista.
Show Carnival Vista Prices