Royal Caribbean's Harmony of the Seas has snatched the title of "Largest Cruise Ship in the World" from elder sister, Allure of the Seas -- a title that ship had held for six years.
Royal's newest Oasis-class ship combines the best features of its sisters -- sticking with the "neighborhood" layout to allow for easy flows -- while combining all the new technology that debuted on its smaller sisters, the Quantum-class ships.
Both Harmony and Allure are crammed full of entertainment options, outdoor activities, a huge number of dining options, Broadway-quality shows and tons of fun stuff for families. So how do you choose between them?
Fear not -- we've got it covered, pitting Harmony of the Seas vs. Allure of the Seas, so you can determine which mega-ship is the best choice for you.
Similarities between Harmony of the Seas and Allure of the Seas
The ships are pretty much the same, in terms of size, layout, cabins and entertainment -- with just one or two changes. So if you're familiar with Allure (or Oasis of the Seas), then you'll feel quite at home on Harmony.
Cabins
Both Harmony and Allure have the same cabins. (Following Allure's refurbishment in 2015, a number of suites were added to the top deck.)
The most well-known of the balcony types are those pioneered on Oasis -- the inside balcony cabins. These are available in Central Park and the Boardwalk, and are achieved by the ship having two "hollowed out" centers, allowing passengers to be inside but with open sky above.
The other "famous" balcony type is the "inside virtual balcony" launched on Quantum of the Seas, which offer passengers real-time views of their journey via floor-to-ceiling high-definition TV screens.
A few other cabin types are worth mentioning. Loft Suites, double-deck rooms on Deck 17, with the bedroom on the mezzanine and the living area below, are extraordinary, as is the one Presidential family suite, which has four bedrooms and a balcony so large it can fit a dining table, wet bar and whirlpool -- it can also sleep 14 people. But the ones we really love are the Aqua Suites, at the back of the ship, so called because they offer perfect views of the AquaTheater. The suites have two bedrooms, two bathrooms and a living room, but it's their extraordinary balconies, wrapping right round the room, which are the standout, offering 180 degree views. These were retrofitted onto Allure and built from the get-go onto Harmony.
Dining
Both ships have 20 dining venues, and both offer a choice of traditional, set-seating or flexible My Time Dining in the main dining rooms. On both Harmony and Allure, the main restaurant has been sliced into three different areas: Silk, The Grande and American Icon. The decor is different on each floor, but the menu is exactly the same. (Note: Neither ship has "Dynamic Dining," the anytime dining concept found on Quantum-class ships.)
Suite passengers on both ships have their own dining room, Coastal Kitchen, high up on Deck 17. It offers two Mediterranean-style menus.
Both ships share Izumi, part upscale sushi and sashimi restaurant, and part hibachi restaurant. They also have the ever popular Johnny Rockets, Sorrento's, Central Park Cafe, Boardwalk Dog House and the Windjammer Cafe.
Entertainment and Bars
Both Harmony of the Seas and Allure of the Seas have 12 places to drink, most of which you'll find in the Vegas-like Royal Promenade, which forms the heart of the ship's bar scene. Venues range from classic pub-type bars -- Boot & Bonnet on Harmony, Bow & Stern on Allure -- to more upscale drinking venues, such as the Latin-themed Boleros and Central Park's Vintages, which combines tapas with wine flights.
The ships also share a gimmicky but very popular venue, the Rising Tide Bar, which glides up and down between floors. You start drinking in the Royal Promenade before you are elevated to Central Park and back.
Entertainment Place (one of the seven neighborhoods) is also the same on both ships. It's got the Studio B ice rink, Jazz on 4, the main theater and the comedy club.
Activities
There have been a few changes here (see below), but both ships have twin Flowrider surf simulators, twin climbing walls, a zip line, outdoor mini-golf and a basketball court that can convert into a volleyball court or soccer pitch. Both have multiple pools and wonderful water parks for kids (though Harmony has added some new features).
Family Fun
The DreamWorks link-up is still prevalent, and regular nightly parades and character meet-and-greets are found on both Allure and Harmony. The family programming on both ships is outstanding, and centers on the 29,000-square-foot Adventure Ocean, split into age-appropriate spaces. At the other end of each ship, you'll find the teen space, The Living Room, which has been slightly expanded on Harmony.
---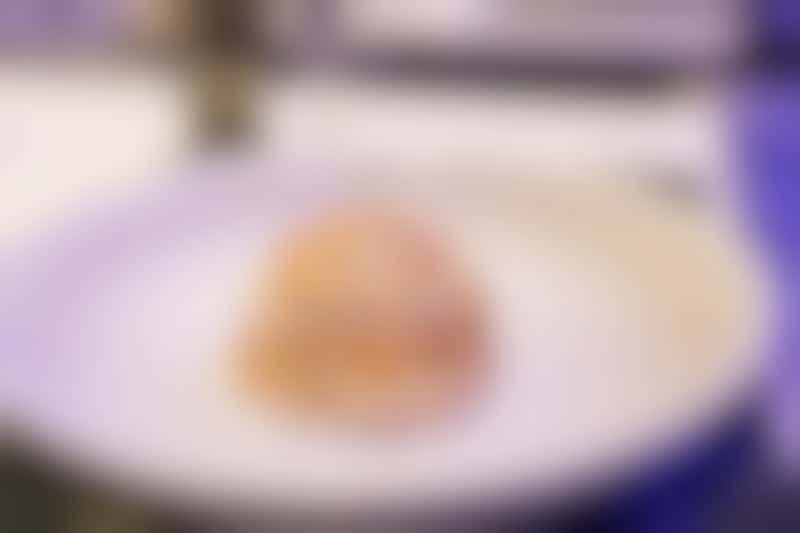 Dish from Wonderland Imaginative Cuisine (Photo: Cruise Critic)
Differences Between Harmony of the Seas and Allure of the Seas
Cabins
Harmony of the Seas has 15 dedicated cabins for solo cruisers, 12 of which have ocean views.
Dining
Wonderland, which made its debut on Quantum, has been given a prime spot across two floors on Harmony (where the Diamond Lounge is on Allure). As the name suggests, this is an Alice in Wonderland-inspired eatery, where you're taken on a culinary journey using a molecular gastronomy style of cooking -- dry ice, unexpected flavors and aromas, and dishes that aren't what they appear to be.
Jamie's Italian makes its debut on Harmony in a prime spot in Central Park where Giovanni's is on Allure. Both venues offer Italian food, in a casual atmosphere and a family-style feel; the only real difference is the big name chef attached.
Windjammer Cafe is the casual, buffet option on both ships up on Deck 16, with a slight difference -- Harmony's increased width means the cafe, which was notorious for major people jams at prime dining times, is larger on the newer ship.
And finally, Starbucks has been moved from the Royal Promenade to its own store space (as opposed to a counter on Allure) on The Boardwalk, replacing Pets at Sea.
Entertainment and Bars
New for Harmony (and again, borrowed from Quantum) is the Bionic Bar in the Royal Promenade. Here you order your drinks via iPads, while robotic arms mix and serve you your cocktail of choice.
Both lines offer different Broadway-style productions; Allure has "Mamma Mia" and Harmony offers "Grease." Harmony also debuts "Columbus: The Musical," while Allure has "Blue Planet," a Cirque du Soleil-style song-and-dance production.
There are two new ice shows debuting on Harmony: 1887 and iSkate Showcase, where you choose the music the professional skaters dance to. On Allure, you'll find the DreamWorks-inspired "How to Train Your Dragon" and "Ice Games," a Monopoly-themed show.
Activities
Harmony is the only Royal Caribbean ship with a dedicated spot for The Escape Room, in which players must work with others to find clues needed to solve fiendish puzzles in 60 minutes or less.
Harmony also features the Ultimate Abyss**,** a 10-story dry slide, which snakes and turns from the Sports Deck to the Boardwalk. On Allure, there is just open space where the slide is on Harmony.
In addition, the Perfect Storm trio of water slides makes its debut on Harmony's Sports Deck -- as does Splashaway Bay aqua park for kids. Highlights of the space include sea creature water cannons, winding slides, a gigantic drench bucket and a multi-level jungle gym. Allure has a splash pool area and a fun "lazy river" pool, as well as a hot tub, but no slides.
Aqua Theater on Allure of the Seas (photo: Cruise Critic)
Harmony of the Seas vs. Allure of the Seas: Bottom Line
If you love new ships, grew up with a crush on Grease's Danny Zucco or Sandy Dee, want to sample molecular gastronomy and have a strong urge to terrify yourself on thrill slides, then Harmony is the ship for you.
If however, you're happy with a refreshed older ship, love singing along to ABBA songs, prefer an undisturbed view out the back of the ship or are a Crown & Anchor member who values a perfectly situated lounge, then Allure is the ship for you.