If you love Guy Fieri, Carnival Cruise Line might be for you. Guy's Burger Joint, named for the Food Network star, first rolled out on Carnival Liberty in 2011 as part of the line's Fun Ship 2.0 upgrades. On most ships, this venue flanks the pool area as a complement to the RedFrog Rum Bar. Fieri's got a penchant for artery-clogging concoctions, and the burgers don't disappoint. Five different types appear on the menu, but you can also create your own, thanks to an impressive toppings bar. Oh, and fries are a standard part of every order.
Ambiance
This place is as casual as it gets. Located on the pool deck, it frequently hosts passengers wearing little more than flip-flops and bathing suits. The counter space is done up in wood paneling with accents of red and yellow -- oddly reminiscent of the old-school McDonald's ketchup-and-mustard color scheme. Decorated with surf boards and street signs, the eatery has a "California" vibe. Lines can be long during peak hours, so be prepared for a wait. We promise it's worth it.
Meals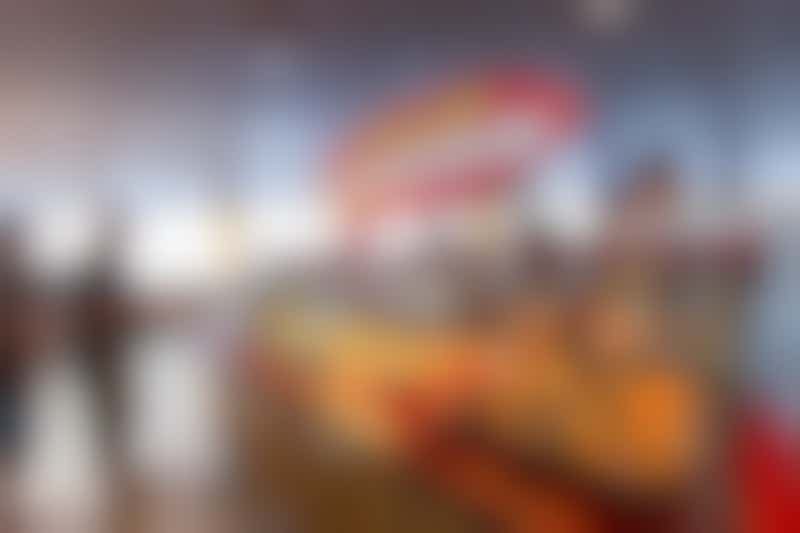 The menu consists of five burgers, including the Plain Jane, a basic cheeseburger; the Ringer, a cheeseburger with an onion ring; the Straight Up, which includes special sauce, lettuce and tomato; the Piggy Patty, featuring a beef burger and a second patty made entirely of bacon; and Chillius Maximus, basically a burger with the works -- lettuce, tomato, onions, pickles and chili. All are served on buttered buns, so expect extra grease. We tried every single one and loved them all, but you can also create your own masterpiece with toppings that range from bacon, onions and mushrooms to pickles, tomatoes and lettuce. Plus, you won't want to miss the super melty cheese (S.M.T.) and "donkey sauce" -- mayo mixed with garlic, mustard and a bit of Worcestershire sauce.
Although they don't officially appear on the menu, veggie burgers are also available up on request.
On ships departing from Texas, a special off-menu burger is offered. Dubbed the Big Tex Burger, it includes two beef patties -- each topped with cheese sauce and a slice of American cheese -- onions, lettuce, pickles, tomato, Donkey Sauce, roasted green chili salsa, melted butter with roasted garlic, and tortilla strips.
Price
The food at Guy's is absolutely free.
Guy's Burger Joint Menu
Editor's Note: Menus are samples only and are subject to change by ship and itinerary.
Which ships have Guy's Burger Joint?
You can find Guy's Burger Joint on all Carnival ships.