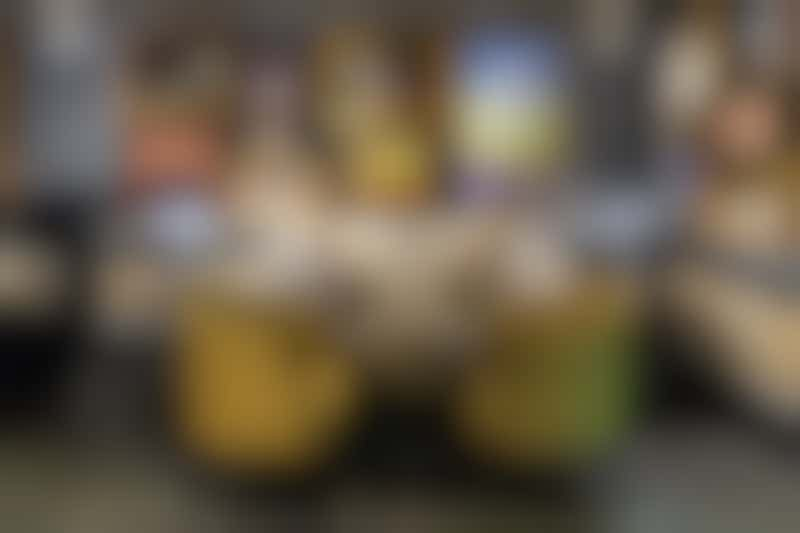 The Gallery Bar on Oosterdam (Photo: Cruise Critic)
If you've ever found yourself in an art gallery thinking, "I'd really like a cocktail about now," the Gallery Bar is for you. The lounge is the place onboard a Holland America ship to get a tasty cocktail and peruse interesting pieces of art at the same time, and it radiates a fanciful sophistication that fits in nicely with Holland America's new "younger" vibe (baby boomer young to be specific).
---
Ambiance
One of the largest bars in Holland America's fleet, the Gallery Bar is an atmospheric blend of museum gallery and private social club reading room (think the Yale Club or the New York Yacht Club). On the walls you'll find an eclectic mix of artwork from traditional-looking portraits, landscapes and still lifes to more modern and abstract pieces. All are mounted on black walls and inset in dark golden frames, giving the space its sophisticated but atmospheric ambiance.
Furniture is mostly comfy with deep-seated, high-backed armchairs in black leather with tan and brown striped throw pillows, and cream love seats with golden throw pillows; there are also a handful of less comfortable, stiffer-backed armchairs. The lounge is split into two distinct rooms, with one nearer to the bar (with its bar seating and large TV) and the other offset, giving it a private feeling.
The Gallery Bar is a friendly, busy place in the evening, especially at the 7:30 p.m. trivia session.
---
Drinks
The menu is dominated by cocktails created by master mixologist Dale DeGroff, a 2015 James Beard Who's Who inductee. Because of the bar's whimsical art theme, the cocktail menu is quirky as well with drinks like "Another Shade of Greyhound," "Gallery Gimlet" and "Slightly Less Than Perfect" Perfect Manhattan" on offer. Wine, spirits and beer are also available.
---
Menu
Note: This menu is a sample and is subject to change.
---
Price
Prices are on par with those at other bars around the ship. Cocktails start at $7.75 for the "Hemingway Daiquiri" and go up to $12.95 for a "Whiskey and Joe."
---
Ships
Gallery Bar can be found on the following ships:
Eurodam

Oosterdam

Westerdam
View pictures of Gallery Bar on Oosterdam.
Show Holland America Prices