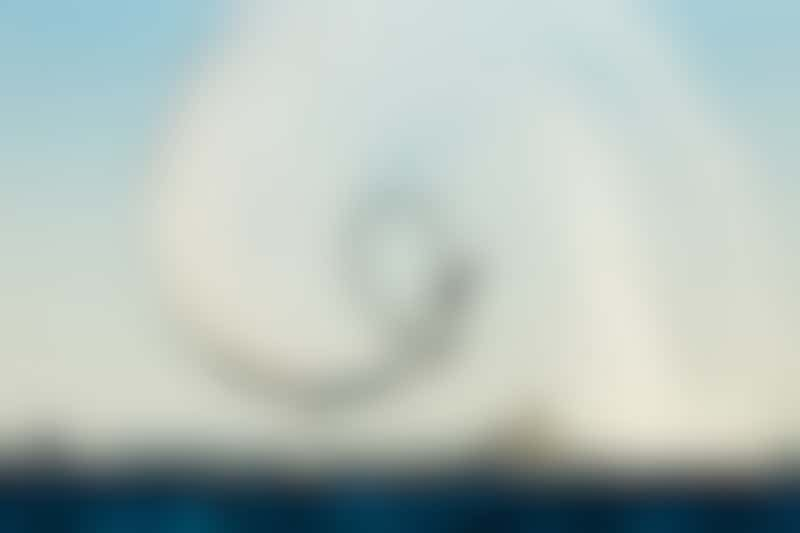 A flyboarder (Photo: Denis Kornilov/Shutterstock)
Flyboarding -- where normal people strap on jet packs to soar high above the water like superheroes -- has become the latest and hottest beach activity to hit cruise ports. You'll find people swooping around in ports such as St. Kitts, St. Tropez, Cozumel and Cabo San Lucas.
What It Is
Essentially, flyboarding involves taking the power from a Jet Ski and funneling it through a hose into jet packs that are attached to the bottom of a board. Because your feet are strapped into boots that are welded to the board, you are the one who controls where the water from the Jet Ski goes. A guide on the Jet Ski goes with you on the excursion. When he guns his engine, the water rushes through the hose and you can propel yourself up (or try to).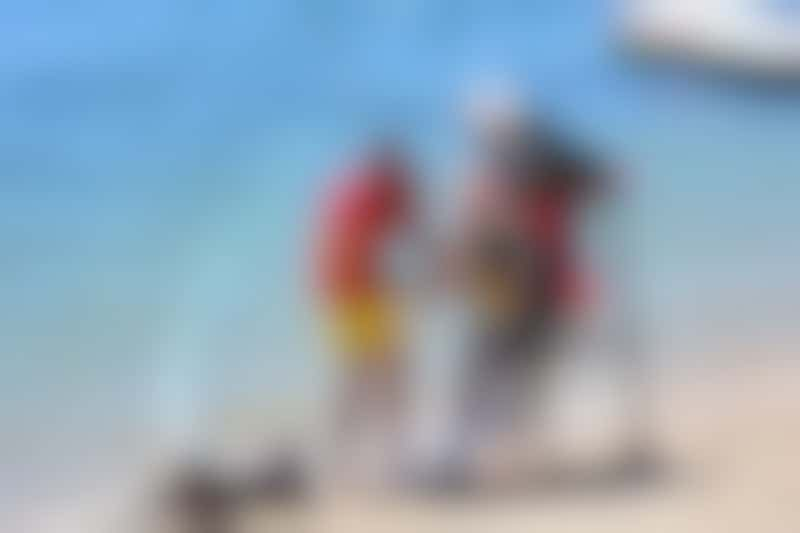 An instructor prepares a client for flyboarding (Photo: ChameleonsEye/Shutterstock)
Our Experience
My shot at flyboarding came in St. Thomas, which as one of the Caribbean's main cruising hubs, often catches the trends first. I worried a bit about the degree of balance required for the activity; my build is decidedly more Amazonian than gymnast. But I'm always up for a challenge (and hey, if this 40-something woman can do it, chances are you can too)!
My positive attitude diminished a bit when I arrived at Lindbergh Beach, where St. Thomas Flyboarding has set up shop. As is usual with adventure activities, I was greeted by two men in their 20s who, in addition to being ridiculously attractive, were versatile in all kinds of sports that I don't do.
"So, do you snowboard?" asked Randy, the Scott Foley look-alike who would be taking me out.
Nope.
"Water ski?" Nope. "Snow ski?" Nope. "Skateboard?" Nope.
"Anything that requires balance?" he asked, clearly stretching for some frame of reference. Well, sorta, if you count not falling down when I run on a treadmill.
Even when confronted by my lack of sportiness, Randy remained upbeat. "You'll be fine," he said, as we waded into the water. "People usually pick it up within 10 to 15 minutes."
Randy directed me out toward the bay and, as I lay on my stomach in the water and stretched out my arms like Wonder Woman, he gave the jet packs gas and we were off. This part was easy; there's a bit of a rush having so much water power attached to your body. I could have been pushed around by the Jet Ski all day.
But that's not the point of flyboarding, so when we reached a deeper part of the bay, Randy gave me my lesson. "When I gas it, point your toes down until the board gets underneath you," he said. "Straighten your legs. Then when you rise up, bend them slightly to maintain balance."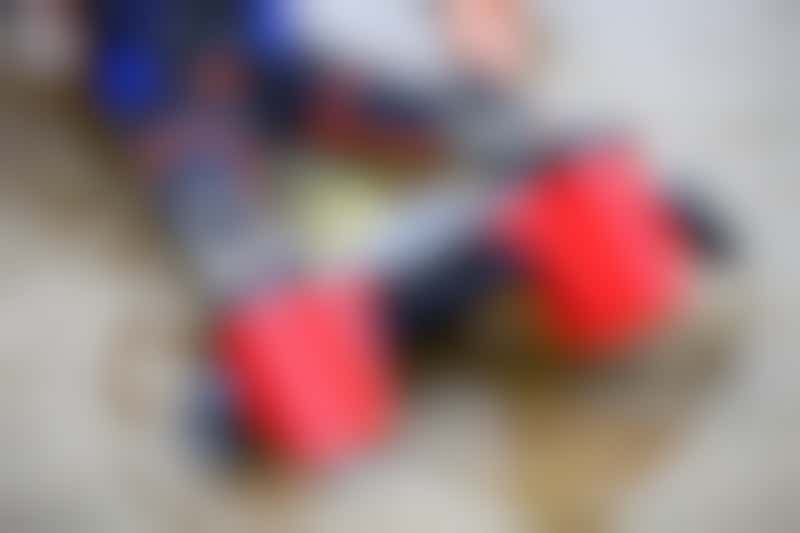 Flyboarding boots (Photo: Photobac/Shutterstock)
Sounds easy enough, right? Um, not really. Lean too far forward as you go up, you fall in the water. Lean too far backward as you go up, you fall in the water. Let's just say I drank a lot of the Caribbean as I struggled to do my first rise.
Then finally, when I had just about reached my limit, everything snapped into place and I began to go up. And up, and up and up, until I was soaring above the bay.
"Woohoo!" I yelled, raising my arms high -- a motion that immediately caused me to flop back down into the water.
"OK, so that's done," I told Randy. "We can go in."
"Yeah, right," said Randy, who had been encouraging me through all my fails. "You want to do it again, I know it."
He was right. Once I knew flying was possible, I wanted to master the maneuver, until I had it down. And while I still had a few dips and face-plants, by the end I could reliably make it up at least 5 feet -- and in some cases, much higher. During my best run, I reached 12 feet and could maintain it for several minutes. Success!
I returned to the shore amid claps from people on the beach who had been watching my progress. (You'll notice that there are no photos or video of my flight; that's by design.) My throat burned a bit from all the salt water I swallowed and the shorts I had worn were beyond waterlogged, but otherwise, I had no ill effects from the experience. I could tell my core and legs had received a workout, but it was nothing more strenuous than I face in Pilates class.
Flyboarders at sunset (Photo: Suwan Wanawattanawong/Shutterstock)
Worth a Try?
If you like a challenge and love the thought of soaring above the water, go for it. As noted, people who are good at balance sports such as skateboarding or snowboarding have an edge. But if I can get up, you probably can too.
Things to Note
Wear shorts or a T-shirt over your swimsuit; if you end up falling, your bikini top or bottom could fall off, too. This is also clearly not an activity that will be fun for people who are either afraid of heights or can't swim. You'll also want to bring your patience; if you face-plant as many times as I did, you need to have a good attitude.