Can I fit my entire family in one cruise room?
Many regular cruise rooms, also called cabins or staterooms, can sleep up to four people. All rooms have two twin beds that can be pushed together to form a queen or king; additional sleeping spots might be a pullout sofa or upper bunks that fold down or pull down from the wall or ceiling. Depending on the size of the room, fitting four people -- and all of their belongings -- in one cabin can be tight.
Some cabins are designated as family staterooms and can sleep five or more. Additionally, some suites that aren't specially geared to families have beds for five or more people.
If you don't want to squeeze your entire family into one cabin, try booking adjacent cabins that interconnect.
What is the benefit to booking a "family stateroom"? Are they more expensive?
Family staterooms are cabins designed to accommodate families. The amenities vary by cabin type and by cruise ship, but most can sleep at least four and sometimes up to 10.
These cabins might have sleeping areas in separate rooms or have a room-dividing blackout curtain that you can pull closed for privacy. Some feature two or more bathrooms, often with bathtubs in addition to showers. Family accommodations may also be located near the kids club or, as with Carnival's Family Harbor area, have access to a shared lounge with TVs, games and snacks. They're useful for large families who want to stay in the same room, and for families of any size looking for more space.
Family cabin pricing varies widely, depending on the size of the room and how many people will be sharing it. (Cruise line fares are per person, not per room like hotels.) The best way to find out which option will be least expensive is to price out a few cabin configurations.
For example, a family oceanview cabin might be more expensive than a regular oceanview stateroom, but booking two regular cabins to house your entire family might end up costing more than booking one family room with discounted third, fourth and fifth passenger fares. Some lines even have limited-time offers of kids-sail-free when booked into the same cabin as parents.
What are interconnecting cabins?
Interconnecting cabins are adjacent cruise rooms that can be connected by opening up doors in the middle of each cabin that lead into the room next door. Booking interconnecting rooms lets parents sleep in one cabin and kids in the other, allowing parents to keep an eye on their kids while still maintaining some privacy.
In addition, families can benefit from two bathrooms, two sets of closets and storage space, and two living areas. If you book interconnecting cabins with balconies, often the divider between the verandahs can be opened to create one larger, shared balcony.
Most interconnecting cabins are between same-category rooms, but some ships do have suites that connect to standard balcony cabins or other configurations that let parents book a nicer room and put the kids in a smaller, less expensive room next door.
Some high-end suites can be connected to make one humongous living space with multiple bedrooms and bathrooms. For example, Royal Caribbean's Family Connected Junior Suites with Balconies on Royal Caribbean's Quantum-class ships combine a junior suite, balcony cabin and solo cabin into one large room that sleeps up to 10 passengers.
Can I book the kids in a separate cabin so my spouse and I can have privacy?
It depends on the cruise line and the age of the kids. Some lines will let parents book kids into inside cabins across the hall or even a few cabins away; others will not. Some cruise lines look the other way when families book two rooms, assign one parent to each cabin for booking purposes, then request additional room keys and sleep the parents in one room and the kids in another.
However, if you do this, know that passengers must report to the muster station assigned to their original cabin for any safety drill and in the unlikely event of an emergency. Generally, cabins near each other are assigned the same meeting points, but it's not always the case; there is a possibility that in an emergency situation, parents could be separated from their children.
Are suites good for families?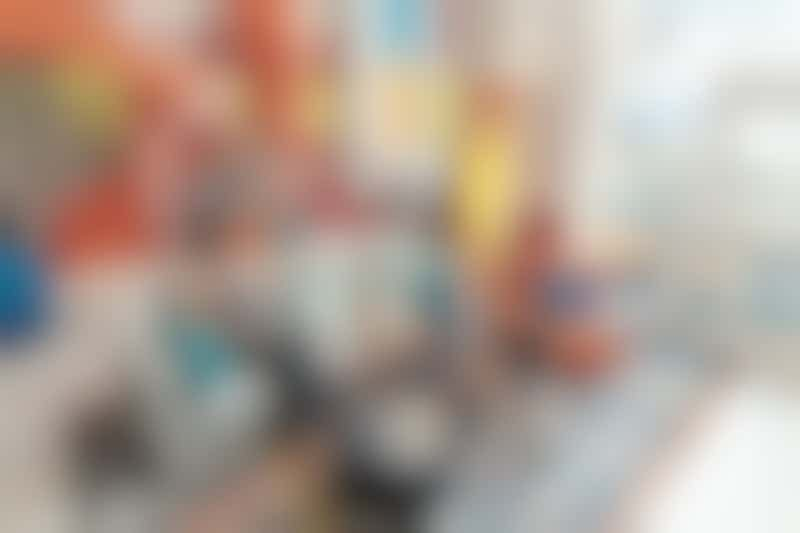 The Ultimate Family Suite on Symphony of the Seas (Photo: Royal Caribbean)
Yes, if you can afford a suite, they can be very useful for families. Suites come in all sizes and layouts, but often feature extra living space; bedrooms walled off from social areas; bathrooms with tubs or multiple bathrooms; priority boarding, debarking and dinner reservations, so you can skip lines; the services of a butler or concierge who can help families make arrangements, handle laundry, bring afternoon snacks, pack suitcases, etc.; and upgraded entertainment systems.
Specially designated family suites will often have separate bedrooms for parents and children, as well as multiple bathrooms with tubs.
Where can babies or toddlers sleep if they're too young for bunk beds?
All cruise lines provide portable cribs (usually Pack 'n Play style) on request for babies. These can take up a lot of space in the middle of the cabin, especially if you need to leave the crib set up for naps.
For toddlers who are too big for cribs but too little to sleep in upper bunks, you have a few options. The first is to book a room with a pullout sofa; if needed, you can bring inflatable bed rails. (Pool noodles do the trick, as well.) Some cruise lines can also set up in-cabin rollaway beds, or you could bring your own travel cot. The room attendant will be happy to outfit it with pillows, sheets and blankets, as needed. Finally, most cruise ship beds push together to make a king, so co-sleeping is an option if that works for your family.
Which family-friendly amenities can I request for my cabin?
As mentioned above, all lines will offer porta-cribs. Disney will also provide diaper pails and bottle warmers on request. Many cabins come with mini-fridges; you might be able to request one on ships that don't include them automatically. (For example, Holland America will rent passengers mini-fridges for a nominal fee.)
In addition, many lines let you purchase kid-friendly amenities through their gifts departments. This could include diapers, wipes and baby food for the littlest cruisers, or child-sized backpacks, drink bottles, snorkel gear or room decorations for older kids.
Room service menus typically have some sort of kid-friendly food (like pizza, burgers, chicken fingers or macaroni and cheese) that you can order to be delivered to your room. In addition, a few lines do offer in-cabin baby-sitting for an extra fee, based on staff availability.
Are balconies safe for little kids?
It is the parents' or guardians' responsibility to ensure their children's safety onboard. Many cabin balconies come with child locks, so kids cannot escape onto the balcony unsupervised. Some balcony railings have spaces between the rails, while others are solid plexiglass or a solid wall. Balcony rails must be at least 42 inches tall, so it's not easy for a small child to go over the top.
However, balcony furniture can be pushed up next to the railing for climbing purposes and very little ones might be able to squeeze through the railings. We recommend that parents instruct their kids that they're not to go out on the balcony by themselves and that no climbing or horseplay is allowed.
Which room is best for my family?
There are many factors to consider when choosing a cabin, such as size, location, amenities and price. The ages and personalities of family members traveling may impact whether you wish to share a cabin or spread out among several, splurge on a suite or settle for a more affordable, windowless room. For more guidance in making that decision, read our piece on how to choose a cruise cabin.
How can I learn more about cruise rooms for families?
You might like the following articles:
The What to Expect on a Cruise series, written by Cruise Critic's editorial staff, is a resource guide, where we answer the most common questions about cruise ship life -- including cruise food, cabins, drinks and onboard fun -- as well as money matters before and during your cruise and visiting ports of call on your cruise.