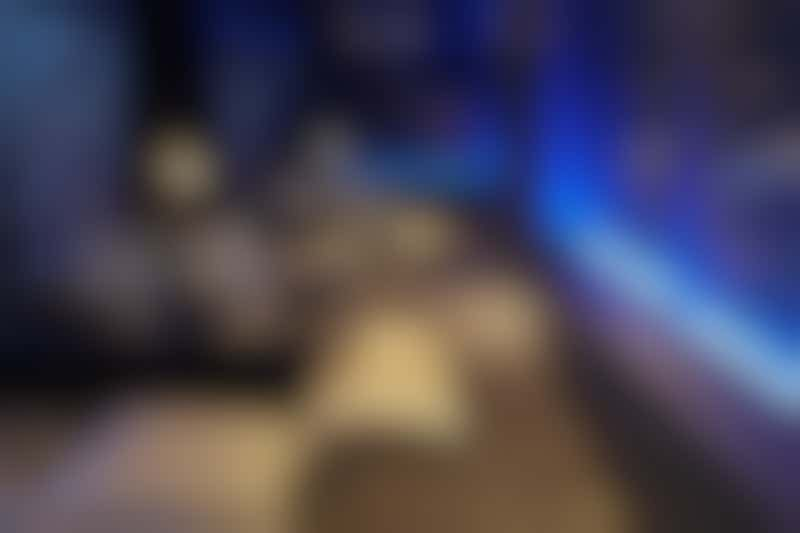 Dragon Lady on P&O Cruises (Photo: P&O Cruises)
Try mixing authentic oriental Asian culture and food with a modern and intimate dining experience -- Dragon Lady is all of this and more. This new P&O restaurant really captures the Asian spirit and goes above and beyond to please its guests. Due to its popularity, bookings are essential. It is recommended to book before 8 a.m.
Ambience
Come as a couple and enjoy the experience in one of the dark-lit secluded booths, or as a larger group and fully experience the Dragon Lady atmosphere by sitting on cushion upon a raised floor. This is more comfortable than it initially sounds due to the sunken tables that offer plenty of room to stretch your legs. Guests are welcomed at the door with a refreshing watermelon, lychee and mint juice shooter accompanied by beetroot and parsnip chips.
Meals
Choose dishes that can vary between Chinese, Thai, Vietnamese, Japanese or Indian from a menu that arrives in the form of origami. Whether you are an audacious eater or someone who prefers a classic Asian dish, there is something to cater for all. The entree menu features dishes such as miso-poached chicken or Thai red curry, and for mains you can opt between many delicious alternatives such as grilled snapper Marsala or vegetable noodles with bok choy and lotus root. Desserts are labeled under the "To Cool and Calm" section of the menu, and offer sweets such as caramelised banana cheesecake or a rich, warm and dark chocolate brownie.
Menu
Please note that this menu is a sample; actual menus vary by ship and sailing.
Price
Free of charge (drinks cost extra)
Ships
Dragon Lady restaurant can be found on the following P&O ships:
Pacific Eden

Pacific Aria

Pacific Explorer