3. Satellite Internet on Cruise Ships Won't Be as Reliable As Your Broadband at Home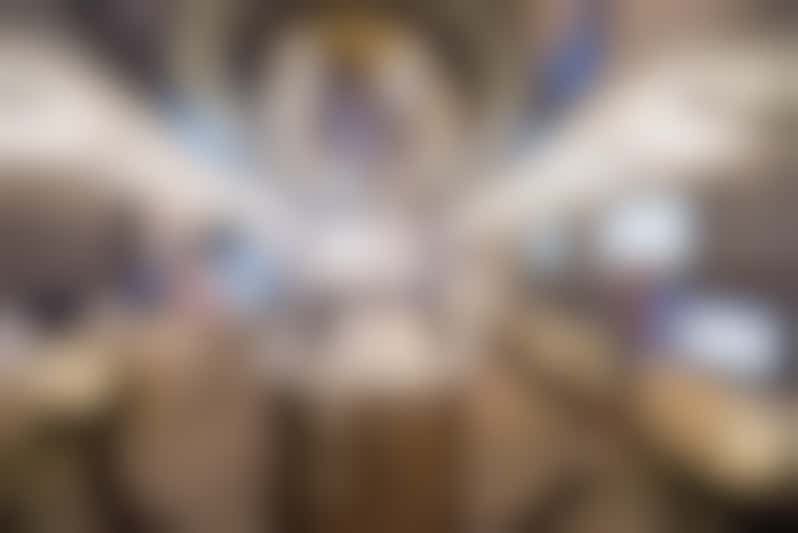 Internet Cafe on Regal Princess
Satellite internet at sea is not as reliable as on-land connections. That's true in almost every circumstance. To understand why shipboard internet isn't comparable to the broadband you enjoy at home, you first need to understand the technology behind it. The big golf ball-shaped domes visible on top of cruise ships are protective shells that encase freely moving satellite antennae. These antennas transmit a signal from the ship to a satellite, which then sends a signal back down to earth.
Maritime communication companies have sped up this process, which used to take a long time, through various means including adding more satellites, increasing the bandwidth that can be sent during each transmission and linking up with land-based towers when sailing closer to shore. But the biggest limitation to reliability continues to be a clear path between the ship and the satellite. All the data being sent from the ship to the satellite and back (for example, pages loading on a browser) has to traverse this pathway. In order for there to be a connection, the antenna needs to be pointing at, and have an unobstructed line of sight to, the satellite.
Sometimes that pathway between the antenna and the satellite is blocked. In port, it might be that a tall building is directly in between the ship and satellite. In the Norwegian fjords, the tall mountains often block satellites, so don't count on satellite reception there. It is also true that the ship itself can block a signal -- on certain courses, the funnel or mast might be between the antenna and satellite.
Related: 9 Tips for Getting a Last-Minute Cruise Deal
Furthermore, when the ship has to change course quickly, it's common for the signal to be temporarily lost. Barring any obstructions, you can still get an internet signal down in Antarctica and as far as 80 degrees north latitude in Svalbard.
Congestion within the path also can be a problem. As more people are on their computers or cell phones requiring data, congestion can build up and passengers could notice slower speeds.
Interestingly, river boats (many of which offer free internet) continue to offer a particularly frustrating online experience, if only because of heightened expectations. Being so close to civilization, you'd think there should be a quicker connection. However, hills or mountains in the river valleys often block satellite connections, so river ships must use cellular for their primary internet connection. When the ship is near a cell phone tower, newer 3G or 4G service can provide faster service than what can be delivered through satellite. The disadvantage comes in areas with a lack of cell towers, where the cell signal is weaker and the connection speed slower.