If you're looking for the ultimate base to explore Denali National Park, it's hard to beat the Denali Princess Wilderness Lodge. The largest hotel in Alaska, the Denali Princess is a full-service resort, with numerous restaurants, 66 rooms on a lodge-style campus and excursion opportunities galore.
With nearly 1,200 guests, the Denali Princess is a bustling place, as people make the most out of their limited time here. Most people arrive at Denali Princess before or after a Princess cruise; the lodge is a stop on every cruise tour that the line runs. Yet the actual rooms are fairly spread out, so you can find your quiet time. The lodge overlooks the Nenana River, so there can be great views outside your window (even wildlife sightings), particularly in the late summer when the leaves change color.
If you're trying to choose between Denali Princess Wilderness Lodge and Mt. McKinley Princess Wilderness Lodge, the important difference is that Denali Princess Wilderness Lodge is THE gateway to the national park. While you can't see the mountain from the lodge, you can access it through flightseeing and other excursions. You're right across the street from "Glitter Gulch," a seasonal tourist town of restaurants, shops and bars (if you prefer to eat outside the lodge). There's excitement here, as people come back from excursions with tales of glaciers, bear sightings and sled dog cuddles.
Denali Princess Wilderness Lodge Rooms
The Denali Princess Wilderness Lodge has 666 rooms, spread out across 16 buildings. Rooms come with two double beds, two queen beds or one king bed. There are 90 rooms with two double beds, 256 rooms with queen beds and 255 rooms with king beds. There are also 40 rooms designated as king deluxe, with more space, and four king deluxe suites. Eighteen rooms are ADA compliant.
In most rooms, there's a flat-screen TV, a table and two chairs for sitting, a generic coffee maker and -- a boon in an area with limited cell service -- complimentary Wi-Fi. Unlike Mt. McKinley Princess Wilderness Lodge, you can get Wi-Fi in your room at Denali Princess.
The room decor is a bit beige, with wood-style accents on headboards and tables. There's a phone and USB ports for charging near the bed. The bathroom has dispensers for shampoo, conditioner and body wash. A hair dryer is mounted to the wall.
The rooms that are reserved for Princess Cruises' Connoisseur guests are on the bluff known as Caribou Ridge, in buildings A and B. These buildings have their own restaurant, bar and gathering room onsite, as well as a sprawling deck with river views. The downside is that it's about a five-minute walk uphill from the main lodge building.
If you want to be close to the main lodge, look for rooms in buildings K, M and L. Building K is also near Fanny Q's Saloon, which serves a breakfast buffet and full-service dinner menu, as is Building J. Building G is close to the complex housing Grizzly Burger and the King Salmon Restaurant.
A shuttle runs around the property or you can call guest services to arrange a ride.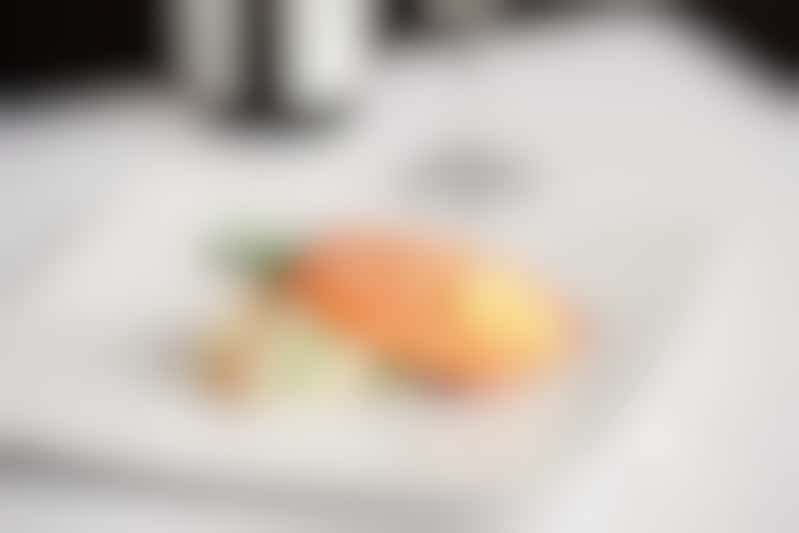 A Fancy Salmon Dinner (Photo: Princess Cruises)
Denali Princess Wilderness Lodge Food
With multiple restaurants -- and in-room pizza delivery -- you never have to leave Denali Princess to get something to eat. Prices are a la carte or, depending on what cruise tour you're on, meals might be included on a voucher system.
Here's the rundown of what you'll find.
King Salmon Restaurant: The fine dining center of the resort focuses on -- what else? -- salmon and seafood. The salt-dusted king salmon is a signature dish, as is the asiago-crusted Alaskan halibut. Save room for the indulgent blueberry bread pudding. King Salmon also serves a sit-down breakfast in the mornings, but note that it can be slow. The Alaskan King Crab Newberg omelet is a favorite, as is the lingonberry-layered French toast.
Grizzly Burger: This casual restaurant serves all kinds of gourmet burgers. crabcakes and veggie burgers. Milkshakes, particularly the ones with booze, are a highlight. Open 11 a.m. to 8 p.m., it's a good place to satisfy those post-excursion munchies.
Fannie Q's Saloon: With a rustic Alaskan atmosphere, Fannie Q's is open for breakfast, lunch and dinner. The breakfast is a buffet, with lots of choices. Lunch and dinner feature appetizers such as jalapeno crab dip; entrees such as a fried chicken sandwich, fish and chips and braised pork shoulder; and desserts such as blue "bear" paw pie. It's a fun, casual option with indoor and outdoor seating and, on some nights, live music.
Lynx Creek Pizza & Pub: Sometimes you just want a pizza. And, that's exactly what you'll get at Lynx Creek, which has a log cabin atmosphere. The real highlight of Lynx Creek is that it's the only restaurant on the property that will deliver to your room, a perfect option for a long, tiring day.
River Run Espresso: This coffee bar in the main lodge also has pastries, yogurt and other light bites for takeaway.
Rapids Morning Express & Bar: Located in the great room of the Caribou Ridge buildings, this counter serves coffee and pastries in the mornings and alcohol at night.
If your excursion schedule looks hectic, box lunches can be ordered before 8 p.m. the night before.
If you'd rather eat off property, you can walk across the street to Glitter Gulch for cheap eats (and also if you'd like to buy your own liquor). Denali Square is a shopping/dining area that's located between the Denali Princess and Holland America Line's McKinley Chalet Resort. A dining shuttle can transport you over there to visit Karstens Public House, Canyon Steakhouse and Music of Denali's Gold Nugget Saloon.
Denali Princess Wilderness Lodge Itineraries
Because Denali Princess Lodge is the flagship hotel for Princess' Alaska cruise tour program, you'll find at least one night here on all land itineraries.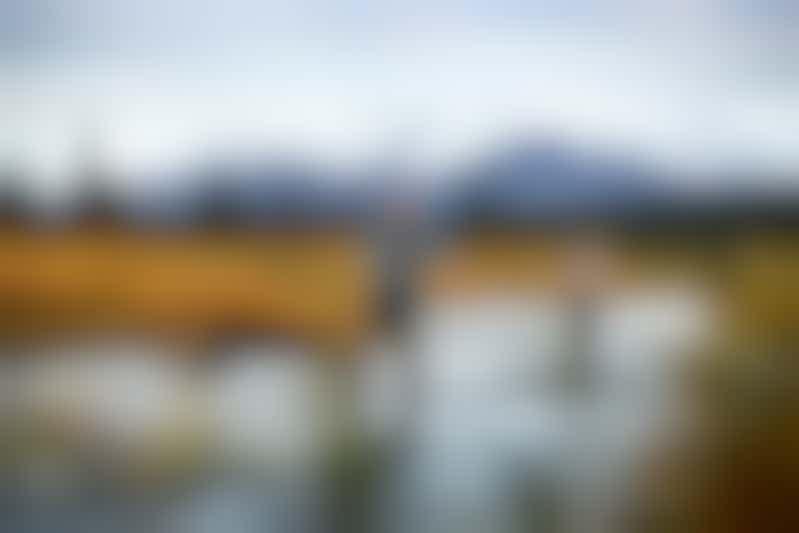 Couple Fishing in Denali, Alaska, a Popular Activity in the Area (Photo: Princess Cruises)
Denali Princess Wilderness Lodge Activities
There's a whole host of (for-fee) excursions to keep you busy for several days at Denali Princess Wilderness Lodge. Popular activities include a variety of flightseeing options (we loved the Denali Peak Experience), ATV and Jeep rides, fishing, visiting a sled dog kennel, river rafting and floats, photography sessions, glass-making classes, golfing, hiking and walking tours, and a covered wagon tour.
One tour that's a must, especially if you want to see wildlife: the Tundra Wilderness Tour. This trip takes a full day, but it is the only way that you really go into Denali National Park (which limits vehicles) and view animals in their natural habitat. Expect to see bears, moose, caribou and Dall sheep; if you're lucky, you might catch a fox, wolf or even a lynx.
There are also nature talks at Denali National Park, and the lodge hosts occasional naturalist talks as well. Denali Square also has an artist-in-residence program with an artist from Denali National Park. The River View walking path is paved and has nice views of the Nenana River.
The Fireside Patio has several fire pits that are open in the evenings, weather permitting. You can order drinks from nearby Fannie Q's.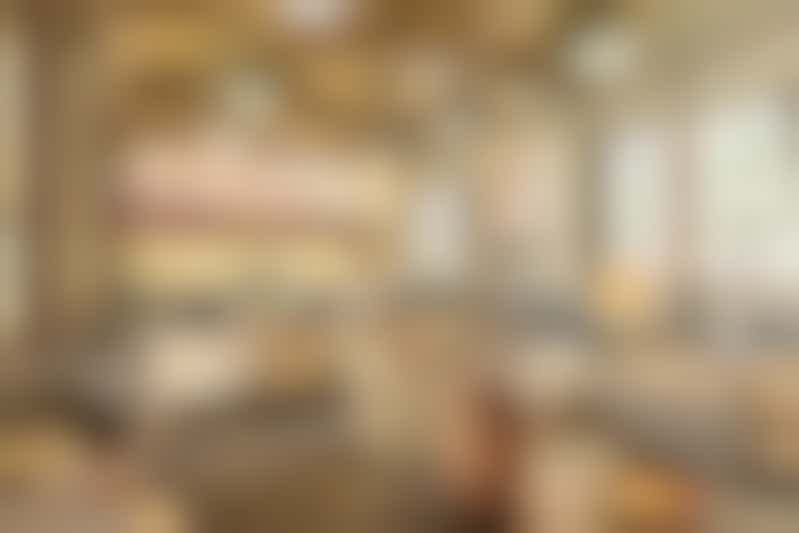 Main Lounge Area in the Denali Princess Wilderness Lodge (Photo: Princess Cruises)
Denali Princess Wilderness Lodge Amenities
The main lodge is a bustling place, with people coming and going for their excursions. It's not exactly relaxing, particularly in the mornings at peak excursion times, but it is efficient. The upstairs area where the shuttles and excursions have their pickups is hectic, but if you go downstairs, the rest of the main lodge is a bit more peaceful.
A large guest services desk anchors the main lodge. Here you can find maps, daily activity schedules and excursion booklets. During late August and September, you can set a northern lights wake-up call from guest services. Games and books can also be checked out of the main lodge.
After all those activities, you might need to wash clothes. Coin-operated laundry machines are located in buildings B, D, G, H and K. Detergent vending machines and change machines are available in each location.
If you need to get souvenirs, there are several stores on the property. Milepost 238.5 has a Christmas cabin for that perfect Alaskan-themed ornament. Sugarloaf is a candy store with roasted cinnamon-glazed nuts. The Bath House has natural soaps and other products. Other places to shop include the General Store Gift Shop in the main lodge, Fox Creek Studio with made-in-Alaska keepsakes, The Cache for moccasins and mukluks, the Ice Box jewelry store and the Trading Post, which has a glass studio.
Several shuttles take you off the property, eliminating the need for a rental car. A free shuttle to Denali National Park takes you to the Visitor Center (where you can visit the park's sled dogs for free) and the Horseshoe Lake Trailhead. The shuttle costs $5 after 9 p.m. There's also the aforementioned shuttle to Denali Square.
Kids are also taken care of with an activity sheet complete with an Alaska-themed word search and property scavenger hunt.
Denali Princess Wilderness Lodge Accessibility
Eighteen rooms on the property are ADA accessible. These include one room with both a twin and a double bed, six rooms with queen beds and 11 rooms with king-size beds. Buildings all have elevators.
The property shuttle contains a wheelchair lift.