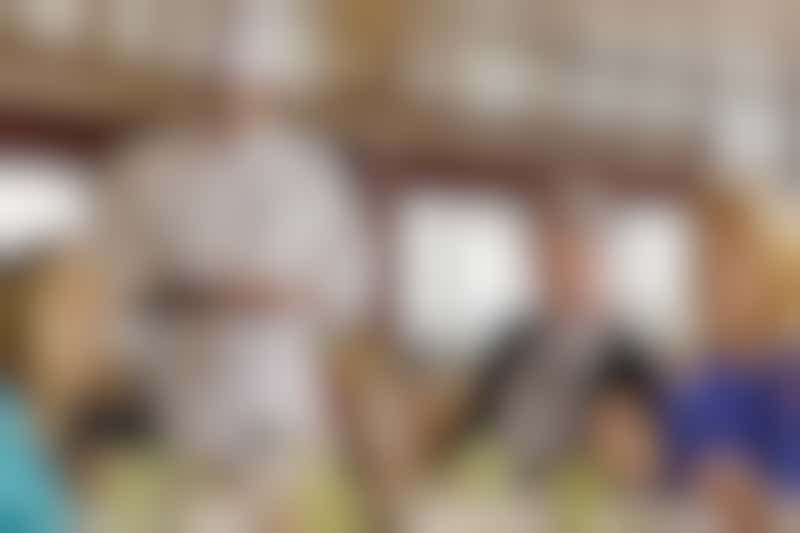 Chef on Silversea chatting with cruise passengers (Photo: Silversea)
What sort of pastimes can I expect during the day?
While luxury cruise ships may lack entertainment options like rock climbing walls, mini golf courses and water slides, they more than make up for those omissions with fascinating lecture series, cooking schools and trivia competitions that would make Jeopardy's Alex Trebeck proud. The type of activities presented during the day will depend on a few factors, including the duration of your cruise, the region of the world in which you're sailing, and the number of sea days that are part of the itinerary.
Warm-weather voyages to destinations in the South Pacific, Caribbean and Southeast Asia might have fewer daytime activities planned when the ship is in port, for the mere fact that nearly everyone is off the boat enjoying the island or coastal village. On the other hand, transatlantic and transpacific voyages will be chock full of daytime entertainment -- from food and wine tastings to cooking demonstrations, guest lectures, bingo and trivia -- since you've got several sea days in a row to fill with activities.
The ship's daily program -- delivered to your room each evening -- describes the next day's events. Expect to see a lot of enrichment programs, such as computer classes to teach you how to use a digital photo library or a guest lecturer discussing the history, art or architecture of your next port of call. Don't forget your ship's library, where you can find all sorts of books as well as DVDs that you can borrow to watch in your suite.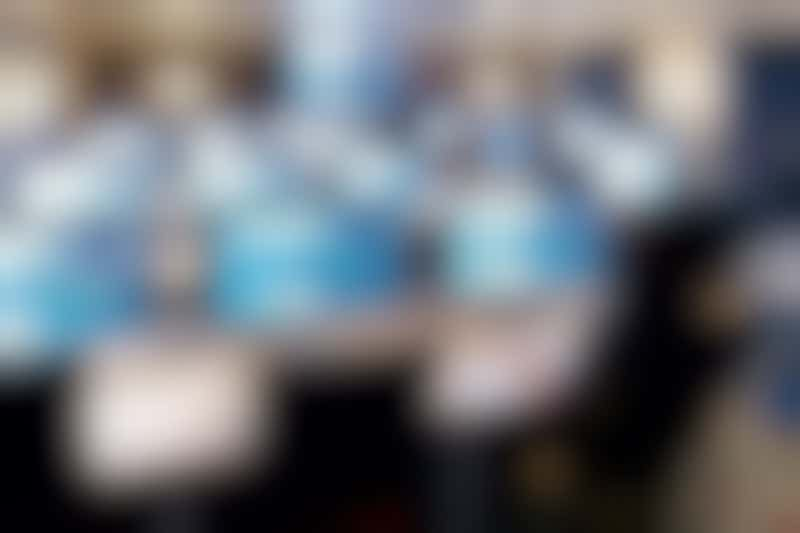 Crystal's University@Sea program (Photo: Crystal Cruises)
Can I learn something new on a cruise?
Yes! In addition to the myriad enrichment programs and educational lectures the ship may offer, there are usually a host of workshops and classes that can teach you everything from how to make better use of your tablet and how to dance the tango to making perfectly seasoned tomato sauce or knitting a shawl.
Crystal's University@Sea features a computer lab with 40 27-inch iMacs running the latest software. The line also offers The Studio, a "creative learning institute," where you can learn all sorts of things, including digital filmmaking.
Seabourn ships offer Seabourn Conversations, a program in which they invite luminaries from a variety of industries and disciplines to come aboard to share ideas with passengers and present lectures. These "conversations" cover the arts; food and wine; culture and destinations; current affairs and history; and science. Expect to meet anyone from journalist Dan Rather to political operative Karl Rove or singer-songwriter Melissa Manchester.
Paul Gauguin also welcomes an incredible array of interesting people aboard, including oceanographer Jean-Michel Cousteau, Parisian chef Jean-Pierre Vigato and opera singer Simone Osborne.
Are there any activities for foodies?
Oceania's Riviera and Marina are home to The Culinary Center, a hands-on cooking school at sea where you'll man a state-of-the-art cooking station and learn how to prepare a variety of dishes yourself. Regent Seven Seas Cruises features a Culinary Arts Kitchen, complete with 18 individual cooking stations, aboard Seven Seas Explorer and Splendor. Classes include a little bit of everything, from learning how to roast the perfect chicken to assembling an afternoon tea that would make the cast of Downton Abbey proud.
Beyond these culinary centers you'll find a variety of cooking demonstrations, often lead by renowned celebrity chefs. Danny Meyer, Hubert Keller, Andre Soltner and Bradley Ogden have all led interactive cooking demonstrations aboard Crystal Cruises' ships.
Since chefs aboard luxury ships aren't cooking for quite as many people as they would on a massive cruise ship, they have a bit more time to spend with passengers. Cruise lines including Seabourn, SeaDream Yacht Club, Silversea, Regent and Viking Ocean Cruises often schedule shopping trips with their chefs. Watch the daily program for an announcement and be sure to sign up, since these types of tours -- which are often complimentary -- can be a popular pastime. The chef will lead the group to shore and visit a local market, where he or she will purchase ingredients to be used aboard the ship.
If you enjoy good food and wine but don't necessarily want to spend time in the kitchen or at a demonstration, look for wine and cheese tastings aboard lines like Regent, Silversea, Seabourn or Crystal Cruises. (On the latter, events are sponsored by the Society of Wine Educators.)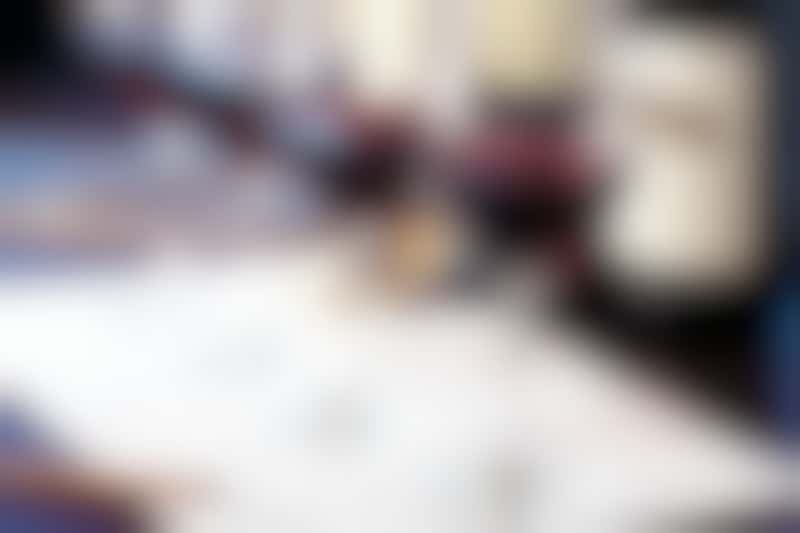 Onboard wine tasting (Photo: Crystal Cruises)
Do luxury lines offer theme cruises?
Yes! The cruise industry as a whole has embraced theme cruises, and luxury lines come to the table with voyages that focus on the culinary arts, architecture and art history, politics and current events. Regent's popular Spotlight on Public Broadcasting invites a variety of PBS personalities and other well-known pundits to lead presentations and panel discussions on a variety of topics. Silversea is a good choice for culinary voyages and itineraries with a focus on bridge. Silversea welcomes Les Chefs by Relais & Chateaux onboard specific sailings for an ad hoc cooking school at sea. Crystal Cruises offers its Wine & Food Festival voyages several times a year, and also programs cruises with a focus on big band music and ballroom dance.
Look for theme cruises tied to a destination (such as food and wine cruises in the Mediterranean), or special interest sailings on transatlantic or other voyages with lots of sea days.
Is there a puzzle corner or a place to play board games, bridge, bingo, trivia, cards or other games?
You can generally pick up the crossword puzzle and Sudoku of the day at the reception desk of any luxury ship. Paul Gauguin, a lovely vessel sailing French Polynesia, even offers a small puzzle corner across from its gift shop.
Most luxury ships have a card room, where you can find board games and space to play a variety of card games with your travel companions.
Some lines such as Crystal, Oceania, Regent and Silversea also take the game of bridge seriously. An American Contract Bridge League accredited master instructor is onboard every Crystal itinerary, and free classes are offered. An ACBL instructor boards a dozen or so Oceania Cruises itineraries per year to offer classes and host tournaments. (Look for cruises two weeks or longer for this offering.) Likewise, Regent Seven Seas offers ACBL tournaments on select voyages. Silversea offers both Contract and Duplicate Bridge sessions (twice daily on sea days).
Other lines offer bingo, trivia and other group games -- especially on sea days. Often hosted in the observation lounge or other bar, it's fun to play a game, get to know your fellow travelers and watch the beautiful scenery go by as the ship sails to the next port of call. Be forewarned, however, that playing trivia is a competitive sport aboard luxury cruise ships. It's a very popular daytime pastime and teams form early in the voyage. Competition is jovial but fierce, and if you join a team you're expected to show up for all the games or risk the displeasure of your cruise mates.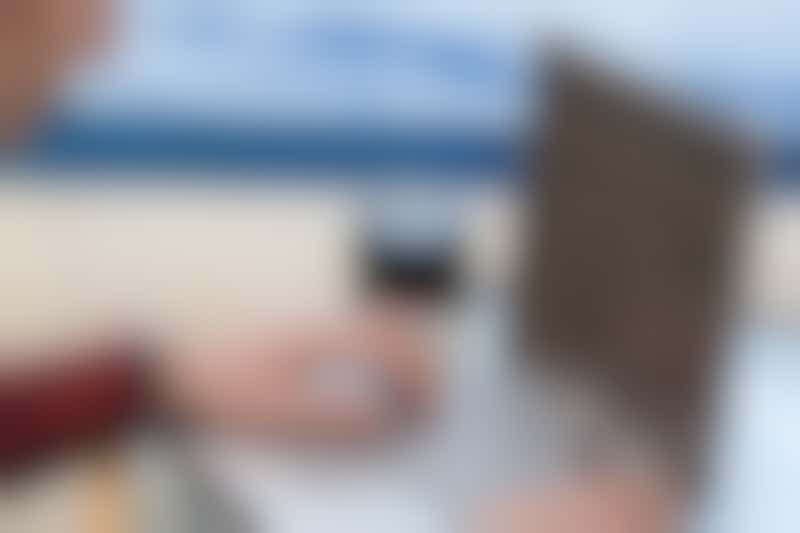 Onboard Internet (Photo: Silversea)
Is there somewhere that I can connect to the Internet to check my email and surf the Internet?
Every luxury cruise ship will have Internet access -- though some cruise lines offer better service (more reliable connections and faster speed) than others. Sometimes there is a specific computer center (usually a small room near the library with a computer terminal or two and a printer) or the computers are located in a lounge or central gathering place on the ship. There is generally also WiFi in every stateroom.
Seabourn Square aboard any Seabourn ship is one of the nicest spaces to check email at sea. This well-designed gathering place combines a lovely sitting room with the library and computer center. There is an amazing coffee bar that also serves treats including sandwiches, pastries and gelato. Concierges stand by in Seabourn Square to answer any of your questions, so this lounge is definitely a hub of activity at all hours.
How can I find out more about daytime activities on luxury cruises?
The What to Expect on a Luxury Cruise series is a resource guide, written by Cruise Critic editors and contributors, where we answer the most common questions about cruise ship life on the most upscale vessels -- including dining, cabins and suites, service and onboard activities.