Antarctica still remains a … place where it's possible to see the splendors and immensities of the natural world at its most dramatic and, what's more, witness them almost exactly as they were, long, long before human beings ever arrived on the surface of this planet. Long may it remain so.
--David Attenborough, English broadcaster and naturalist
The magic continues today on Cuverville Island.
Threading our way through a field of icebergs, our tender pulls up to a small bay surrounded by massive snow-covered ice cliffs. A cloudy haze blankets the scene, providing a moody feel.
We're in gentoo heaven. Some of them welcome us by leaping out of the water, porpoise-like, showing off on cue. When we step ashore, thousands of the orange-beaked birds, the largest colony on the Antarctic Peninsula, are everywhere -- clustered by the water, perched on the mountain, crossing our pathways. They waddle and fight and nest and mate. A few stray ones climb their "penguin highways" up the steep slopes. It's the beginning of breeding season and they're here to find their mates. Cameras click as we photograph them solo, in couples, in groups, in masses -- and yes, even in the missionary position! We can't seem to get enough of them.
When I find ornithologist Dan Busby at the end of the trail, I ask him what he likes most about these entertaining creatures. "That they're birds that can't fly but still found a way to be successful," he answers. "That amazes me every time I see them."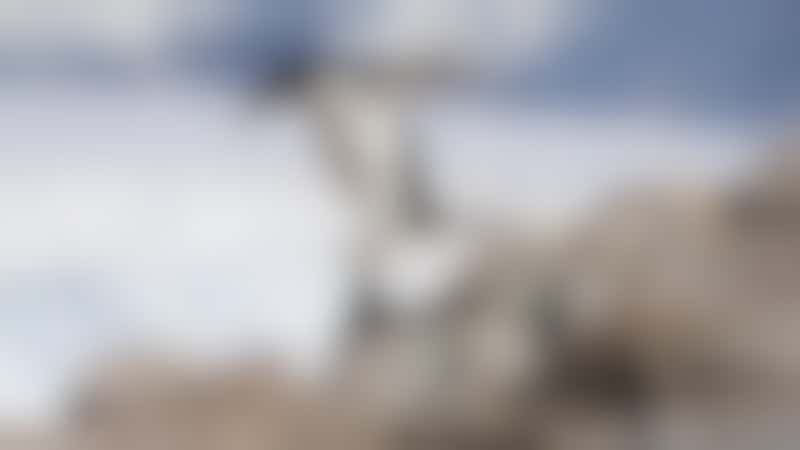 On my way back to the tender, I catch up with Captain Albrigtsen, who's just married a couple on a secluded spot on the island. "Cuverville is one of my favorite places, along with Nico Harbour and Paradise Bay," he tells me, as penguins strut all around us. "We're surrounded by glaciers; it's so beautiful."
When I ask him what he loves most about Antarctica, he answers, "The light, the dimensions, the wildlife and the color. This is the best light to see the blue color on the glaciers. It makes a special contrast." Then he adds, "When it's quiet, you can hear the ice talking to you, cracking in the water. The glacier is speaking. It's moving all the time."
In the afternoon, as others go kayaking, take photography or art classes, or go on geology field trips, I opt to cruise the bay. Bring on the icebergs. I marvel at how they're honeycombed, striated, flattened and rounded. They rear up suddenly like thoroughbred stallions. They drip with icicles sharp as fangs. They dazzle with blues Picasso would envy.
Suddenly we hear there's a rare emperor penguin nearby. Our Zodiac, along with five others, races to the spot, where we wait…and wait…and wait. Just when I think this emperor has no clothes, there he is, head bobbing above the water.
"This is the holy grail of ornithology," says our guide Tom Warmolts, excitedly. "It's the most expensive bird in the world to add to your life list. You pay $50,000 to fly to the South Pole to see an emperor. They almost never get this far north. I'll be talking about this for years."
On our way back to the Midnatsol, we catch a mighty leopard seal napping on an iceberg. It seems almost an afterthought given the day's events.
But the biggest thrill comes tonight, when I join 29 fellow passengers for a rare opportunity to camp out on the snow. About 9:30 p.m., we tender over to a minuscule island outcropping in Leith Harbour, a pocket cove of towering walls of ice. We're advised to wear thermal underwear, warm sweaters and woolen headwear, and bring extra hats, gloves and socks. No food allowed, just a bottle of water.
As a single, I'm assigned a female tent mate. Like the rest of the campers, the two of us set up our tent, liner, inflatable mattresses and sleeping bags. "It's top-of-the-line gear used on expeditions around the world," explains our excursion leader, Will Baker. Then he introduces us to the two open-air Porta Potties set up in the snow. (I decide to forego the indignities and tough it out for the night.)
Then we check out our enchanting overnight home, bathed in an eerie twilight by the late-setting sun that heightens the drama of this glacial world. The water around us is so still it resembles mirrored glass, perfectly reflecting the ice mountains. We all share the unspoken sense that we're experiencing something extraordinary, something once reserved for hard-core explorers.
By the time we turn in near midnight, the silence and stillness is almost deafening. The Midnatsol has disappeared out of sight and there's not another soul around, save our hardy crew. From my little room with a view, I look out over the frozen landscape with rapturous wonder. I'm overwhelmed by the raw, untamed power of nature in a place untouched for eons.
Comfortably warm, I awaken from a light sleep at 4 a.m. by the thunderous calving of a huge sheet of ice followed by the birds greeting the early sunrise. We get up about 5:30 a.m. to see a light snow has fallen overnight. As we pack up, we fill in any large holes our footprints made in the deep snow so that penguins won't get trapped in them, and tender back to the ship at 7 a.m.
"I've always wanted to come to Antarctica since I was a child," says Graham Spooner, a fellow camper from London. "Shortly after I got married, I took my wife to Machu Picchu where she'd wanted to go as a child. I've now achieved my Machu Picchu moment. And camping here is the absolute icing on the cake, or should I say, the snow on the top."
Tomorrow we visit Paradise Harbour, the setting for Brown Station, an Argentine research station -- and more penguins. In her briefing, guide Line Overgaard confirms what we already know: "We've been very lucky so far to go ashore at all our landing places."
---
Want to learn more about polar cruising? Check out our other stories on Cruise Critic...
---
Currently onboard Hurtigruten's Midnatsol in Antarctica, award-winning writer and former travel editor of USA TODAY, Veronica Stoddart has visited and reported from more than 100 countries. She has contributed to Conde Nast Traveler, National Geographic Traveler, AARP The Magazine, Los Angeles Times, Robb Report and many others. She believes that travel can be a force for good in the world. Stoddart will be posting daily dispatches through November 24 so check back daily for the latest insights and discoveries from a once-in-a-lifetime (or maybe a multi-trip-of-a-lifetime to Antarctica, the White Continent).
---
Find your Hurtigruten Cruise!