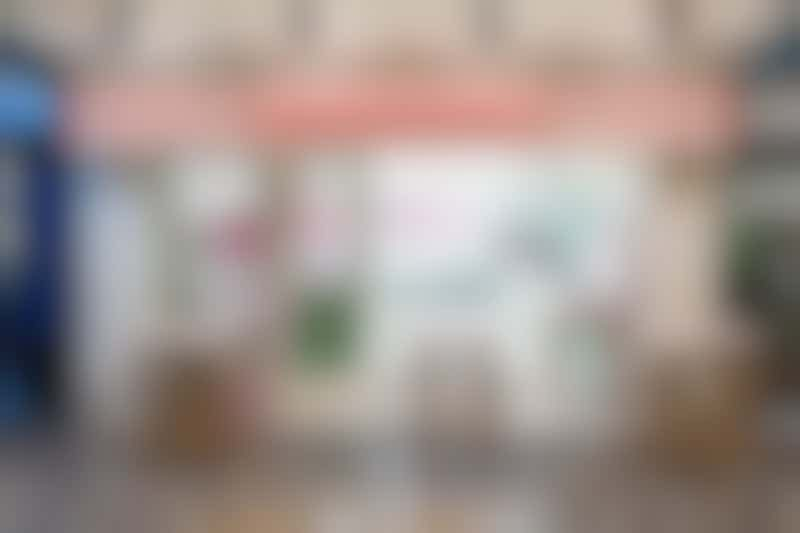 The Cupcake Cupboard on Freedom of the Seas (Photo: Cruise Critic)
When your sweet tooth starts to ache on a cruise, Cupcake Cupboard onboard Royal Caribbean has your sugar fix in the form of whimsical cupcakes. Out-of-the-ordinary flavors in a precious space set this sweet shop apart from the rest.
---
Ambiance
Cupcake Cupboard gives dessert-seekers a boutique atmosphere to buy, browse or even decorate their own cupcakes. Expect a lot of pink, with traces of mint green in the decor. Most locations feature an actual cupboard, which serves as a display case. While this is a quaint place to shop, there is not a ton of space dedicated to sitting and enjoying your treat. One or two small, square tables with some stools might be available.
Cupcake Cupboard locations are typically found along the Cafe Promenade.
---
Cupcakes at Cupcake Cupboard on Voyager of the Seas (Photo: Cruise Critic)
Cupcakes
The prized pastries at Cupcake Cupboard come in an impressive variety of flavors, which vary by ship and availability. In addition to your run-of-the-mill vanilla, chocolate or red velvet, some more exotic examples include bubblegum, strawberry lemonade, cinnamon apple pie, pina colada, gingerbread, raspberry Champagne, root beer, Black Forest, Key lime or chocolate banana.
Gluten-free cupcakes are available at select locations on a limited basis.
Other sweet-themed paraphernalia like mugs, ornaments, charm bracelets, cupcake stands and aprons are available for sale at the shop.
---
Price
Mini cupcakes and cupcake pops start at $1.50 apiece. Cupcakes are $2.75 each. A half-dozen run $14.95, and a dozen cupcakes is $28.95. A giant cupcake will cost you $29.95.
Cupcake-decorating classes cost $22 per person for anyone 11 and older and $15 per child for kids aged 4 to 10. A cancellation fee of $10 applies.
---
Ships
Cupcake Cupboard is available on:
Voyager of the Seas

Liberty of the Seas

Independence of the Seas

Freedom of the Seas
See photos of Cupcake Cupboard on Freedom of the Seas.
Show Royal Caribbean Prices