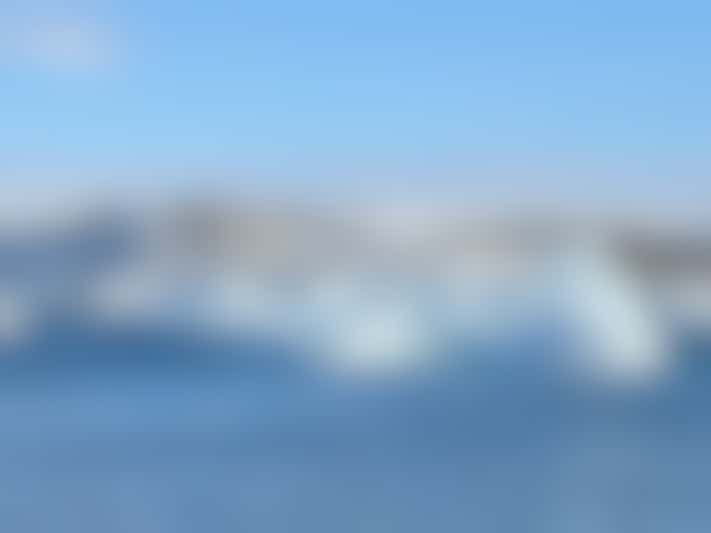 Icebergs off the eastern coast of Greenland (Photo/Chris Gray Faust)
The Two Sides of Greenland Have Different Appeals
As you plan a trip to Greenland, look closely at the itinerary. Will you be stopping on the western side of Greenland, which is more inhabited and has the island's larger towns such as Nuuk and Ilulissat? Or is your ship going to the eastern side of Greenland, which is largely uninhabited?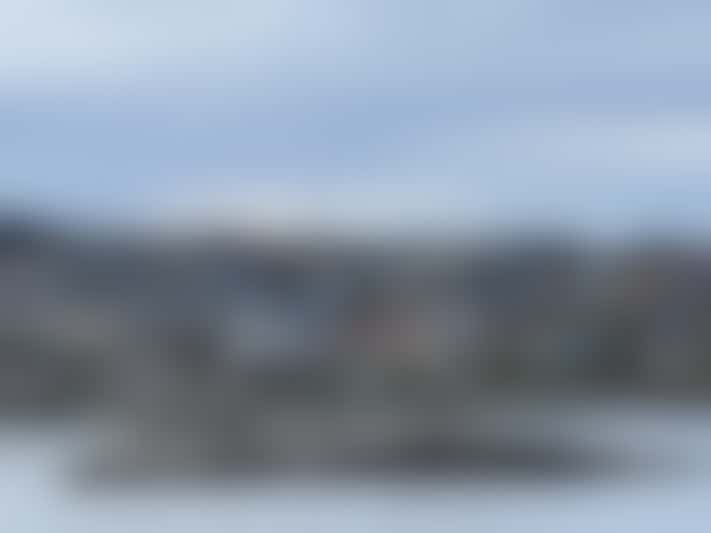 View of Ilulissat coming in from the water in Greenland (Photo/Chris Gray Faust)
The two sides have vastly different feels; it's almost like two cruises in one. A cruise to western Greenland will have regular port stops, where you either can dock or (more likely) take a tender into town. Here you will have shore excursions, both on land, such as a museum or Inuit home visit, or at sea, such as whale watching or viewing icebergs in Disko Bay.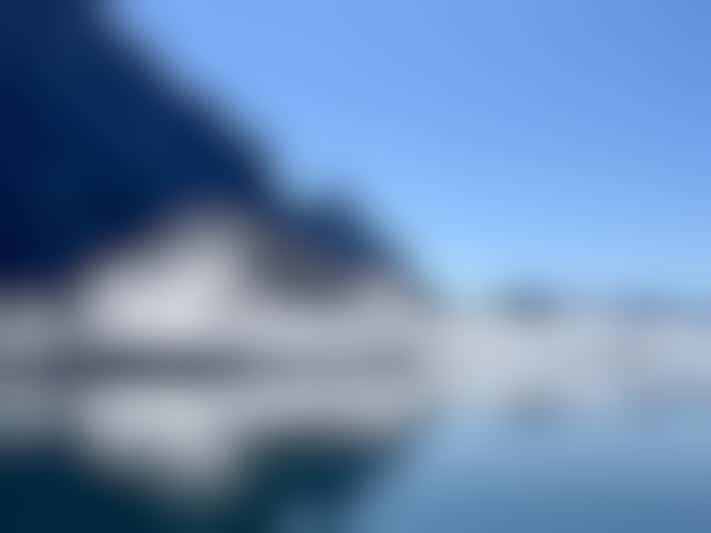 Fog while sailing through the Prince Christian Fjord in Greenland (Photo/Chris Gray Faust)
An eastern Greenland cruise is far more rugged and adventurous. If you land -- and more on that later -- you will be doing it by Zodiac with armed patrols watching to make sure no polar bears are in the area. A trip on this side of the island is all about seeing as much nature as you can, and it's best left to small expedition ships with good polar ratings.
While some cruises do go more north past Disko Bay, these tend to be on expedition vessels that are doing a Northwest Passage itinerary encompassing part of Arctic Canada. On these sailings, expect a mix of scenic Zodiac cruising and settlement visits.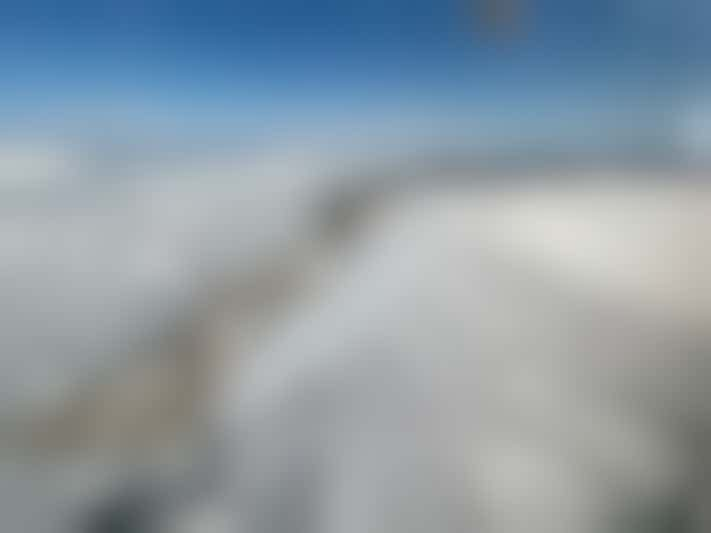 View of the Greenland ice cap from the helicopter on Scenic Eclipse II (Photo/Chris Gray Faust)
Greenland's Ice Lasts a Long Time -- Even Well Into Summer
Greenland has some of the most dramatic changes because of climate change; you can see where glaciers have receded and the crew onboard usually offer sobering facts about how fast that has occurred. But there is still a lot of ice, and it can radically affect your cruise.
On our Greenland cruise on Scenic Eclipse II at the beginning of August, we were able to get to all of our planned stops on the eastern side of the island. But the same cruise, just a few weeks earlier, wasn't able to stop at all because there was too much ice. We've heard of many disappointed passengers who weren't able to touch land or make any stops at all on the Greenland part of the cruise.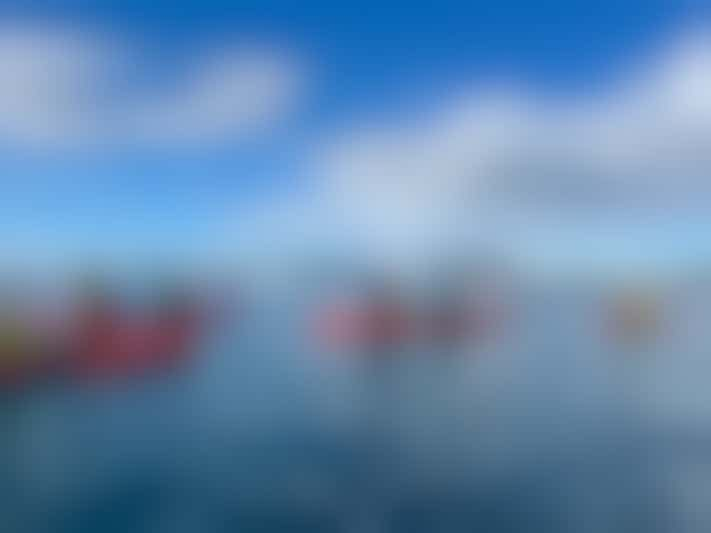 Kayaking among the icebergs in Greenland with Scenic Eclipse II (Photo/Chris Gray Faust)
The ice doesn't just affect your landings. It also impacts what kind of other activities you can do, such as kayaking. Generally, most ships will be able to offer scenic Zodiac cruising, where you can get a little closer to glaciers and icebergs. But even this can be limited if the conditions are dangerous for the vessel or passengers.
On a Greenland cruise, you really want to hope for the best and expect the worst -- and be OK with your experience even if you never touch land.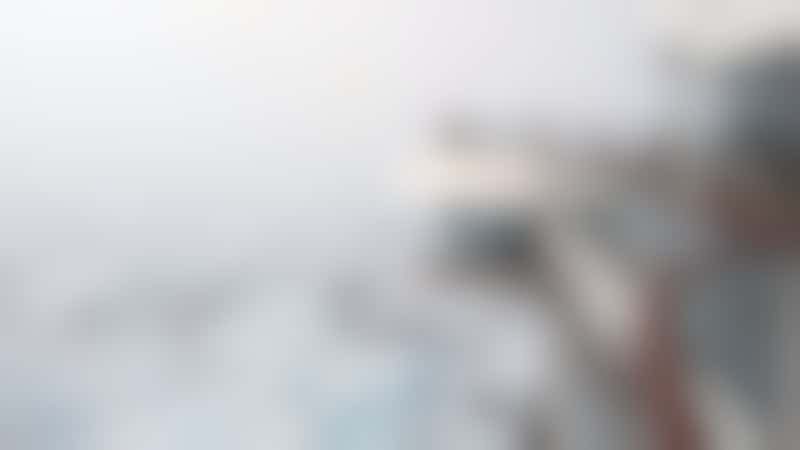 National Geographic Resolution cuts through the ice in the Arctic. (Photo: Colleen McDaniel)
Be Aware of Your Ship's Polar Rating for a Greenland Cruise
The polar classification ratings that expedition ships have is probably new information for most cruisers. But this number, which ranges from PC1 to PC7, can affect your Greenland sailing in a big way.
Regular cruise ships -- those run by Carnival, Princess or Viking's ocean ships -- are not polar rated for ice. It's highly unlikely, unless all the weather gods are in your favor, that you'd be able to make a landing on Greenland's east coast on these ships. You might not even be able to dock in the western ports if it's too early in the season or the ice and weather conditions aren't right.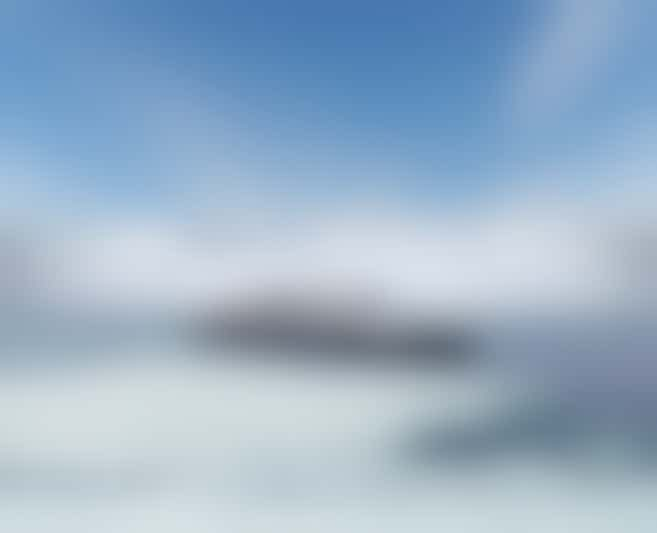 Le Commandant Charcot. Photo courtesy of Ponant
Expedition ships do have a polar class rating. Ponant's Le Commandant Charcot is rated as a P2, meaning it can cut through a significant amount of ice. It can, and does, make trips to all regions of Greenland, as well as the North Pole, breaking up ice as it goes.
A handful of expedition ships, such as those from Lindblad and also Swan Hellenic, are rated PC5. This means they can generally make Greenland trips a bit earlier in the summer, although one of our editors was unable to make a landing on National Geographic Resolution on her July trip because there was too much ice.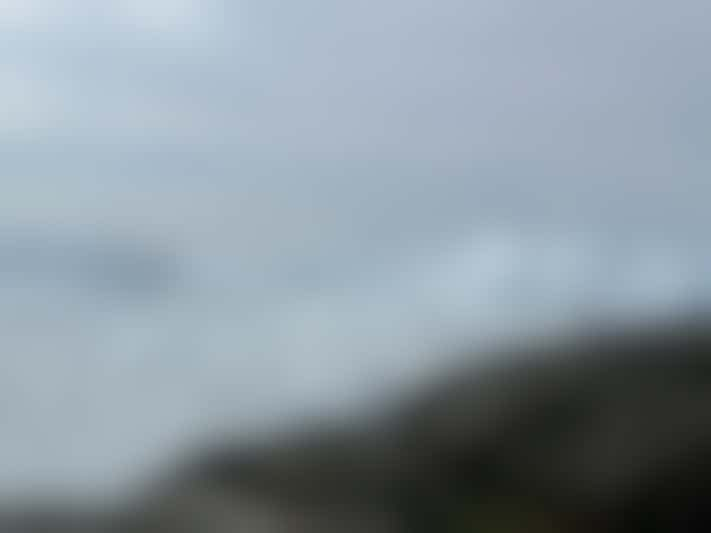 The Ilulissat Icefjord in Greenland (Photo/Chris Gray Faust)
If you're on a PC6 expedition ship, such as those from Seabourn, Silversea, Scenic or Viking's expedition vessels, it's best to book your Greenland trip in August or early September to increase your chances of having a good experience. While these ships can traverse mild ice, they cannot, for example, carve a path from an ice-choked fjord without the assistance of an icebreaker.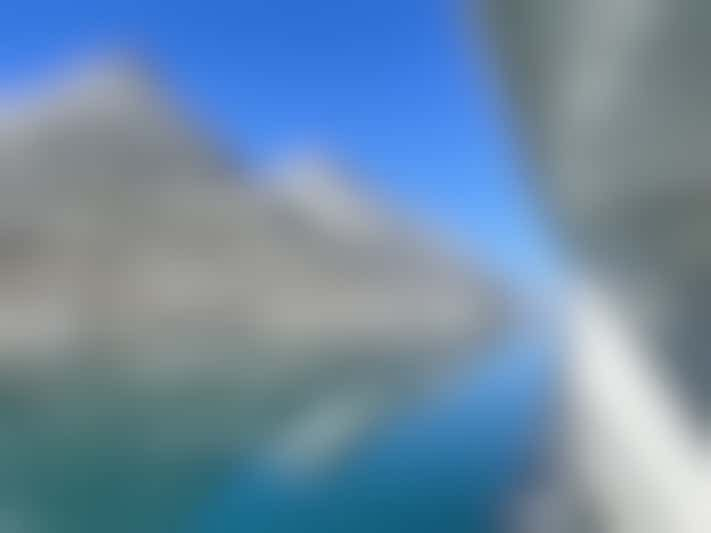 Sailing through Prince Christian Sound in Greenland on Scenic Eclipse II (Photo/Chris Gray Faust)
Greenland's Scenery is Incredible -- If You Can See It
Greenland is absolutely stunning. Think endless glaciers that fold into iceberg-strewn bays, craggy mountains, dazzling fjords. Small towns with brightly-colored buildings and tin-roof structures. It's like Norway on steroids.
But when the fog rolls in -- and it often does -- you will see nothing. No birds, no peaks, nothing on shore. Just pea soup thick gray in front of you, behind you and beside you.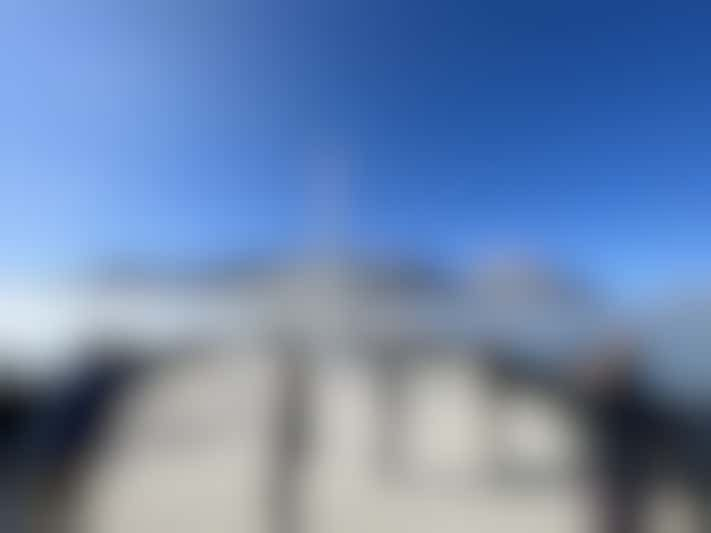 Scenic Eclipse II has fog while sailing through the Prince Christian Fjord in Greenland (Photo/Chris Gray Faust)
Even on our Greenland trip, where the expedition guides rejoiced in how much we were able to see and do, we had at least one day where we couldn't see anything. Pack your patience (and maybe some books to read) and you'll be OK.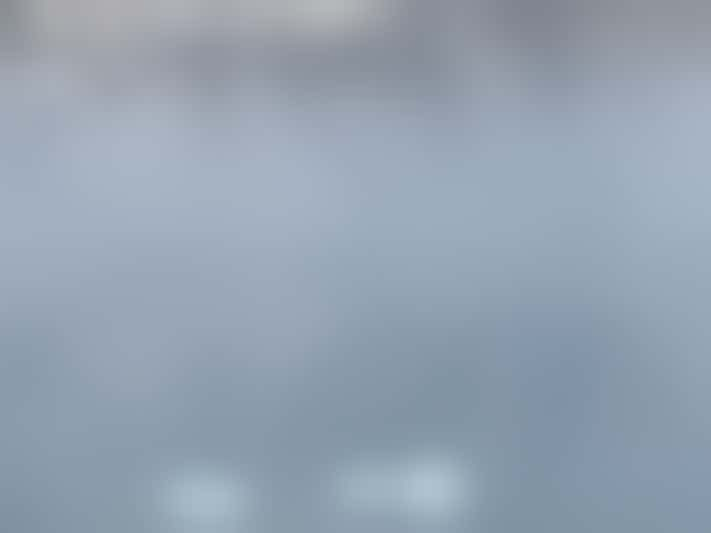 A seal on an ice floe in Greenland (Photo/Chris Gray Faust)
Wildlife in Greenland is Scarce, But You'll Likely See Whales and Birds
Many people who book a Greenland cruise have already tackled other bucket list expeditions that are full of wildlife, such as Antarctica, the Galapagos and Svalbard. If you're expecting your Greenland trip to be as memorable, in terms of the wildlife, you will be disappointed.
Unless you go far north in Greenland, you are unlikely to spot a polar bear, for example. They live on the ice and so unless your ship is polar rated to the point where you can break through, you are unlikely to get close. Ditto walruses and reindeer. Stalwart of Svalbard, these animals are not found in Greenland (and you already know that penguins are not native to the Arctic, right?)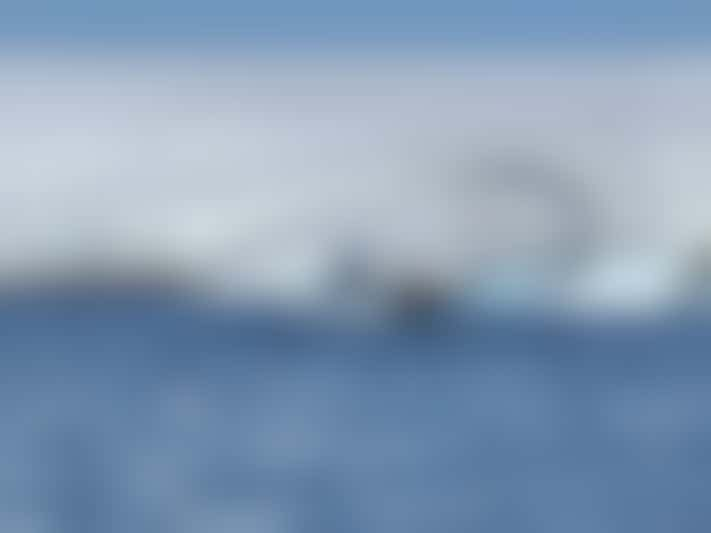 Whale tail spotted in Greenland with Scenic Eclipse II (Photo/Chris Gray Faust)
What you will see, most likely: Whales. Lots and lots of whales. On our August Greenland trip, we were lucky enough to have our ship surrounded by humpback, fin and sei whales, in a large feeding ground. Blow spouts went off all around us; there must have 1,000 whales in the area. It was eerie and powerful.
You'll also see birds - perhaps not as rare as those in the Galapagos, but interesting nonetheless. An occasional seal spotting also took place on our Greenland cruise. Because the sightings can happen fast, you'll want to carry a pair of binoculars with you, even to dinner.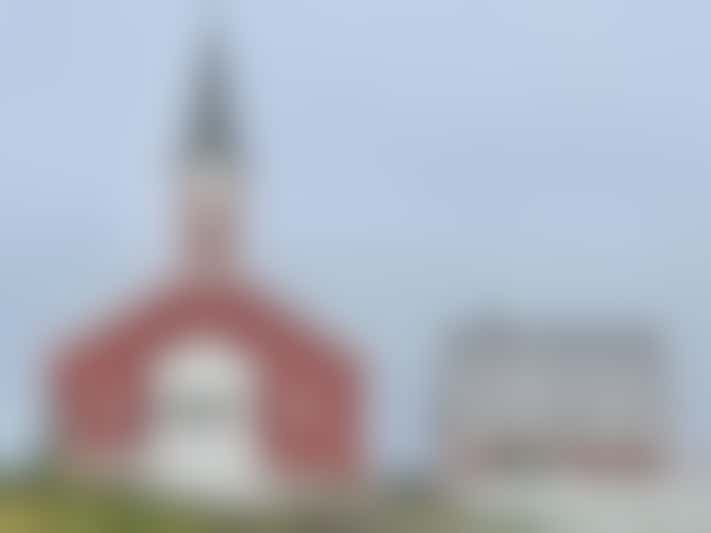 Church in Nuuk, Greenland (Photo/Chris Gray Faust)
Greenlandic Inuit Culture Requires Sensitivity and Understanding
Greenland cruises that visit the western and northern part of the island as part of a Northwest Passage cruise will stop in settlements primarily occupied by Greenland's indigenous peoples. Life in these villages has modern conveniences, but also traditions that might be difficult for some foreigners to understand.
Hunting -- and eating -- seals, whales, polar bear, narwhal and musk ox is legal in Greenland and part of Greenlandic Inuit culture. You'll see lots of souvenirs made with seal fur in the local shops, even though such items are not allowed to be brought back into the U.S. While surveying the beauty of the Ilulissat Icefjord, an UNESCO World Heritage site, we heard gunshots coming off the ice from local hunting boats.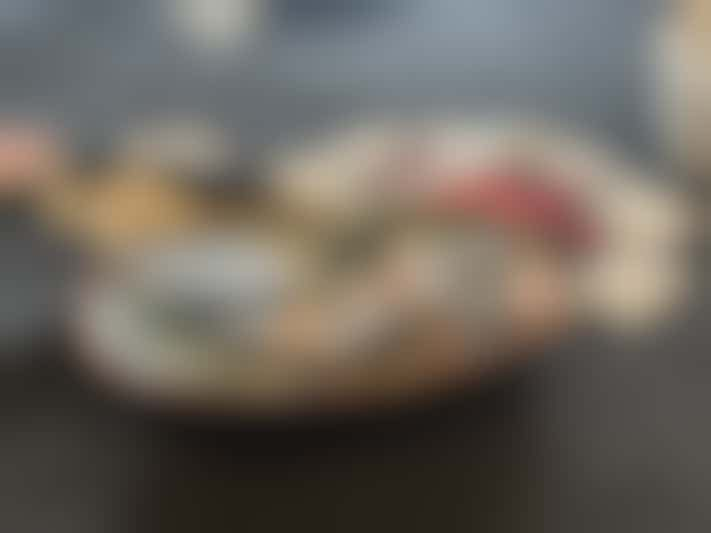 A plate of narwhal served while on an excursion in Nuuk, Greenland (Photo/Chris Gray Faust)
You might find yourself, as we did, on an excursion to a local café or home where you are served these traditional foods. We erred on the side of being polite, and did sample what was served to us; to do otherwise would have been considered rude to our Inuit host. But be aware that the cruise lines often don't label their excursions as serving native dishes. We wished that we would have asked a lot more questions before we booked to avoid being put in an uncomfortable situation.
These traditions are part of Greenlandic Inuit culture. Some cruise lines such as Lindblad do have an Inuit cultural guide on their expedition staff. This is a great model for expedition cruise lines sailing in this part of the world and it's worth asking about as you're making your Greenland or Northwest Passage cruise decision.
Going into cultural exchanges with an open mind is always a good idea -- and doing so can positively enrich your Greenland cruise experience.