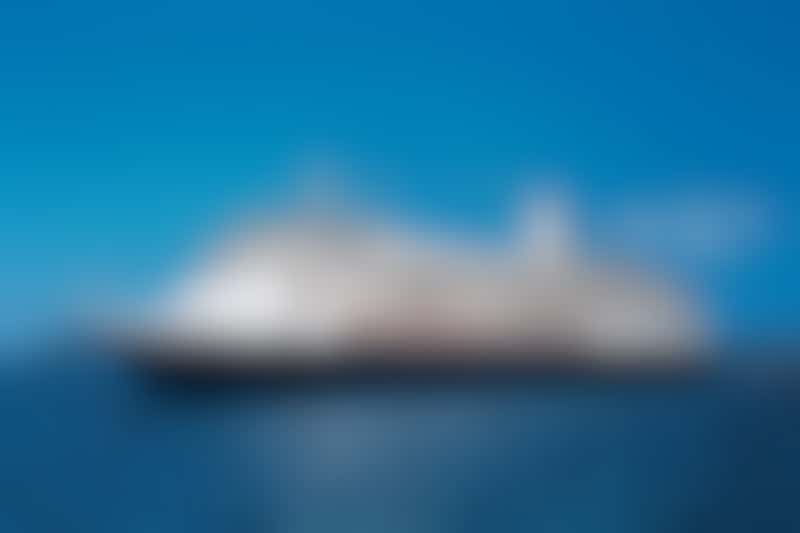 Holland America's Zaandam
"This cruise is like dim sum," a fellow passenger on HAL's Zaandam tells me. "I get to sample lots of places, to see where I'd like to come back for a longer stay." That's true for many cruisers, of course, particularly where exotic itineraries like this one are concerned. For others, it's a once-in-a-lifetime experience, with little possibility of a return trip. In my case, it's just the opposite. I've been to all five countries where the Zaandam is putting in -- but never by ship. For me, this is a 14-day "greatest hits" voyage, a review without a test (yes!), a chance to see these destinations from a completely different perspective, approaching them by sea.
The cruise departs from Singapore and heads up into the Gulf of Thailand, calling on the island of Koh Samui and Laem Chebang (near Bangkok), then down to Cambodia's only deep-water port, Sihanoukville. From there, we'll travel around the southerly tip of Vietnam and up into the China Sea, with stops near Ho Chi Minh City (Saigon) and Nha Trang. We'll take a little detour to call on Sanya, on China's Hainan Island. Finally, we'll visit Halong Bay, which is also the closest port to Hanoi, before the cruise ends in Hong Kong. (For the 2013 cruise season, Volendam, the same class of ship as Zaandam, will sail a similar itinerary. Sanya, China, has been replaced by Da Nang, Vietnam.)
For me and many of my shipmates, the cruise's appeal is the mix of world-class cities and lower-key beach ports on the itinerary, as well as the chance to visit so many countries without bouncing back and forth from a major airline hub like Bangkok. And, let's be honest: the chance to eat lots of local Asian food was a big part of my saying yes to this Far East adventure.
First Impressions
Singapore is arguably one of the top food cities in Asia (and if you do want to argue, let's do it over a steamer basket of dumplings or a helping of Hainanese chicken-rice, please). I board Zaandam after a giddy three days in the city-state spent devouring street food at the Maxwell Road hawker center; sampling intriguing, modern twists on classic Singaporean dishes at Wild Rocket; and indulging in the most amazing desserts I've ever tasted at 2am:dessertbar (the better to nosh late into the night). I am so stuffed with good food that I feel like I should be wheeled aboard on a luggage trolley.
Following the lifeboat drill, I hasten up to the Crow's Nest bar on Deck 9 to sip a flute of Champagne during sailaway. The bar's wraparound windows are perfect for watching Singapore's skyline slip by, like having a front-row seat to a modern architecture competition. A Singaporean couple gives me a play-by-play on the dazzling high-rises.
There's a nice, cosmopolitan blend of passengers aboard Zaandam: a contingent of about 400 Americans, an equal number of Aussies, about 200 Europeans and quite a few Asians in the mix of 1,400 cruisers, with an average age of 55. Consensus is that the 785-foot ship is a comfortable size -- not so big that you get lost on your way to dinner, but big enough to offer four dining options and a Broadway-style cast of onboard entertainers.
Most fellow passengers I chat up think Zaandam could use a refurb, though. Despite the fact that it was built in 2000, its decor has a whiff of the '80s about it, with a bit too much mauve in the color scheme. But I do enjoy the music-themed collectibles scattered among the decks, including guitars signed by Eric Clapton, the Rolling Stones and members of Queen, plus an exquisitely painted 18th-century harpsichord covered with scrollwork and flowers. (I search in vain for Mozart's signature.)
While I rightfully shouldn't eat for several days after my Singapore food adventures, I dutifully report to the main Rotterdam dining room for dinner, where there are always choices from a consulting celebri-chef, including David Burke, Marcus Samuelson and Jacques Torres. Some of their dishes translate to cruise-ship dining better than others, but items like Charlie Trotter's olive oil-poached cod add novelty to the menu. Over the course of the cruise, I'll find myself frequently ordering the appealing vegetarian options, too, even though I'm a dedicated carnivore.
HAL is rightfully famous for its Indonesian and Filipino crews, and the dining stewards live up to that reputation, doting over my tablemates and me like we're long-lost family members, encouraging us to order extra items we inquire about "just to taste."
The Croatian cellar master, Ivica, does an excellent job, pairing a broad selection of European and New World wines with the menu, and has the uncanny (or perhaps dangerous) knack of appearing just as a glass needs refilling. I promise myself I'll partake in one of his afternoon tastings, featuring different varietals and wine regions.
Sailing, Sailing...
Our next day is spent at sea, which gives me the opportunity to explore Zaandam, following an early-morning date with a treadmill. The row of exercise machines faces a forward window, so as I pace along I have the god-like feeling that I'm propelling the ship. We have to cover 643 nautical miles to our first port, so I certainly wouldn't blame them for harnessing a little extra power.
Explorations Cafe
At lunchtime, I enjoy sharing a table with other singles and couples from around the world. Most of the passengers have several cruises under their belts, and there's a touch of friendly one-upmanship in their tales. Two rather prim older women surprise a number of my tablemates when they recount their intrepid trip to the Antarctic. I leave the Rotterdam dining room full of good food -- and hungry for more travel.
In the afternoon, I drop by the Microsoft-sponsored Digital Workshop classroom off the Explorations Cafe to check out a photo-editing class. Alas, every seat is full. This puts me at the mercy of the live art auction over in the sleek Ocean Bar. A speed-talking British auctioneer is gaveling through a vast number of paintings at a dizzying pace. Nobody seems to be bidding, but his patter is mesmerizing. Or is it the free Champagne that has us all so captivated?
The highlight of dinner in the Italian-themed Canaletto section of the Lido Restaurant is a wonderful antipasto plate with prosciutto, salami, roasted vegetables, calamari, cheeses and olives. But there is something a tad weird about dressing up Indonesian waiters like Venetian gondoliers. Hmm....
Revisiting Thailand
It's smooth sailing to the Gulf of Thailand, and the next morning we drop anchor at our first port, the Thai island of Koh Samui. I've been here before, but spent the entire time lounging on the (palm-shaded) beach, ignoring the many tour companies tempting me to see Samui's sights. So, on this trip, I opt for a highlights shore excursion. Temples! Monkeys! Fishing villages! Coconut plantations!
It's more than a 45-minute drive to reach Wat Phra Yai, a seaside temple with a looming, 39-foot-tall golden Buddha. The temperature has climbed so high that temple rules have been set aside, so visitors can leave their shoes on when climbing the 72 scorching concrete steps. At the top, we're rewarded with views of the coastline, spied though construction scaffolding erected along the pavilion's perimeter.
We drive another 20 minutes to stroll through a fishing village, where pet songbirds' cages are hung along the streets so their occupants can get some fresh air. Squadrons of squid are laid out to dry on woven racks. The air is pungent with birdsong and the aroma of fish. Just outside the village, a demonstration area is set up where a trainer shows us how monkeys are taught to scamper up trees and pluck coconuts. Then it's back on the bus for another 15-minute drive. This time, we stop at a coconut plantation, where we see how the husks are removed and the shells are cracked.
By the time I'm deposited back in the port town of Na Thon, I'm ready to relax with a cold drink and down a mango shake in a little cafe. I spend the afternoon exploring Na Thon, which has a street of old shop houses from the days when Chinese traders made their homes here. I do a little shopping (T-shirts are plentiful, and there's also beachwear and a few nice craft items, like woven bags), then kick back at a seaside restaurant with some mackerel curry and yet another mango shake. Having now done the sightseeing tour and the beach-day options, I conclude that a lazy approach to Koh Samui is best.
The next day, we dock in Laem Chabang, Thailand, about two hours outside of Bangkok, depending on whether or not you have made an offering to the traffic deities. We have an overnight in port -- and yes, the song "One Night in Bangkok" keeps looping in my head as I travel into town, sharing a car with another couple. Once in the city, I decide to hop the Skytrain to Jim Thompson House, a tranquil oasis amid the city's hot bustle, where I can have lunch and visit the museum of old Thai houses where expat Thompson lived in the 1960's while reviving the Thai silk industry. On my way out, I avoid the allure of the shop, filled with luscious silk clothing and home goods, and head to my favorite Thai massage establishment, where two hours of bliss costs a mere $14 -- a huge bargain, especially compared to Zaandam's spa.
My shipmates have fanned out across the city, seeing the glittering golden palace complex, visiting floating markets and contemplating reclining Buddhas. After my massage, I happily contemplate my favorite dish, softshell crab with fresh peppercorns, while dining at a little restaurant called Taling Pling. I overnight with friends, reminding myself that I can't drink the water, which makes me just a tad homesick for Zaandam.
It's not easy to leave Bangkok the next morning, but my nervous car-mates are fretting about traffic, so we depart early, breeze along the highway and end up at the ship three hours before our 4:30 p.m. sailaway. It's really a pity the port is so far outside the city, a lament I'll be singing again on this cruise.
I divert my frustration into a few laps around the Promenade Deck, where I'm passed by a woman considerably smaller and older than I am. This gal is fast. Even when I pick up my pace, I can't catch her. I admit defeat and chat with a British couple along the rail. I've found there's an interesting group who turn out here for sailaways, armed with binoculars, telephoto lenses and tales of past cruises. These Brits tell me about the wild weather they had on a southern Mediterranean trip -- their only other cruise -- which caused them to miss two ports. We all give thanks that the sailing has been smooth.
Tonight, I dine in the Pinnacle Grill, an intimate dining room (with a supplemental charge) that specializes in steak and lobster. The romantic atmosphere here -- walls covered in an art-nouveau-style fabric, mirrors in ornate gold-leaf frames, orchids on the tables -- makes me wish my husband could have come along to snuggle up in a plush booth, but new friends and some wickedly good lobster bisque make for a nice change of pace from the main dining room.
Getting Real in Cambodia
The following day, I decide to forego the morning mosh pit on the Lido Deck and opt for room service breakfast. I never look back. Every day, for the rest of the cruise, my meal will arrive hot and on time. The little hang-tag that I place on my door at night offers the basic breakfast favorites -- eggs, bacon, sausage, yogurt, cereal, fruit, toast, pastries. I test the boundaries now and then by writing in polite requests for items not listed on the menu. The kitchen never fails me.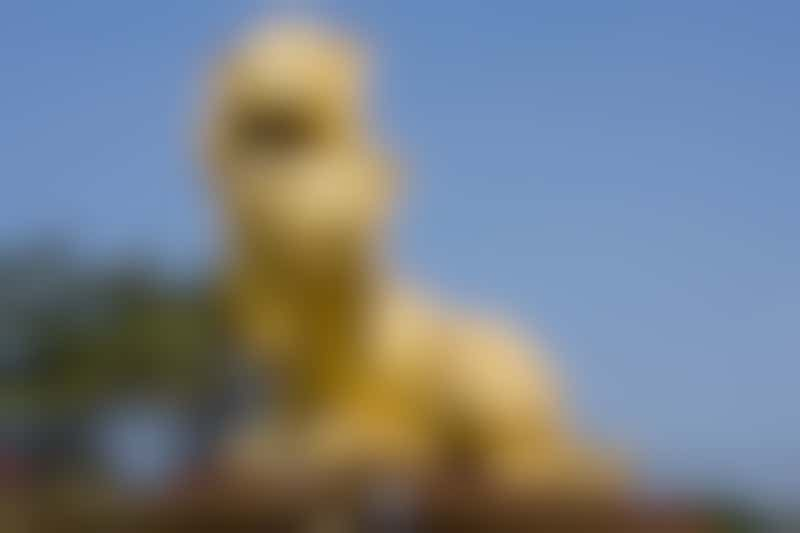 Lions in Sihanoukville, Cambodia
Sihanoukville has some lovely beaches, but there's also poverty and the remnants of war. It's a shock to go from a luxurious cruise ship to the town's central market, particularly for passengers who are getting their first taste of Cambodia. Some can't take the smells and the beggars. But others tell me it's their favorite port -- that it's "real." Personally, I love roaming among the stalls of goldsmiths, seamstresses, fishmongers, butchers and vegetable vendors in the covered market that sprawls over two city blocks.
Outside of town, we ask our driver to take us to a fishing village we spot along the coast. As we wander among the meager shacks, we discover a group of Italian travelers handing out 2,000 pounds of rice to the villagers. "We're schoolteachers," one man tells me. "This is our third year here. We first came as tourists, but when we saw the poverty, we had to do something to help." Cambodia is like that. You feel compelled to aid these people who were so devastated by war and the Khmer Rouge.
Our next day at sea is like a buffer against the vividness of Cambodia. I take in the ship's galley tour, which rambles through what seems like miles of glistening stainless steel. I'm endlessly fascinated by behind-the-scenes logistics, and this galley doesn't disappoint: the cold kitchen with its refrigerated shelves, the dishwashing area where 3,000 dinner plates and 5,000 glasses are cleaned daily, the bakery that cranks out 20 different breads.
I learn that, in a week, the galley staff will crack 18,000 eggs and sift 2,900 pounds of flour. The crew alone will consume 2,100 pounds of rice. In fact, Hotel Manager Edwin Brunink confides that there are only two items which will prevent the ship from sailing if they're missing from a supply shipment: rice and toilet paper.
At the Royal Dutch High Tea that afternoon, I see the bakery's finished handiwork -- a lavish spread of cakes, tarts and treats. Then it's back to the Promenade Deck to polish off a few more laps. And, yep, there she is again. That speedy little woman, who must be in her late 70's, whooshes past me like I'm standing still. I shouldn't have had that second scone.
Something's Cooking in Vietnam
Our next port is Phu My, Vietnam, the nearest to Saigon. Again, it's a trek to reach the main city, which is nearly two hours away. I've already been to Saigon (aka Ho Chi Minh City), and decide to use this quick visit to take the cooking class offered as a shore excursion. It turns out to be the perfect choice for someone who has already seen the tourist highlights. We visit the city's big covered market with a local chef, who points out exotic ingredients like birds' nests and snakehead fish. Then we retreat to the cooking school, where we prepare three classic dishes: seafood spring rolls, caramel (snakehead!) fish in a clay pot and tomato soup with egg swirled into it.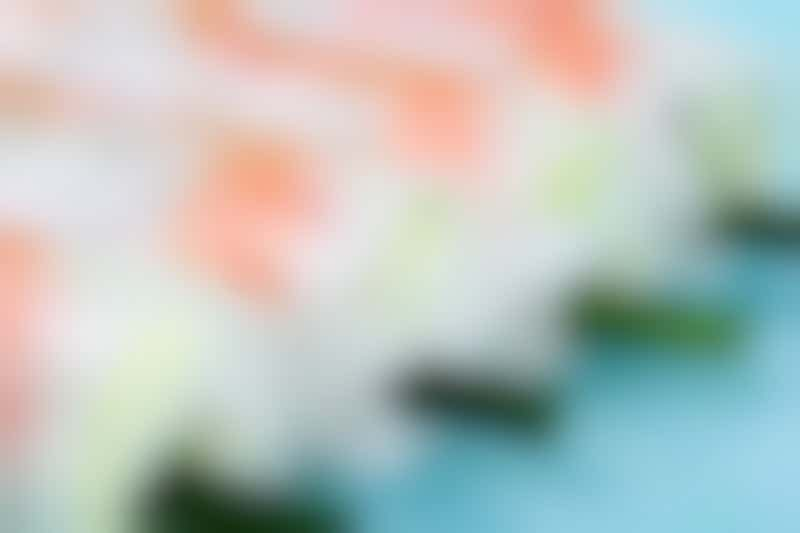 Seafood Spring Rolls
It's a particularly lovely sailaway from Phu My, as we travel down the delta toward the China Sea. One shore is an industrial zone, but to starboard there are inlets and forests. Families on fishing boats toss their nets and look up -- way up -- to wave as we pass by. I strike up a conversation with a Japanese couple from Kobe. Despite severely limited vocabularies, we converse in the language of travelers, sharing where we're from, where we've been and where we hope to go next, all liberally salted with improvised sign language. Every time we understand each other, it seems like a major victory, and we laugh as we struggle along, discovering where our travels overlap.
As we reach open water, the wind kicks up, and Zaandam heads into a gale. By nighttime, there are 40-knot winds and 15-foot waves. Folks joke that we all look like drunks as we zigzag down the corridors. Unfazed, the dining staff carries on as if the sea were pancake-flat, filling glasses only halfway to allow for slosh. Not prone to seasickness, I venture out onto the deck to watch waves crash into the bow.
Stuck at Sea
The storm that rocked me to sleep hasn't let up by the next morning. We are lying off Nha Trang, Vietnam, waiting for the wind to calm. It never does, and Cruise Director Michael Headla (dubbed "Teeth" by some British passengers for his impressive ability to smile and talk at the same time) announces that we'll have to skip this port. Passengers trade tales of ports missed on other cruises, and I suspect that unlucky couple I'd talked with the other day of being our jinxes.
This is only the second time Zaandam has missed a port in its wintertime Asian cruise season, and it's the first miss for Nha Trang. Chatting up some crewmembers, I discover that a group of passengers who took a private, overnight tour to Angkor Wat (a must-see, in my opinion, if you're visiting Southeast Asia) was supposed to reboard in Nha Trang, and nobody's quite sure when they'll catch up to the ship.
We're still rolling when magician J. Neal takes the main stage in the Mondrian Lounge that night. I suspect there's an especially large turnout of folks who just want to see how he copes. Admirably, it turns out. No women are irreparably sawed in half due to high seas.
As we head into our second sea day in a row, wrapped in clouds with no shore in sight, it starts to seem like the rest of the world doesn't exist. There's only the ship. I throw myself into activities: a cooking demo featuring Asian recipes, including Penang red curry coconut chicken and lemongrass-barbecued pork from Food & Wine magazine; a flower-arranging demo with the ship's florist; a Hong Kong shore briefing; a visit backstage at the Mondrian to see the array of Bob Mackie costumes, wigs, and sweet, young performers close-up. I tromp around the promenade deck wondering where my nemesis, the speed-walking granny, is today. Then I spy her in a deck chair. Knitting. She clearly knits faster than I can, too.
Land Ahoy!
The seas have calmed by the next morning, and we glide into port at Sanya, on the isle of Hainan, about as far south as you can go in China. The resort-lined beaches at Yalong Bay, east of the port, have earned it the nickname "The Hawaii of China" and made it the darling of Chinese honeymooners. It's possible to visit attractions like a butterfly garden and a cultural village on shore excursions, but my pre-trip research showed these sights to be super-touristy (an insight later confirmed by disappointed shipmates).
I prefer wandering the lanes within walking distance of the ship, soaking up daily life, sampling street food and buying a bottle of Chinese wine to see if it's as horrible as I suspect. There are vendors along many of the alleys, some selling young coconuts with the tops lopped off so you can sip the juice through a straw, others offering kebabs or barbequed duck heads.
I spy a man with a makeshift restaurant who is steaming dim sum in a layered basket over a hot wok. I don't always gobble every street item I encounter, but in this case I can see the prodigious amounts of steam billowing up and know the dumplings are hot and cooked to order. Then I graze my way down a narrow pedestrian street where a woman wheels along a cart of donut-like pastries. A packet of six is just one yuan, and they're still warm.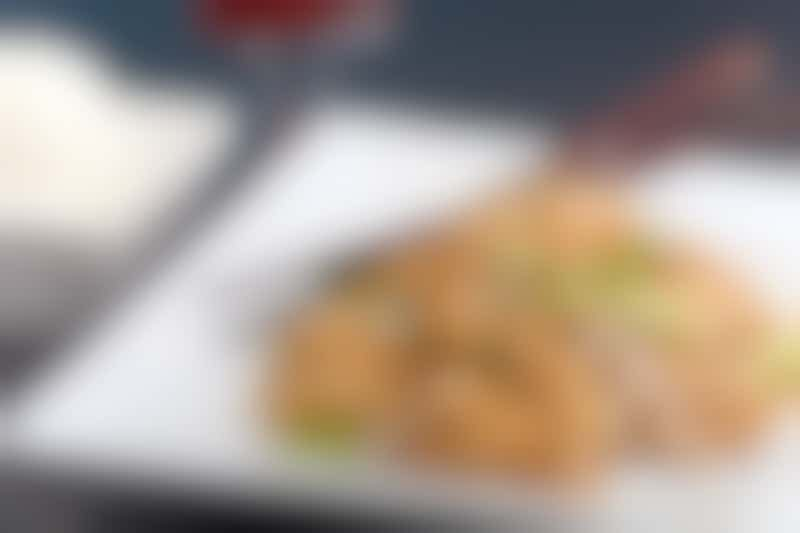 Thai Noodles
As if I needed any more culinary treats, tonight is a special "Le Cirque" dining experience at the Pinnacle Grill, with a menu and tableware from the legendry New York restaurant. It doesn't disappoint. The butternut squash soup tastes like it was made by angels. Seriously. I don't know what they did to transform that vegetable into ambrosia. Lobster, caviar, lamb chops -- it's all scrumptious, and the service flawless. The only thing a bit ho-hum is the vaunted Le Cirque creme brulee for dessert. Good thing I ate all those pastries in port....
Down By the Bay
The following morning, I awake with a start as we navigate through Halong Bay, Vietnam. It's 6:30, and as I peek out the window, the stunning limestone karst islands are gliding by. I jump into my clothes and head for the rail. Other passengers are gazing at the islands with awe. Some of them have only managed to throw on a bathrobe before coming out to snap photos. It's like being in the midst of a Chinese brush painting, as jagged formations jut up in the mist, some so close it seems like we could almost touch them. There are thousands of karsts, and the poetic scene has earned the designation of UNESCO World Heritage Site.
The vista turns more chaotic as we anchor near the town of Halong Bay, though. Women in round, basket-woven boats maneuver up to the ship, begging for money. Passengers throw down fruit that the women catch in fishing nets. As passengers board tenders, local boats are rowed up alongside, and children clamor for handouts.
I avoid the chaos with a trip to the ship's spa. By the time my "fire and ice" pedicure is finished, my abused feet are happy and ready to saunter into town. While many of my fellow passengers sail around the islands on excursion boats, I stroll along shore and stop for a cup of Vietnamese coffee, thick with sweetened condensed milk, from the trendy Trung Nguyen coffee shop. At the touristy night market, I share a good laugh with a tiny woman who is selling embroidered silk jackets. Every one she holds up for me to try on is too small for my big, Western frame. The harder she tries to find something that will fit, the harder we giggle. By the time we both give up, we are holding hands and mopping tears from our eyes.
I was tempted to go into Hanoi today, since Halong Bay is our closest port, but as much as I like Hanoi's old, narrow streets buzzing with scooters, I don't feel like suffering a three-hour drive each way. It's nice not having the pressure -- or guilt -- of missing a major sight, and I feel for my shipmates who must spend hours on buses for once-in-a-lifetime sightseeing. It's worth the trek, though, if you've never seen Hanoi. In fact, I've convinced several new shipboard friends to head into town. I'm relieved when they return, glad to have seen the city's narrow old streets and ancient architecture. As we sail away at 11 p.m., we again pass the karst islets, like ghosts in the velvety darkness, sometimes thrown into sharp relief by night-fishermen's spotlights.
Final Sea Day and Farewell
And all of a sudden, the cruise is nearly at an end. The second week seems to have sped past. I have one last day at sea to out-walk that Promenade Deck speedster. But in the meantime, I can learn how to make towel animals! Sure, the stateroom attendants who demo the little terrycloth critters for an avid audience make it look easy. But when I get back to my cabin, even using the monkey my steward has left dangling from a hanger as a reference, I can't figure the darn thing out. Now I'm obsessed. I roll and fold and twist, taking photos so I'll be able to remember the steps. I decapitate the sample monkey and deconstruct its head. Finally, after an hour and a half of tussling with towels, I've re-created a respectable chimp.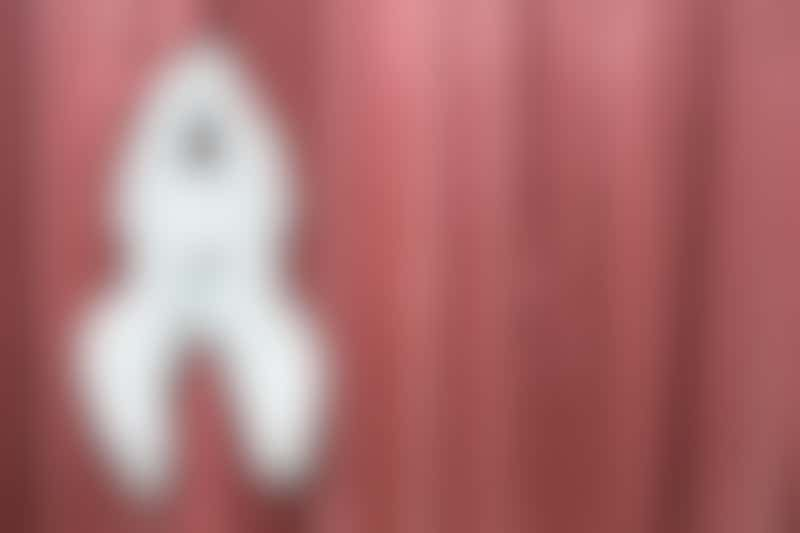 Although we've had several formal nights on the cruise, my fellow passengers look particularly chic tonight. The Rotterdam Dining Room's ceiling is lighted like the night sky, with twinkling stars. I order the menu choices recommended by HAL's Master Chef Rudi Sodamin: a trio of duck pate, caviar and smoked salmon; a salad with pear and Brie; the surf and turf of filet mignon and lobster. Rudi doesn't steer me wrong, so I go with his recommended dessert, little "purses" of pastry, filled with molten chocolate. Heaven!
My tablemates and I linger over our after-dinner tea, having a hard time believing we're headed for our final port. In these two weeks, we've adjusted to the rhythm of life at sea, and Zaandam seems like home. Well, nicer than home, actually. In fact, I've heard several female passengers half-jokingly say they wanted to leave their husbands behind and take their hard-working stateroom attendants home instead.
Our arrival the next morning in Hong Kong offers another spectacular vista as we sail through the spiky skyline of high-rise buildings that surround the mouth of Victoria Harbor. The port is in the heart of the action, on the Kowloon Peninsula, next to the Star Ferry terminal, and from Zaandam's decks, we have one of the top views in town.
I haven't been to Hong Kong since the British ceded the territory to China, so I'm boggled by the city's overwhelming growth. To take it all in, I go on a highlights shore excursion, including a tram trip up once-bucolic Victoria Peak, which is now topped by a mall. After a long, sweaty day that takes me to the far side of Hong Kong island, through markets and for a harbor cruise at Aberdeen (plus the obligatory jewelry factory), it might be easy to just relax onboard. But a new friend and I decide to forge out again and end up in a seafood restaurant lined with tanks of unlucky fish and packed with families out for Saturday night dinner. The Rotterdam Dining Room it ain't, but we eat well.
Back at the ship, I can't quite bring myself to pack yet. I linger out on the Lido Deck, cooled by a soft breeze, watching the dazzling 360-degree scene that is Hong Kong at night. Here in Kowloon, towering hotels put on a light show, and neon signs wink. Across the harbor on Hong Kong island, the central business district's office towers are aglow. The historic Star Ferries chug back and forth delivering passengers -- and I've got a front-row seat to it all.
The next morning, I throw things into my suitcase and disembark, rolling my bag over to the Star Ferry for a quick hop to Hong Kong island. I'm staying overnight at the zen-posh Upper House hotel, a true oasis amid the city's hustle. In a stroke of luck, I can see Zaandam in the jaw-dropping harbor view from my suite. As she sails away, I have a moment of panic. Wait! The ship is leaving without me! I comfort myself by making a perfect towel monkey.