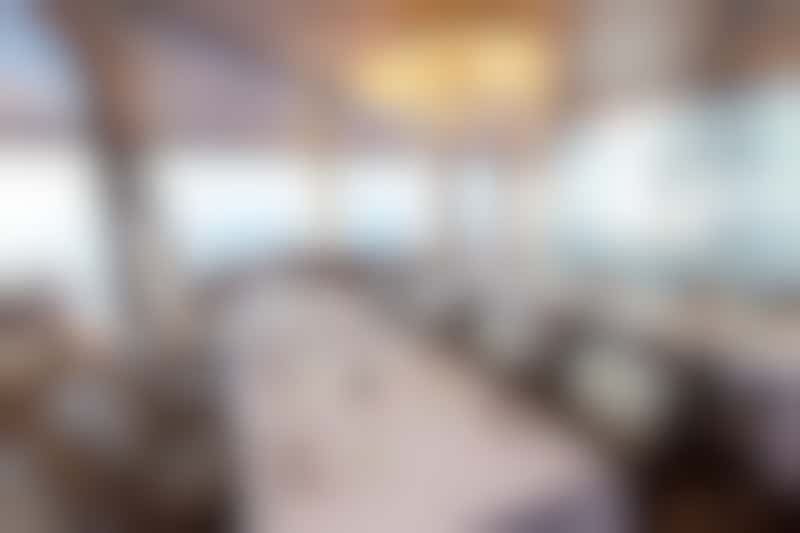 Coastal Kitchen on Anthem of the Seas (Photo: Cruise Critic)
Trendy and elegant, Royal Caribbean's Coastal Kitchen offers exclusive dining for passengers booked in mini-suites and higher, as well as those who have reached the Pinnacle level of the line's loyalty program. Read on to see what you can expect from a meal in this stylish restaurant.
Ambiance at Coastal Kitchen on Anthem of the Seas
Given its exclusivity, Coastal Kitchen has an upscale air, but the general feel and decor of the venue varies by ship. Although the design scheme is always modern, some vessels boast a neutral palette of colors like tan, brown and cream, while others are more light and airy with purple accents. Things they all have in common are keycard access, a casual dress code and ocean views afforded by large picture windows.
Two-tops are available in abundance, as are tables for larger groups. Oddly, some setups offer tiered seating, making those at the top feel like they're looking down on those dining at the lower tiers.
Meals at Coastal Kitchen
Breakfast, lunch and dinner are served at Coastal Kitchen. The menu, described by Royal Caribbean as "California cool meets the warmth of the Mediterranean," focuses on healthy fare and fresh ingredients, prepared by a dedicated chef.
Breakfast consists of omelets and several varieties of eggs, pancakes and other items typical of a main dining room. On the lunch menu, passengers will find soups and salads, flatbreads, sandwiches and light entrees like pasta.
Examples for dinner might include sea bass ceviche, Napa charcuterie, chicken and salmon dishes, roasted and stuffed zucchini and a variety of flatbreads. Dessert might feature cannoli, a selection of cakes, ice cream, streusel and homemade blueberry pie. There's also an extensive menu of California wines.
Seating is open, meaning passengers can dine any time between set hours. The line recommends you make reservations, but many Cruise Critic readers find they generally aren't necessary.
Menu at Coastal Kitchen on Royal's Anthem of the Seas
Please note that this menu is a sample; actual menus vary by ship and sailing.
Price
It's free to dine at Coastal Kitchen, but wine selections carry a fee.
Ships
Coastal Kitchen is found on the following ships:
Anthem of the Seas

Allure of the Seas

Harmony of the Seas

Oasis of the Seas

Ovation of the Seas

Quantum of the Seas

Symphony of the Seas
Check out photos of Coastal Kitchen on Anthem of the Seas.
Explore Royal Caribbean Cruises