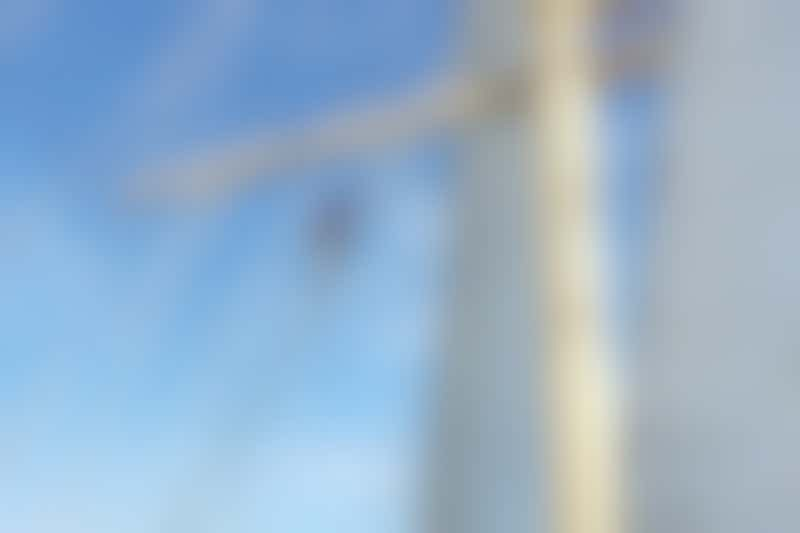 Climbing the mast on Star Flyer (photo: Jeannine Williamson)
Star Clippers' fleet of tall ships offer an authentic sailing experience, with traditional activities that are a world away from the water parks and entertainment complexes you'll find on large cruise vessels. For a real taste of what it was like to be a sailor in the 19th-century "Golden Age of Sail," passengers can have a go at climbing the mast.
What It Is
Star Flyer has four masts, reaching a height of 226 feet. On each cruise, passengers are offered the opportunity to climb 65 feet up a rope ladder to the crow's nest  -- a small lookout platform with a protective railing -- on the foremast. Climbing sessions (usually three on a weeklong cruise) are available for approximately one hour and take place in the morning or afternoon while the ship is at sea. It's a unique experience for plucky passengers who are reasonably fit and want to try something different that will provide great memories. (Passengers ages 8 to well into their 80s have done it.) The experience is free and there's no need to sign up, just turn up at the allotted time.
Our Experience
My bravado at breakfast, when I saw mast climbing listed in Star Flyer's daily program of activities, began to wane as I arrived on deck that afternoon. To date, my experience of ladders had been limited to helping get the Christmas decorations in and out of the loft each year.
As Star Flyer skimmed through the water off the Italian coastline, and I felt the strong breeze in my face, the crow's nest looked a long way up. Matias, a member of the ship's sports team was already there, and cut a diminutive figure as he waved down to me.
Back on deck, his colleague Emma strapped me into a safety harness and offered words of encouragement as she made the final adjustments. "You'll be fine," she said. "Just take it easy, and it's really worth it when you get to the top."
She then ran through a list of instructions, with the most important one being to always hold on to the side of the ladder, never the rungs. I glanced over toward my friend, who gave a thumbs-up, and tried to ignore the gathering crowd of passengers armed with cameras.
The first task was getting onto the ladder itself, which involved going up a couple of wooden stairs and stepping on top of the railing running along the outside of the vessel. By that point my safety line, attached to the harness, was already securely clipped on.
I took my first tentative step, feeling the rope rung move under my feet, but with my hands holding (very tightly) the taught steel cable running up each side of the ladder, I felt secure. I started to make my way toward Matias, pausing for a rest as I reached the occasional steel rung that helps keep the entire length of the ladder firm. At this point, I should probably have resisted the temptation to look down, but I glanced down at the deck, and my legs immediately turned to jelly. When I looked back up, I was struck by the amount of the climb that still lay ahead -- combined with how far I had already come. To paraphrase "The Grand Old Duke of York" nursery rhyme, I was neither up nor down -- and both options seemed a very long way.
A fellow climber on Star Flyer's mast (photo: Jeannine Williamson)
Emma and Matias were fully prepared for the midway "freeze" and called out a confidence boosting "you're almost there" and "you're doing great!" By now another friend had started out, so there was no turning back (although you can request that nobody else begins climbing the ladder while you are on it). I took a deep breath and carried on, actually finding it easier to climb as the rungs narrowed toward the top.
The ladder ended at an open hatchway leading into the crow's nest. Unclipping one clasp at a time (one always remains attached at any point where there is a swap over), Matias hooked me up to the railing in the crow's nest while I pulled myself onto the wooden floor.
When I stood up and looked around, I discovered Emma was right. The view across the rigging, which is home to 36,000 square feet of sails, and across the full length of the deck was amazing and provided endless photo opportunities. The cobalt blue waters we encountered on our Mediterranean cruise stretched toward the horizon, and I could see many small islands, several of them volcanic.
Once passengers reach the crow's nest -- four can be accommodated at any one time -- there is no rush to return, and I spent around a half-hour in total on the climb and in the nest.
What goes up must come down, and the return journey definitely felt easier. I arrived back on deck to a round of applause.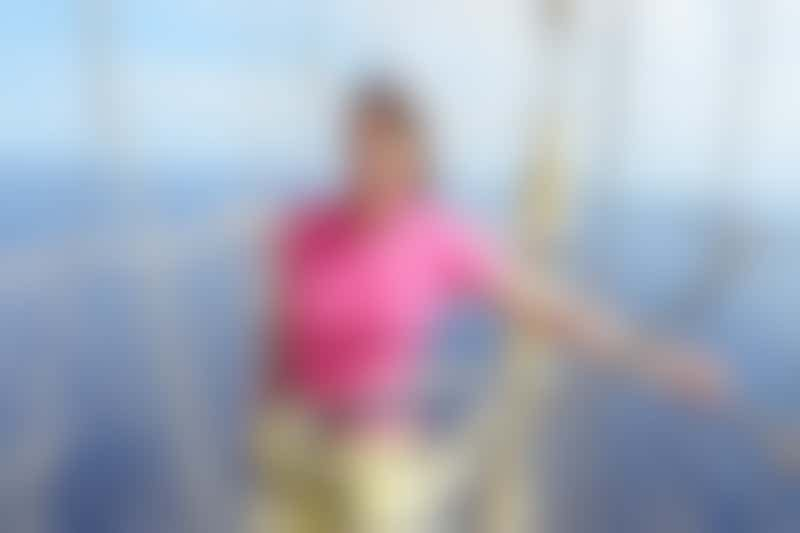 Jeannine Williamson, Cruise Critic contributor, enjoys the view after climbing the mast on Star Flyer. (photo: Jeannine Williamson)
Worth a Try?
Definitely! As long as you don't suffer from fear of heights, that is. Climbing the mast is a unique experience that you won't find anywhere else, and it doesn't cost anything. If you climb a few rungs and decide it's not for you, then you can simply come back down. But if you are able to overcome any nerves and get to the top, it's a thrilling experience and you'll be rewarded by stunning views and a real sense of accomplishment -- plus well-earned bragging rights when you're back on deck.
Things to Note
Weather can impact mast climbs; they are not guaranteed and subject to cancellation, especially if it is wet. Wear comfortable, unrestrictive clothing as there is quite a reach between some of rungs. Participants need to wear closed shoes and are not allowed to wear sunglasses or any other loose items in case they fall off. Cameras and phones need to be carried in a belt pack or similar, so it is worth packing one if you plan to do the climb. It's a good idea to have someone stationed on the deck to take photos of your ascent and descent. (If you're by yourself, you shouldn't have any trouble finding a willing volunteer, as a crowd always gathers to watch the mast climbing.)