Celebrity Luminae Pairs Well With the Luxury of The Retreat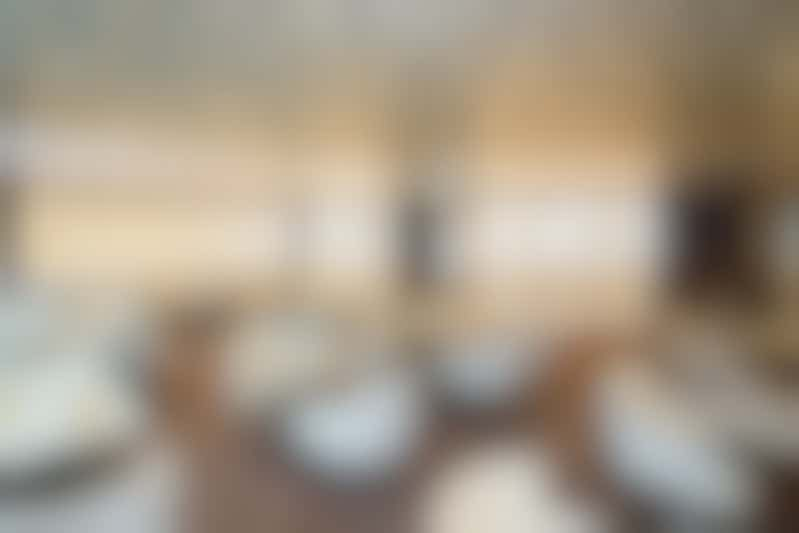 In a word, the ambiance at Luminae is "rarified." Its opulence is emphasized through its decor: rich gold and black with lots of mirrors and lights, befitting its name.
Celebrity Luminae Menu
Luminae's menu is small, international and changes daily, depending on the ship's location and time of the year. Dinner begins with an amuse-bouche, like caviar. Evening appetizers might include Maine Lobster salad, beef tartare, Jerusalem artichoke soup and roast squab.
Entrees might include variations of venison ragout, Alaskan halibut, veal loin and cauliflower steak with curried yogurt. Don't miss the exquisite cote de boeuf.
Dessert is the most extravagant part of a meal at Luminae. Tempting treats include a ricotta cheesecake with berries and mint, and chocolate lava cake with vanilla gelato. On chic nights, you'll notice a whimsical little cart wheeling your way. That cart is filled with a large assortment of candies, cookies, little cakes and other tempting sweets to fill a separate plate. It's indulgent, but delightfully so.
For breakfast, enjoy an eggs Benedict with Scottish smoked salmon, huevos rancheros or an egg white wrap with veggies; crepes, French toast, pancakes and Belgian waffles are also available each day with your choice of fruit.
Sides include chicken apple sausage, corn beef hash, oatmeal and buttermilk biscuits in gravy. Continental items, like yogurt, granola, half a grapefruit or a Danish pastry, are also on the menu.
Lunch at Luminae can be as simple as a burger, or as elaborate as a seafood brochette with a side of lobster bisque. Three appetizers, three sandwiches, three entrees and two desserts make up the menu.
Options rotate, but the signature burger with cheddar and bacon-onion jam on a sesame bun is always available (with truffle fries). Like with dinner, afternoon sweets aren't taken lightly -- finish up your midday meal with an olive oil Cremieux pudding with strawberry, orange and lavender crumbles or a white chocolate macadamia cake with pralines and pistachio gelato.
Celebrity Luminae: Restaurant Reservations
The 92-seat restaurant is only available to suite passengers, and all tables are first-come, first-served (unless you make a reservation in advance for a specific table or to accommodate a large party).
Suite passengers can dine outside of Luminae, in the main dining room or elsewhere; they can also invite friends in other cabin categories to dine within Luminae for a fee.