Niagara Falls, of all the ports and attractions on a St. Lawrence Seaway or Great Lakes cruise (including Chicago, Quebec City or Montreal), rates no. 1 on most travelers' bucket lists. So, when you ask, "Can I get to Niagara Falls on a cruise?" the answer is a resounding, "You bet!"
Getting There
Consider this: Niagara Falls forms a drop of 176 feet on the Niagara River as it flows from Lake Erie into Lake Ontario. Your cruise ship, no matter how small or agile, won't be doing the actual sailing past, nor docking below the falls. As with shoreside visitors who flock to this natural wonder from either the Canadian (the majority of visitors choose this) or the U.S. side of the border, cruise passengers do the same. You'll arrive at the site of the falls by land, on a motor coach.
While you're busy snapping photos of the falls, your ship will be preparing to transit the Welland Canal, taking it from Lake Erie to Lake Ontario (or vice versa). Opened in 1829, the canal made it possible for cargo ships to transport goods from such ports as Cleveland and Detroit to Montreal, Quebec City and beyond. On the way to its destination, the ship passes through eight locks and drops 326 feet going from lake to lake.
Your Visit
On a nine-night Chicago to Toronto cruise aboard the 202-passenger Victory Cruise Lines' Victory I, everyone onboard has the chance to tour the falls on the last full day of the cruise. Your morning at the falls begins when you step off your ship on the Lake Erie side, in Port Colborne, Canada, and board a coach for a scenic ride past vineyards and grand winery estates to the falls.
Three distinct falls make up what we call Niagara Falls. American Falls and Bridal Veil Falls are found on the U.S. side, in New York State. Horseshoe Falls, the widest, most powerful and most spectacular of the three, is in Canada near the town of Niagara Falls and about an hour's drive from Toronto.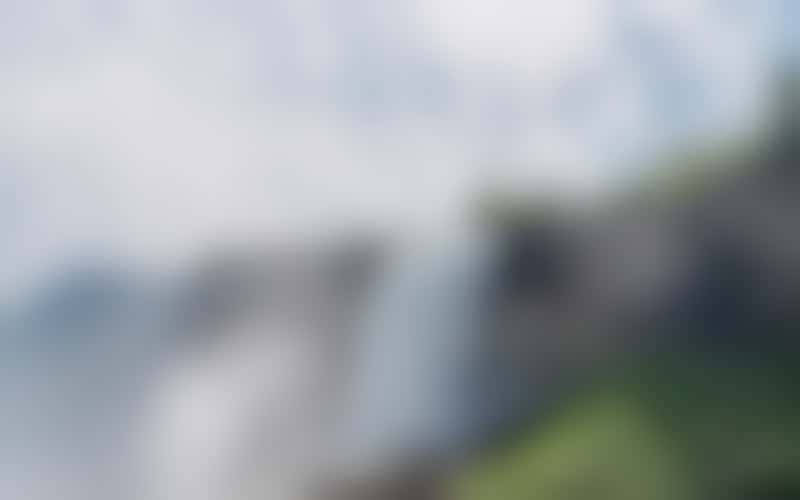 Your chance to get up-close and personal with the falls will be aboard a Hornblower sightseeing boat. Enjoy a thrilling, 20-minute ride through the Great Niagara Gorge, past Bridal Veil Falls right into the spray and thundering roar of Horseshoe Falls. Prepare to get wet. Even though you're given a plastic poncho to wear, it can be so windy and misty, it's hard to keep yourself -- much less your camera -- covered and dry. On warmer days, it's a good idea to wear flip-flops or plastic sandals and pack a small towel in your backpack or leave one on the bus.
After time at the falls and before returning to your ship, the tour might continue with lunch at an area winery like Chateau des Charmes. Following lunch and wine tasting, of course, you'll have free time to explore Niagara-on-the-Lake, a charming, tree-lined Canadian town at the mouth of the Niagara River and on the shore of Lake Ontario.
Good to Know
In years of high water levels in the lakes and falls, Hornblower boat tours could be temporarily halted or canceled for safety reasons. Luckily for cruisers, your ship's excursion guides will replace the boat ride with another sightseeing tour. On the "Journey Behind the Falls," for example, you'll venture behind the mighty Horseshoe Falls. The tour begins with an elevator ride 125 feet down and behind the falls. You emerge via a series of tunnels on a viewing platform 13 stories below the crest of the falls. Is it wet? Oh yeah. That's why you're provided with a poncho. Along with this unusual vantage point, the thunder of water will make a lasting impression.
Once you return to your ship, the nighttime transit of the Welland Canal begins. Depending on freighter traffic, it can take nine to 12 hours to cruise through the eight locks.
Niagara Falls Cruise Lines
Other cruise lines offering tours to Niagara Falls during Great Lakes itineraries include Blount Small Ship Adventures and Pearl Seas Cruises. Together with Victory Cruise Lines, they offer multiple cruises in the Great Lakes during summer months. Two additional lines with fewer Great Lakes and Niagara Falls visits are French cruise line Ponant and German-based Hapag-Lloyd.