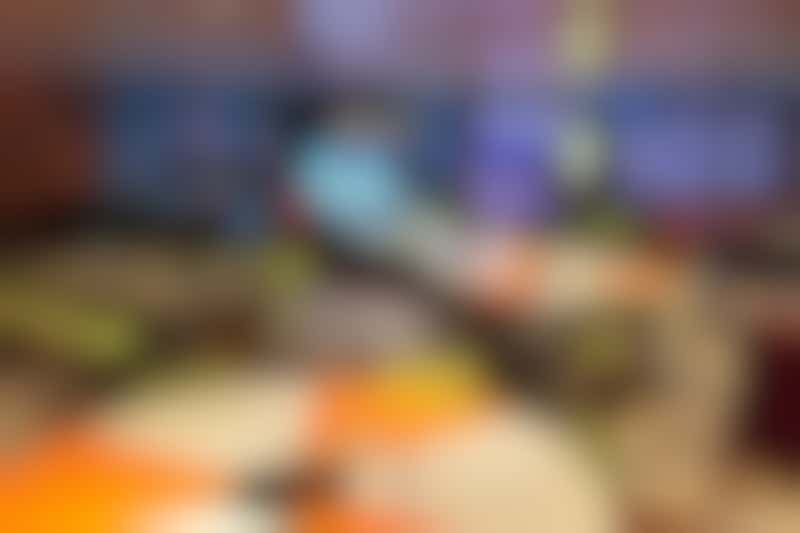 Camp Discovery Lodge on Grand Princess (Photo: Ashley Kosciolek)
Princess Cruises' kids club, which relaunched in 2017 under the new name of Camp Discovery, is a product of the cruise line's partnership with Discovery Communications. Complete physical overhauls of the three standard youth spaces during the rebrand (on most of the ships in the Princess fleet) have left the areas funky, fun and -- dare we say it? -- educational.
What It Is
Camp Discovery is the collective name for the programming featured on many Princess ships for the benefit of the line's youngest cruisers. Daily pursuits include hands-on science experiments based on the popular TV show "MythBusters"; destination-immersive activities that focus on the cultures and nature found in the Caribbean, Alaska and Europe; interactive scavenger hunts patterned after "Shark Hunters"; Animal Planet puppet- and mask-making, inspired by local wildlife; and cake decorating as part of the JrChef@Sea program.
Other non-Discovery activities include dance classes, miniature golf tournaments, talent shows, video game play, theme nights, paper airplane challenges and LEGO boat-building competitions. A family carnival-type experience with booths and activities is also set up in the Piazza once on each sailing.
There are three separate facilities that cater to children, tweens and teens in different age groups:
The Tree House (ages 3 to 7): This space, reminiscent of a tree-dweller's paradise, offers a padded treehouse for climbing, a slide and plenty of cushy seating, as well as a jukebox and a giant TV for movie nights and video games. A tree structure rises up in the center of the room, and a small table is built around it to offer space for arts and crafts. Story time is a staple, as well. Children in the Tree House can only be signed into and out of the club by authorized parents or guardians, who are provided with pagers so camp counselors can stay in touch.
The Lodge (ages 8 to 12): The Lodge is themed after what you might expect the inside of a log cabin to look like, complete with faux abstract deer heads, canoes and even a fireplace. There's plenty of seating and table space, as well as foosball, Skee-Ball and computer stations. A large TV and plentiful floor space with cushion seating make for fun movie nights and video game play. Youngsters in this age group are able to sign themselves into and out of the club.
The Beach House (ages 13 to 17): Although there are some activities scheduled for this age group, it's a more casual hangout, allowing teens to come and go as they please. It features a beachy theme of teal and gray with surfboard murals lining the walls; computer stations, air hockey tables, video games and a dance floor add to the cool factor.
Price
Daytime activities are complimentary, but the clubs charge a per-child fee of $5 from 10 p.m. to 1 a.m. for group "babysitting" activities that include movie nights and theme parties.
Ships
Camp Discovery has been completely implemented on the first three ships below. Although the programming has already begun fleetwide, physical upgrades to the kids club spaces will take place on the following schedule for the rest of the ships (subject to change):
Grand Princess

Caribbean Princess

Regal Princess

Sea Princess

Island Princess

Crown Princess

Golden Princess

Sapphire Princess

Sun Princess, May 2018

Ruby Princess, December 2018

Star Princess, unscheduled

Coral Princess, unscheduled

Emerald Princess, unscheduled

Royal Princess, unscheduled
Explore Princess Cruises