Blu on Celebrity Solstice (Photo: Cruise Critic)
Blu is the private dining venue with spa-style cuisine that Celebrity Cruises' passengers staying in AquaClass cabins and other suites have exclusive access to. The restaurant specializes in "clean cuisine," which translates to a way of preparing food that's fresh and inventive. An example of this is the truffle vinaigrette you'll find on your steak in place of a heavier bearnaise sauce. Passengers booked in any suite have access to Blu, but seating hinges on availability. Due to its exclusivity, Blu restaurant on Celebrity is a popular choice with passengers who have access -- it's a quieter venue than many of the other dining options available to all passengers, and, of course, it's included in your cruise fare.
Ambiance
With stark whites and bright blues inspired by the shorelines of Greece and the Mediterranean, the decor in Blu is as striking and simple as its gastronomy. Curved, white leather chairs sit at tables with crisp white linens and cobalt glasses. Blu restaurants on some ships feature a partition with circular "cut-outs" -- many of which are solid and painted teal, olive or tangerine.  Perhaps the most stunning detail of the space is the three-dimensional white walls, unfolding with petals in keeping with the restaurant's rose motif. A rose pattern bedecks the royal blue carpet underfoot while sparkling chandeliers and glittering lighting fixtures illuminate the space above. Ocean views -- whether through large round portholes or a small line of windows -- vary from ship to ship.  But Blu is not about what you can or can't see. Instead it's seclusion over scenery, and dining in Blu is a little like "being in the know."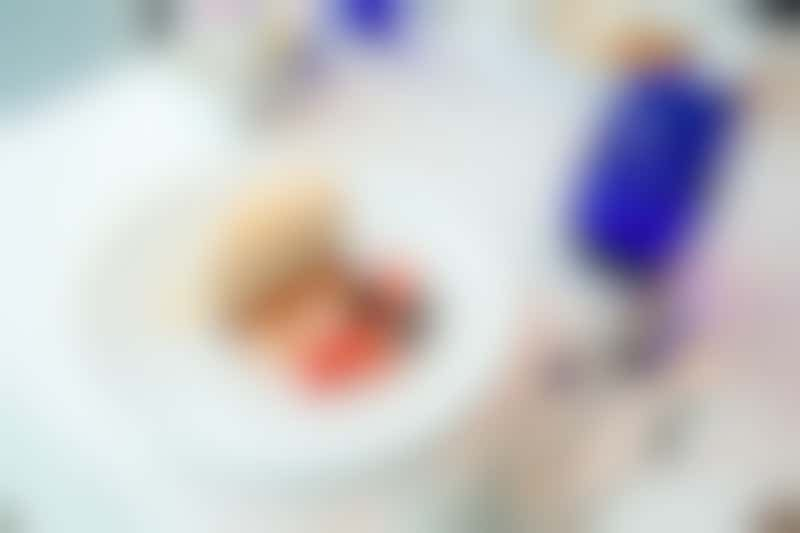 Cheescake dessert at Celebrity Reflection's Blu (Photo: Cruise Critic)
Meals
Breakfast and dinner are served in this health-conscious restaurant, but not lunch. Dinner is open seating, available nightly without a reservation from 6 to 9:30 p.m. The menu for dinner rotates each evening, making it easy to dine in Blu every night of your cruise without getting bored. Appetizers might include a chilled seafood Napoleon or a grilled tamarind-glazed quail; soups and salads encompass marinated teardrop tomatoes and bocconcini (small mozzarella balls) salad or a chilled avocado and lemon soup with poached shrimp. For your main course, you can choose from entrees like blackened ahi tuna and a pan-seared filet mignon; or default to the standby "Classic Favorites" menu, which includes a choice of roast chicken, broiled salmon or grilled New York strip. A salad entree is always available. An extensive dessert menu follows with intriguing sweets like a gingersnap basket with fresh strawberries and mint, or a coconut creme brulee with roast pineapple and curry meringue, along with low-fat and no-sugar-added options -- yes, more than one -- such as a guava ice parfait and vanilla lychee frozen yogurt. Accompany your meal with anything from late harvest and fortified wines to an espresso macchiato or latte.
AquaClass and suite passengers can start the day off with a full breakfast that includes tableside muesli. A bakery and griddle serves up pancakes and French toast, or choose from eggs cracked into an omelet, frittata or sunny side up. In addition to the other usual suspects -- bacon and sausage -- try a roasted tomato or steamed tofu with your first meal of the day. Continental options span plenty of yogurts, cereals, fruits, parfaits, meats, cheeses and a plate of lox. Complement -- or replace -- your plate with a menu of fresh-squeezed juices and fruit smoothies, if you want a lighter meal.
Price
Blu is free for all AquaClass and suite passengers.
Blu Menu
Editor's Note: Menus are samples only and are subject to change by ship and itinerary.
Which ships have Blu?
Blu is available onboard the following ships:
Celebrity Edge

Celebrity Eclipse

Celebrity Solstice

Celebrity Silhouette

Celebrity Constellation

Celebrity Equinox

Celebrity Reflection

Celebrity Infinity

Celebrity Summit

Celebrity Millennium
Show Celebrity Cruise Prices