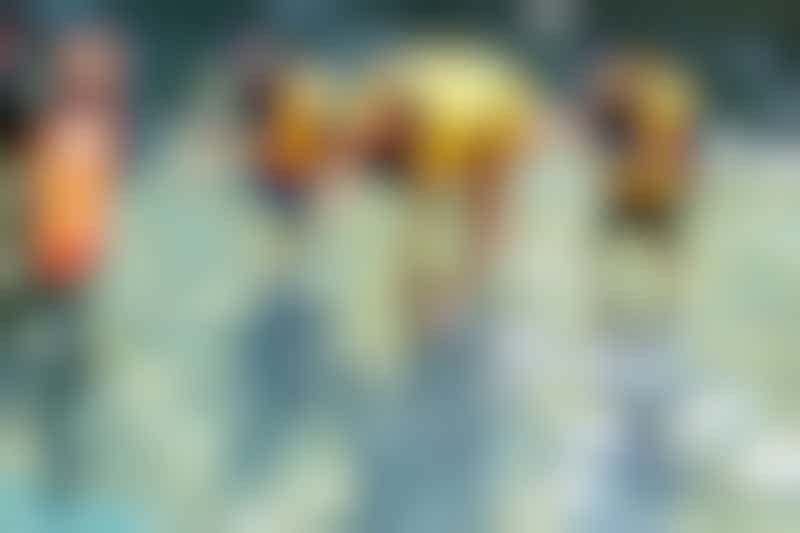 You've seen the commercials: parents and kids laughing as they splash each other in the pool on a fun-filled family cruise. But when you think about it, how do you manage to entertain Mom, Dad, a precocious 8-year-old, a few teenage cousins and even Grandma for days on end? Well, it's easier than you think -- in the Bahamas.
More and more vacation-bound families are making the Bahamas their stomping ground. It's easy to get to, hence easy on fidgety kids: The nearest island of the 700-island nation is a mere 50 miles from the Florida mainland. And the length of most Bahamas cruises -- less than a week -- is just right for busy families with children that may or may not have the greatest of attention spans!
With a number of cruise lines dedicated to the region -- including Carnival, Celebrity, Costa, Disney, Holland America, Norwegian Cruise Line, Regent Seven Seas Cruises and Royal Caribbean -- there's a treasure trove of shore excursions to please the pickiest little (or big) traveler. We've checked out all of the shore excursions on offer in the region to highlight the perfect combination of fun and adventure, with specific suggestions for younger and older kids, as well as first- and second-timers to the region.
But first, it is important to keep a couple things in mind:
When it comes to touring with the whole clan, try to pick an excursion that runs no longer than three hours. Too much togetherness can be challenging. Also, it's wise to leave time to explore the port area outside of an excursion so individuals who are able to break apart on their own can.
While many of the cruise lines offer the same shore excursions, rules for each may vary including age requirements; some include food and/or drink while others don't. Be sure to look at the specifics.
Most of the major lines provide getaways via Florida to the Bahamas, and as a bonus, many even boast their own private cay for a day of beaching in "relative" privacy, away from the crowded towns of Nassau and Freeport.
Shore excursions in the two most visited ports of Nassau and Freeport are highlighted below as well as some of the offerings at the private cays.
Nassau/Paradise Island
First Timers: Pirates and Dungeons Tour
For: Families with Young Children
Why Your Family Will Love It: Kids will love traveling back in time to explore Nassau's past as a pirate haven. This tour for parents and kids alike includes hopping on an air-conditioned bus for a visit to some of the more notorious pirate sites around the island including Fort Fincastle and Fort Charlotte, as well as the Pirates of Nassau Museum. Parents, especially history buffs, will love the tour of the old forts, while children are awed by the 75-ft. three-mast pirate ship they can tour at the museum. The 2.5 hours are reasonably manageable even for antsy tykes.
Kid-Pleasing Tips: At Fort Charlotte you can hear a brief history of the fort from your guide, while the children are led downstairs for the Dungeons part of the tour. At the museum, a "pirate" will show you around the ship, Revenge, and tell tales of adventure on the sea.
Second Timers: Dolphin Encounter
For: Families with Young Children
Why Your Family Will Love It: This is your chance to meet Flipper, star of the 1996 Universal Studios movie. From the cruise ship, area your family will board a powered catamaran for a short ride to Blue Lagoon Island, where the Dolphin Encounter is located. Once ashore, a guide will introduce you to the world of dolphins, learning about its life, anatomy and environment. Then, you're ready to meet Flipper and his friends.
Kid-Pleasing Tip: Participants can wade into waist deepwater to pet, feed and even kiss the dolphins -- and, of course, pose for a souvenir photograph.
First Timers: Sail an America's Cup Sailboat
For: Families with Active Teens:
Why Your Family Will Love It: For active families really looking for a once-in-a-lifetime adventure on your trip, this popular excursion allows you to become part of the crew on one of the racing yachts that was actually used in a past America's Cup competition. Two boats will race each other, and with each yacht holding up to 25 people, this is a great chance for teens and parents to work together.
Kid-Pleasing Tip: If you're an experienced sailor, you can take part in as much as you'd like by trimming sails or working the grinders, and if you're a novice you can help out the crew as directed or just sit back and relax. You must be at least 7 to participate.
Second Timers: Stingrays at Blackbeard's Cay
For: Families with Active Teens:
Why Your Family Will Love It: Enjoy a scenic 25-minute boat ride to the private island of Blackbeard's Cay. Once at "Stingray Adventure," you'll be briefed on how to use the snorkeling equipment and receive safety tips and details about the Atlantic Southern stingrays. Lunch (hamburgers, hot dogs, chicken sandwiches, chips and soda) is offered. Children under 10 must be accompanied by an adult.
Kid-Pleasing Tip: Once in the water, enjoy snorkeling and the thrill of hand-feeding stingrays as they gracefully glide around you.
First Timers: Explore Atlantis
For: Multi-Generational Gatherings
Why Your Family Will Love It: The famous 34-acre Atlantis resort is the perfect destination for families who want to do a little bit of everything -- because it offers a little bit of everything. A day pass ($25 for adults and $19 for children) allows you access to sites like "The Dig" (the Atlantis aquarium), the Atlantis beach and -- for the adults -- the casino.
You can also combine a Harbor Cruise with a trip to Atlantis. This is a great way to get some time on the water, time off your feet (for the older folks) and some time at Atlantis for the younger generation. The combo tour starts with a harbor cruise with a guide pointing out famous forts, celebrity homes, privately owned cays and old pirate lookouts. Afterward, you'll be dropped off at the Paradise Island Ferry Terminal and driven to Atlantis for a guided tour of The Dig, where you'll see sharks, barracuda and many other creatures. There's also plenty of opportunity for shopping and dining at Atlantis.
Kid-Pleasing Tip: Ripples kids' pool features slides and waterfalls. There's a second smaller baby pool, as well as a water play zone for kids shorter than 48 inches with squirters, a dumping bucket, and other fun water activities.
Second Timers: Submarine Tour
For Multi-Generational Gatherings
Why Your Family Will Love It: So what if you and the kids don't scuba dive or really even like snorkeling? Don't pass up the chance to tour the island from underwater aboard a submarine. Hop aboard the air-conditioned Seaworld Explorer for a 90-minute semi submarine tour.
Kid-Pleasing Tip: You'll descend eight feet below the water to observe the sea gardens, tropical fish, a fish feeding frenzy and even some shipwrecks through large glass windows.
Freeport
First Timers: Sea Safari Snorkeling
For: Families with Young Children:
Why Your Family Will Love It: This excursion is a catamaran ride, snorkeling trip and water park all in one. A 72-ft. double-decker, Fantasia, cruises along Port Lucaya to a shallow coral reef for swimming and snorkeling. The ship is also outfitted with a 30-ft. rock climbing wall and 30-ft. water slide for fun out of the water. A (pay) bar and grill is available onboard Fantasia as well. Snorkel gear is provided as are floatation devices. All participants must know how to swim.
Kid-Pleasing Tip: Fish food is sold onboard; a few sprinkles underwater will attract sea life like flies to honey.
Second Timers: Glass Bottom Boat
Why Your Family Will Love It: This trip is a great way to get out on the water (on a much smaller scale than your cruise ship) and show the kids the sights of the ocean up close. The boat, a custom-built, 60-ft., double-decker named the Ocean Wonder, glides above the shallow coral reefs off Grand Bahama Island. You'll see wildly colored tropical fish and coral formations through its glass bottom.
Kid-Pleasing Tip: Weather permitting, you'll even be able to see a shipwreck submerged near Treasure Reef.
First Timers: Freeport Biking Adventure
For: Families with Active Teens:
Why Your Family Will Love It: There's sightseeing for the adults -- and biking and the beach for teens. The 12.5-mile bike ride rolls through Freeport past a native Bahamian settlement and Sanctuary Bay, a home to dolphins. There's a stop for swimming in the ocean and a local snack. A bus takes shop-happy parents to Port Lucaya Marketplace afterward (so warn your teens about the diversion ahead of time). Minimum age is 12 years; minimum height is 4'11".
Kid-Pleasing Tip: Participants can choose from two types of bikes -- comfort cruisers and mountain bikes -- depending on how adventurous they're feeling for their day in port.
Second Timers: Bahamas Jeep Adventure
For: Families with Active Teens:
Why Your Family Will Love It: On this brand-new bumpy tour, Jeeps accommodating up to four passengers visit Taino Beach, Sanctuary Bay and replicas of original New Plymouth homes, and the Heritage Trail along the seashore walked by settlers in the 1800's. The minimum age to participate is 12; drivers must be 25 with a valid driver's license. Bring a swimsuit, towel, sunscreen and comfortable closed-toe walking shoes.
Kid-Pleasing Tip: An off-road segment cuts through the island's pine forest; there's a chance to take a short hike to an inland blue hole (water-filled cave). Teens will probably also get a kick out of watching mom or dad drive on the "wrong" side of the road.
First Timers: Open Ocean Dolphin Swim
For: Multi-Generational Families
Why Your Family Will Love It: Who needs those "wade in to your waist" dolphin encounters when you have the real thing here? This is a once in a lifetime chance -- for all ages -- to swim with the dolphins out in the open ocean. Take a boat ride out towards the open ocean and watch as the dolphins swim along side the boat. Then throw on your fins and jump in and swim with the dolphins in their natural habitat.
Kid-Pleasing Tip: Guides will teach hand signals and other background on the dolphins.
Second Timers: Peterson Cay Kayak & Snorkel Tour
For: Multi-Generational Families
Why Your Family Will Love It: Active families can work together on the 30-minute paddle by kayak to Peterson Cay, the Bahamas' smallest national park. A barbecue lunch is included, and great snorkeling is available right from the beach. We must stress that this option works best for multi-generational families with active adults and slightly older children. The minimum age is 12 years; maximum weight is 270 pounds. The excursion is not wheelchair accessible.
Kid-Pleasing Tip: Dolphins, stingrays and spotted eagle rays frequent these waters, so encounters are possible.