Coming into Budapest early for your river cruise and aren't sure how to spend your time? Consider visiting one of the city's "ruin bars" -- historic, ramshackle buildings that have been repurposed into cafes, restaurants, lounges and concert spaces.
What It Is
Budapest's ruin bars (also known as "ruin pubs") are a direct byproduct of the city's troubled history during and after World War II -- and the rebirth that has happened in the past decade. Used as a ghetto under Nazi occupation, the Jewish Quarter -- which once housed one of Europe's most vibrant Jewish communities -- was mostly abandoned after hundreds of thousands of Jews were deported to concentration camps. During the Communist and early post-Communist era, the neighborhood on the Pest side of the Danube was mostly a haven for nearby university students and artists.
In 2004, a cafe owner and his friends decided to move their pub, Szimpla Kert, into a complex of condemned buildings, including a stove factory. With its mismatched chairs, open-aired courtyard and walls covered in graffiti, Szimpla Kert became the place to party -- and imitators followed suit. Now Budapest's ruin bars are known around the world, drawing international visitors and spawning ruin bar tours such as the one run by Taste Hungary (and sold by Cruise Critic's sister company Viator).
Our Experience
We booked our ruin bar tour for our first evening in Budapest. We figured that the short walk between the bars (and the four included drinks we were promised in the cost) would give us some exercise after the long flight and help us sleep. We met our guide Lila, along with two fellow tour-goers (a 40-something American couple from Seattle), on the edge of the Jewish Quarter at 6 p.m. (Taste Hungary never puts more than eight people on a tour, Lila noted.)
Our first stop, Csendes Vintage Bar & Cafe, was less of an actual ruin bar and more of a ruin bar design, Lila admitted. It had the graffiti, high ceilings, funky lighting, mismatched chairs and unusual art that you'd find in a regular ruin bar -- but unlike other ruin bars, the space was always used as a coffee shop (albeit one of faded glory). Lila said she whiled away many an hour here during her days as a student at the nearby university. We were told to use the bathroom here, as it was the nicest (it's still a typical dive bar bathroom, though -- don't expect the spacious bathrooms at a ruin pub that you might find on a ship).
Although it's not usually exported outside the country, Hungary has a well-developed wine industry, with 22 wine regions. Lila recommended Irsai Oliver, a type of white wine grape we had never tasted before. We found it crisp and fruity, with a taste of green apples. She also debunked a few Hungarian myths, including one about the ever-present goulash that's served in Budapest cafes. Most Hungarians prefer papikash, she said, mainly because it's made with dill and sour cream -- the country's true favorite condiment.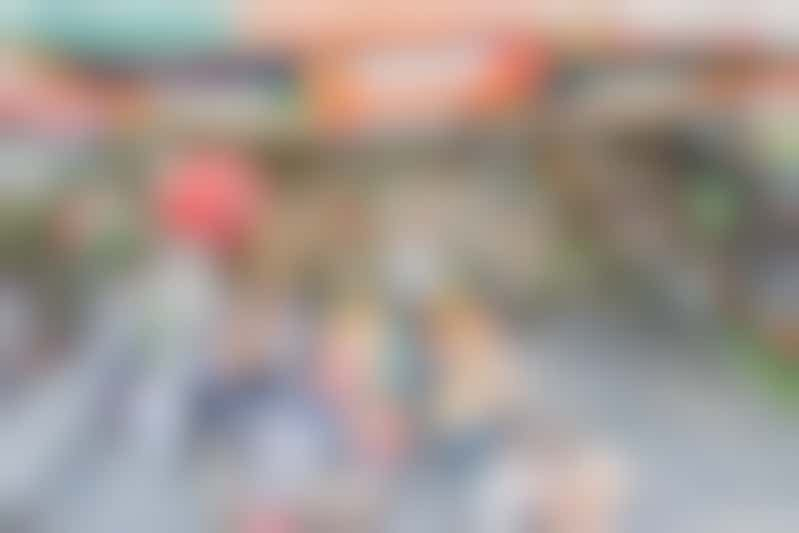 Our second stop took us to Szimpla Kert, the granddaddy of ruin pubs, with several stories of cozy corners, seating and artwork. Even in December, Szimpla was full; in the summer, the crowds can be insane, Lila mentioned. Unlike the first stop, we saw few Hungarians in the bar. Lila told us that while the Sunday farmers market held in the space is still popular with locals, in general it's a place that Budapest denizens avoid unless they have out-of-town friends visiting.
For our second round, we sampled a different Hungarian wine and nibbled at the snacks Lila bought. Sausages of all kinds are very popular and at Szimpla they are served with fried potatoes. For a vegetarian option, Lila bought a dish of cooked tomatoes, onions and peppers, meant to be spread on bread.
The third ruin bar, Ellato Kert, had a Mexican theme and a lot more locals than Szimpla, many of them smoking cigarettes in a tented outdoor area. Inside, though, it was palinka -- Hungary's famous fruit brandy -- that dominated the bar, not tequila. A bit softer than grappa and other spirits, palinka is meant to be sipped, Lila explained -- at least if you can sip something that's at least 46 percent alcohol.
One taste of our quince palinka taught us that we would not be sipping our palinka. So the four of us Americans threw it back, shot style. Lila laughed at our weak constitution and offered us another. We quickly declined.
By the last bar -- a club complex called Fogas haz -- we were fading fast; even with the open courtyard, the cigarette smoke began to bother us. Lila seemed surprised and noted that many ruin bar tour participants want to keep going once the tour ends. But for us -- a jet-lagged couple pushing 50 -- the three-hour ruin bar experience (along with a beer, two glasses of wine and that palinka) was more than enough. We slept well that night.
Worth a Try?
If you're interested in seeing several ruin pubs and are nervous about going on your own or using foreign currency, a tour is a good way to go. But you can also visit one or more ruin bars easily on your own. We felt the $65 per-person price tag (plus a few forints for a tip) to be a bit much, even with the included drinks and snacks.
Things to Note
The Jewish Quarter is a well-known party district in Budapest and there are always people walking around. That being said, some streets can be narrow and dark. Use the same safety precautions that you would in any large city.

The Jewish Quarter is also about a 20-minute walk from the international hotels near the Chain Bridge. You can also take a taxi or public transportation to and from the meeting site and from where the tour ends. The guides will help you call a cab to get back at the end, but there's no bus or shuttle service on this tour.

Hungary is not on the euro; the forint is the country's currency. It's easy to get money from the numerous ATMs around the city or at the airport, but our ruin bar tour had drinks and a snack included in the price.

Ruin bars can be very crowded, especially during the summer season. Be prepared to wait for a table.

Some of the ruin pubs are in complexes where the more interesting rooms are above ground level. If you have mobility issues, this tour is likely not for you.

Ruin bars draw a young crowd and can be very loud. If you typically don't like noisy and crowded pubs in your home country, a ruin bar tour is probably not for you.