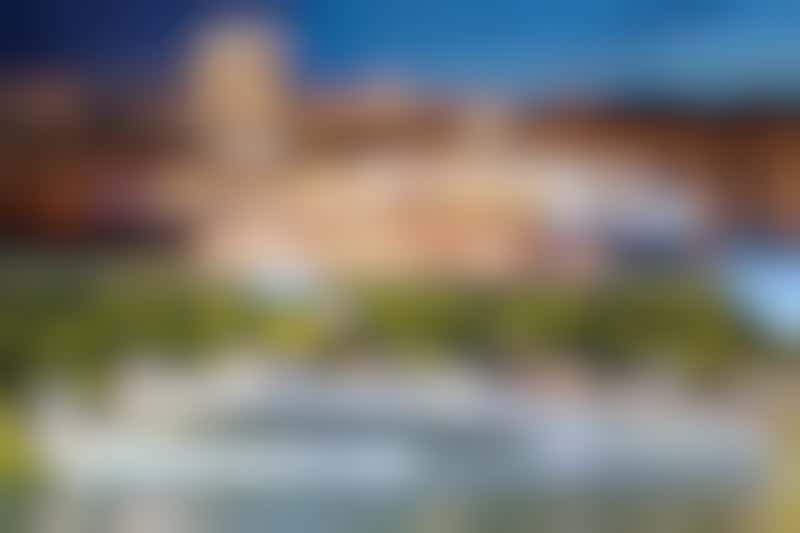 APT vs. Scenic (Photos: APT; Scenic)
These two river cruise lines position themselves at the top end of the market and at first glance share similarities -- including butlers and an Australian heritage. APT sells its Luxury brand cruises as all-inclusive and all of Scenic's cruises are all-inclusive. APT also sells Premium cruises with fewer inclusions. Both lines give themselves a self-styled five-star ranking (unlike hotels there is no official rating system for river vessels). Both lines have a solid background in the travel industry with family-owned APT starting out in 1927 as the coach tour operator Australian Pacific Touring. The Scenic story began more recently in 1986, when founder Glen Moroney began operating coach tours throughout Australia. Both companies expanded into river cruising in 2008.
Want to know the differences between the two? Then read on for our APT versus Scenic guide.
---
Price, Inclusions and Booking Policies
Pricewise, APT's Luxury cruises and Scenic fares are very similar. At first glance they look more expensive than other lines, often by around $1,250 or so per week. This is due to the all-inclusive nature of these cruises, which cover unlimited premium brand drinks and all onboard gratuities. However, in common with other lines they both offer deals and discounts, and prices also vary depending on the time of year you make the booking and the date of sailing.
Both lines require a deposit at the time of booking and have a sliding scale of cancellation penalties that are very similar. Passengers with APT passengers who cancel more than 100 days before their sailing lose the deposit, and forfeit 50 percent of the fare for cancelling between 61 to 99 days and the total fare for cancellations of 60 days or less prior to departure. With Scenic you lose your deposit for cancellations more than 90 days before departure, 50 percent from 62 to 90 days and loss of the full fare for cancelling 61 days or less before the date of sailing.
Choose APT's Premium sailings for a more affordable cruise.
Less expensive than the Luxury cruises are the four-star Premium cruises that include daily excursions and wine, beer and soft drinks with lunch and dinner.
Show APT Prices
Choose Scenic if you enjoy a drink in your cabin.
Scenic ships have a mini-bar in every stateroom which is restocked daily and suites including additional decanters of spirits.
Show Scenic Prices
---
Shore Excursions
Both APT and Scenic include daily shore excursions included in the price, and they also go the extra mile when it comes to tours. The majority of mainstream lines offer one complimentary excursion per day, which is generally a walking tour, coach excursion or combination of the two. APT and Scenic generally provide two or more tours per day with flexible options. Walking tours with both lines are divided into relaxed, moderate and active so passengers can go at the pace best suited to their requirements and interests. APT offers "Signature" and "Royal Signature" experiences, which might include lunch and a falconry display at a castle or an evening dinner and musical recital hosted by a princess. The Scenic equivalent is called "Scenic Enrich", which might typically be a private palace tour or concert. Led by expert guides, passengers are divided into groups (around the same size on both lines) and are given personal audio headset systems so they don't miss a word of what is being said. For active travellers, both lines have a fleet of onboard bikes (in Scenic's case electrically assisted) that are available on a complimentary first-come first-serve basis.
Choose APT if you want to tailor-make your shore tours.
APT's "Freedom of Choice" excursions provide passengers with the opportunity to cherry pick from a range of options to make up their preferred style of tour.
Choose Scenic if you like exploring independently.
Scenic offers GPS guided tours so independent passengers can explore using pre-programmed walks and maps on personal audios. Available in more than 140 locations, they start and finish at the ship's location so you'll never get lost.
---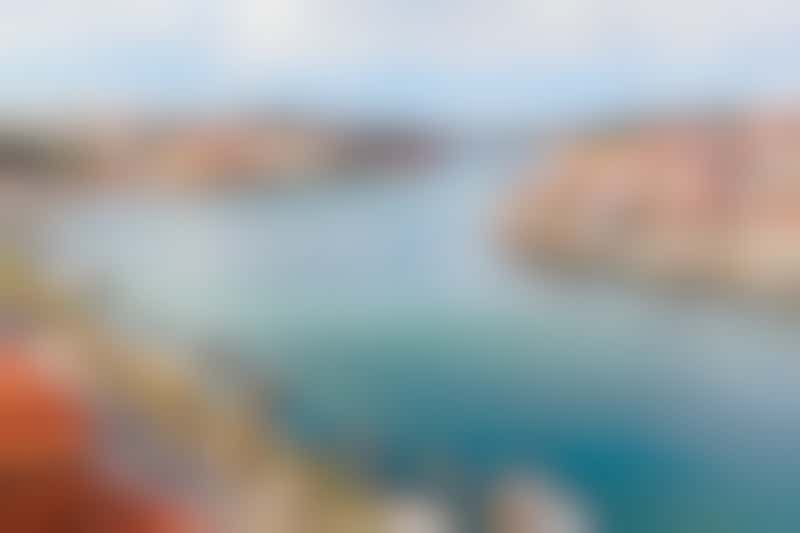 The Douro River in Portugal (Photo: APT)
Itineraries, Demographics and Fleet
Through its partnership with AmaWaterways, APT offers cruises on 19 ships in mainland Europe covering a total of 14 waterways including the Danube, Douro, Moselle, Rhine, Rhone and Saone and the most popular itinerary is the 15-day Magnificent Europe voyage. It also charters ships for itineraries in Vietnam and Cambodia, Myanmar, India, Russia, China and South America.
Scenic operates a fleet of 12 "Space-Ships" and, like APT, also sails on the main rivers of Europe. The name refers to the larger-than-average public areas, rather than the size of the ships; most European riverboats are restricted to a set length and width so they can navigate low bridges and narrow locks. Scenic also sails in Vietnam and Cambodia, Myanmar and Russia Both lines offer late season Christmas market cruises and in August 2018 Scenic will enter the world of ocean cruising with the launch of Scenic Eclipse.
Choose APT if you prefer a longer cruise.
Taking into account the long travel distance for its core Australian market, APT offers cruises that are much longer than the seven-day norm. One of the most popular is a 14-night sailing from Amsterdam to Budapest -- or in reverse -- and itineraries extend to a 23-night journey taking in 23 destinations with land-based hotel stays in Berlin, Paris and Prague at the beginning and end of the trip.
Choose Scenic if you are dipping your toe into the world of river cruising.
Scenic offers a variety of week-long itineraries that are ideal for first-time cruisers embarking on a river cruise for the first time.
---
Cabins
The cabins on both APT and Scenic are extremely comfortable and well designed, with hotel-style amenities including high-tech TVs with entertainment on demand. The big difference is the look and style of the cabins and the availability of balconies.
Staterooms on the 85-cabin Scenic "Space-Ships" range in size from 160 square feet to a spacious 475 square feet, which tops the largest suites on APT. Compared with APT the cabins are decorated in a more contemporary style. APT has around three fewer cabins on ships of the same size, and standard staterooms generally measure 210 to 235 square feet. Royal Suites measure 300 square feet and the Owner's Suite is 350 square feet. Although both lines call their largest cabins suites they are all bigger staterooms and do not have two rooms. Both lines also have single cabins, which is unusual on river ships. Scenic "Space-Ships" do not have walk-out balconies, but have innovative "sun lounge balconies", which comprise fully retractable glass windows that lower down to let in fresh air and can be closed off from the rest of the cabin with folding glass doors. Scenic also offers one wheelchair accessible cabin on these ships.
Both lines offer butler service, with duties that vary according to cabin category. Butler service is not available in every cabin on APT ships.
Choose APT if you want walk-out balconies.
In 2010, APT debuted the double balcony concept on its Concerto-class ships. A total of 52 of the 81 cabins are Twin Balcony Suites with both a French balcony, with floor-to-ceiling windows that open out over a railing, plus a walk-out veranda with room for a table and chairs.
Choose Scenic if you want to be pampered.
All passengers on Scenic have butlers, with the level of service depending on the cabin category. Butlers in all cabins will shine shoes, arrange shore excursions and bring drinks, and services in higher level suites include room service breakfast, free laundry and suitcases packed and unpacked, arranging in-room cocktail drinks and even running baths.
---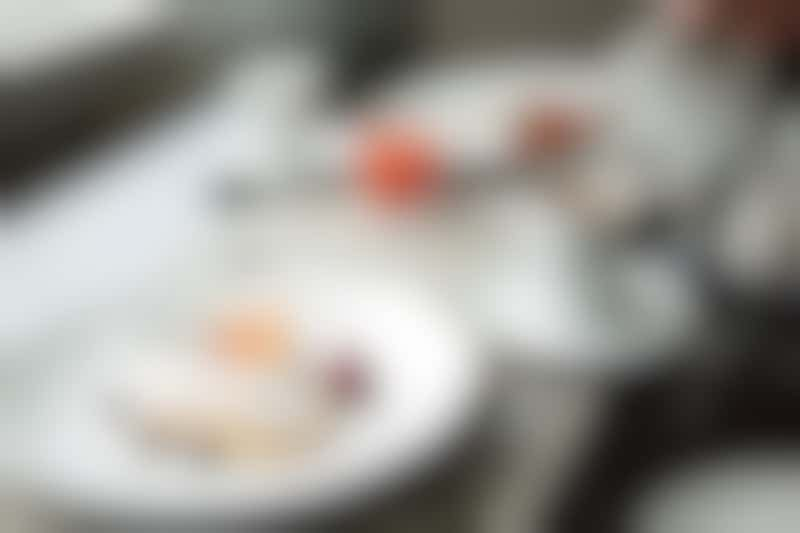 Breakfast on a Scenic cruise (Photo: Scenic)
Dining
When it comes to the overall standard of food there's very little to choose from, and as well as wine and drinks with meals both lines offer an open bar.  They also feature lighter meal options plus an "always available" menu of simpler fare. However, Scenic comes out on top in terms of the choice of dining venues and options. Every evening on Scenic the forward section of the lounge becomes the Italian restaurant Portabellos, and every passenger can dine here at least once a week during their cruise at no extra cost. In the main restaurant is Table La Rive, a 10-person chef's table exclusively available to upper deck passengers, once per cruise and, again, at no additional cost.  In the main lounge, there is an all-day cafe serving sweet and savoury treats. APT offers limited room service to passengers in certain cabin categories.
Choose APT if you want choice in a main dining room that resembles a proper restaurant.
Concerto-class ships feature a dining room that is divided down the middle with buffet stations behind screens at each end. This gives it the feel of restaurant during the evening meal. On certain nights, typically nine on a 14-night cruise, it is actually run as two venues with separate menus, with the Bella Cucina Italian restaurant on one side and the Verde Grill international restaurant on the other.
Choose Scenic if you want to dine around the clock.
Scenic offers all passengers a 24-hour room service menu.
---
Enrichment
Both lines offer an enrichment program when the ships are sailing and on some evenings in port. On both lines these will typically include talks by members of the crew and visiting experts, and activities such as language lessons and cookery demonstrations. Local entertainers will also come aboard to perform music, song and dance from the areas being visited.
---
Onboard Amenities
Scenic and APT's Luxury cruises both feature the type of amenities you'd expect on upmarket ships, including bicycles, splash pools, gyms and massage rooms, with the addition of a hairdresser on APT. Both lines offer a laundry and pressing service.
---
Bottom Line
Both lines offer a classy product that will appeal to passengers who want to travel in all-inclusive style. APT will be appreciated by traditionalists and Scenic will hit the spot with passengers who like to be looked after in more contemporary surroundings.