Whom to Tip and How Much on a Cruise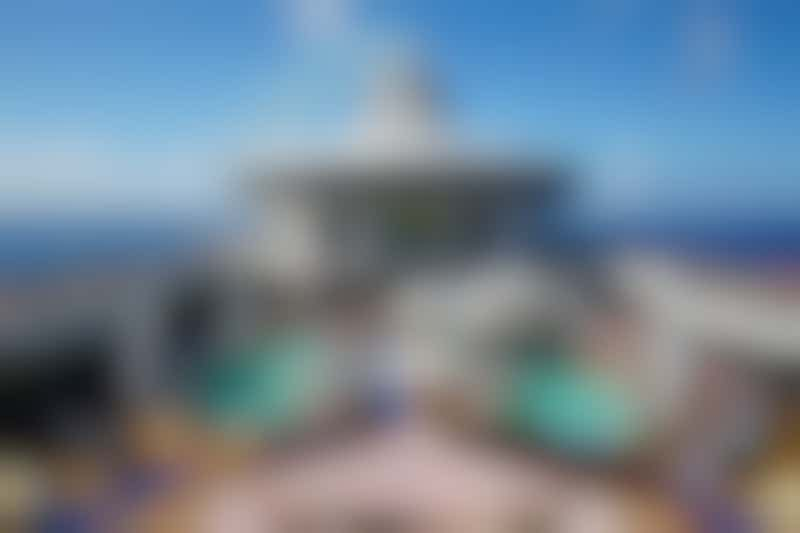 Pool Deck on Royal Caribbean's Mariner of the Seas (Photo/Kyle Valenta)
What follows are suggested out-of-pocket tip amounts for your cruise for excellent service. Note that there are also gratuities applied automatically and separately to some optional onboard services, like drinks at the bar or spa and salon services. We've outlined those here, as well.
Keep in mind that there are some services provided by non-cruise staffers for which tips should also be paid out of pocket -- this extends to port-side baggage handlers or shore excursion tour operators.
How Much to Tip Cruise Porters
The baggage handlers who take your bags upon arrival at the port don't typically work for the cruise line and therefore won't share in the onboard tip pool. Consider treating them as you would a bellman at a hotel -- a customary $1 or $2 per bag will do. When your cruise concludes, if the port workers aid in getting your bags to your car or a taxi, the same amount would be courteous.
How Much to Tip Waiters on a Cruise
Your auto-gratuities will cover all waitstaff in the main dining room, buffet restaurants and specialty dining venues alike. If you dine at the same table and enjoy regular service from one or two particularly excellent waiters, consider leaving an additional $10 to $20 at the cruise's end.
How Much to Tip Cabin Stewards and Butlers
You're likely interact with your cabin attendant the most during your cruise. While the automatic service charges will cover their basic gratuities, it's generally considered good form to tip them a bit extra for a job well done, especially if you have made any special requests. Should you choose to, for a seven-night cruise, consider tipping about $2 to $3 per person, per day.
If you are in a suite or aboard a luxury cruise, you may have a butler assigned to your room. Since they typically have more duties to meet, a good guideline, is a supplementary tip of $3 to $5 per night, per person.
How Much to Tip Room Service on a Cruise
Room service fees have become the norm on many major cruise lines. Room service waiters are also part of the tip pool for autogratuities. Again, though, a few dollars will go a long way.
How Much to Tip Cruise Bartenders
Bar service has an automatic gratuity applied on the check (usually 15%). As we said above, though, if you're planning to frequent the same onboard bar (like the ever-popular pool bar), an upfront tip of $10 to $20 just might mean faster service and perfectly crafted cocktails.
How Much to Tip Cruise Sommeliers
Wine ordered with meals will generally have a 15% service charge automatically applied. If the service has been exceptional, consider a tip of $10 to $15 at the end of your cruise.
How Much to Tip the Maitre D and Head Waiters on a Cruise
You do not need to tip the maitre d', as they are a ship's officer and paid accordingly. The head waiter is part of the automatic tip pool. However, if either one has provided some extra special service -- like getting you an upgraded table or having a special cake delivered, a tip of $5 to $10 at the time of the service would be appropriate.
How Much to Tip Shore Excursion Guides
Tour operators are usually independent of the cruise line. For a half-day shore excursion, give the guide $2, or $4 to $5 for a full-day excursion.
How Much to Tip Cruise Kids' Club Counselors
Tipping is not necessary in kids' clubs (as kids' counselors are usually considered part of the better-compensated entertainment staff rather than the tip-dependent service staff).
How Much to Tip for Spa Services on a Cruise
Spas will generally add a 15% to 18% gratuity to your bill.
How Much to Tip Cruise Casino Dealers
If you find yourself on a winning streak in the ship's casino, remember to reward your dealer as you would on land -- there's no standard for tipping dealers, so use your discretion based on your winnings.
How Much to Tip Cruise Ship Officers
Do not tip the captain or other ship officers -- they are already well compensated, and the gesture would more likely be a source of embarrassment than flattery.