Food is the most important consideration on holiday for many cruisers. Whether you're catching rays on deck or reading in the library, a rumbling stomach is never far away and the options for quelling it are endless. Princess Cruises' Sun Princess recently had a culinary revamp, so here are our tips for the best dishes in each dining venue.
The Horizon Court
Soon after boarding the ship mid-morning, your first thought will be lunch. Get used to it -- it's a mental groove that only deepens as the days roll on. The free buffet isn't the best food onboard but it's the only decent lunch option on embarkation day. Chuck your carb phobias overboard and embrace the myriad breads baked daily in the galley. Yes, some of the Horizon Court's best choices are the ready-filled rolls or going the DIY route with cold meats, cheeses and condiments. The hot dishes and salads held less allure for this foodie cruiser.
Share
This newish restaurant is Aussie LA-based celebrity chef Curtis Stone's baby and the food's as good as you'd find anywhere on dry land. Seriously. Share is a premium dining choice but remarkably good value whether a la carte (A$4.50 to A$15 per dish) or prix fixe (A$39). We worked the menu over big time with several visits and suggest you do too. There's a superb charcuterie to kick things off, but the most swoon-worthy dish is an elegant salad with roasted crab legs and spicy tobanjan (chili bean) aioli. There might also be the odd swoon over the warm bread pudding with toffee sauce.
Sterling Steakhouse
Another premium option, this place doesn't just style itself as an American steakhouse, it imports all its beef from the United States. There's seafood, lamb and pork, too, but they play second fiddle to chargrilled rib-eyes, New York strips, porterhouse steaks and more. Choose sauces and sides from a classic range -- say, a 220g thick-cut filet mignon with bearnaise (the meat is much better than the sauce), a potato option of either a huge baked Idaho, fries or mash, and excellent vegetables such as grilled asparagus, creamed spinach and sauteed wild mushrooms. Desserts are over the top if you've hoovered a 450g Kansas City strip steak so you might skip the chocolate, peanut butter and honey concoctions and go for the raspberry creme brulee. The total food cost, for all courses, is A$25 per person and worth every dollar.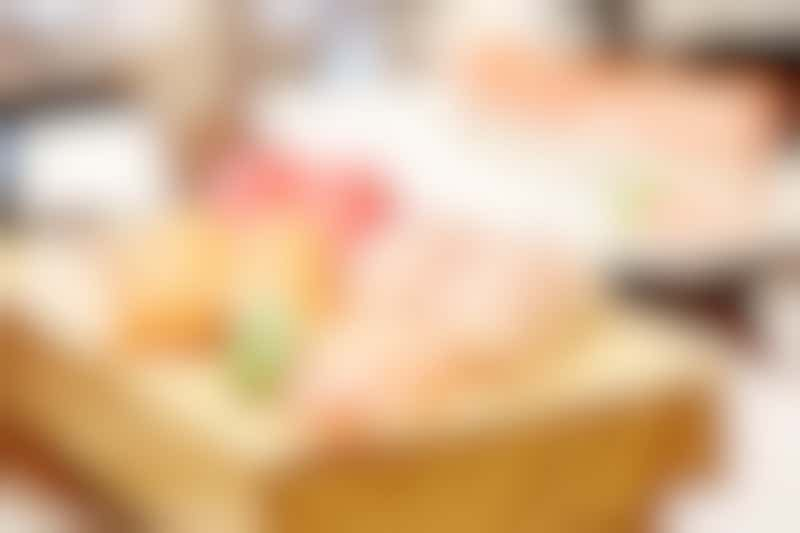 Sushi and sashimi at Kai Japanese Seafood on Sun Princess (Photo: Princess Cruises)
Kai Japanese Seafood
You really need to love raw fish to eat at Kai because, unlike many Japanese restaurants, there's very little else. Tempura? Sorry, sir. Donburi? Don't get much call for it, madam. But the raw seafood produce is excellent, from a tuna poke with avocado, ginger and soy to a great range of sushi and sashimi. However, some of the sauces are too intense, masking the marine flavours. A good cooked alternative is the lobster and scallop udon noodle soup.
Regency Dining Room
The main dining room serves complimentary breakfast, lunch and dinner but the smart money comes here for the daily afternoon tea. It's not even a stretch to call it 'high tea' with warm scones, jam and chilled whipped cream, gorgeous finger sandwiches made with that galley-baked bread, cute little rolls generously filled and countless tiny cakes. Adding to the cosseted experience is friendly table service, soft furnishings and beautifully dressed tables. It's worth speeding back up the gangway after a shore excursion to make it in time. Best of all, afternoon tea is free.
Amuleto Cafe
With excellent wraparound sea views, this venue (in the Horizon Court) is utter heaven for sugar fans. A long stretch of counters house elaborate desserts, pastries and a winning rotation of just-baked cookies. The marketing describes 'Italian-style' sweets but they're more cheesecake-style, mousses and jellied classics with fruity plating squiggles dressing them up. And those cookies are definitely American in their chewiness and size. It's a beautiful thing because any time from 6am to 11pm when a sweet fix and a cuppa are needed, now you know where to go.
International Cafe
This little spot is an excellent alternative on those days you can't face the buffet breakfast crowds but you want a bit more excitement than room service. It works like this: Choose your food from the display counter, which will be plated for you, line up and order your coffee or tea and then take it through to the comfy lounges in the atrium. Decent coffee and tea are served around the clock (A$2.50 to A$4.50 each) and good cafe classics such as Bircher muesli and cinnamon scrolls make a fine start to the day. Repeat, if desired, at lunchtime with paninis, soups and salads. A Coffee Card can be purchased for A$33 to save money on 15 hot or cold specialty drinks; the food is free.
Browse Upcoming Sun Princess Cruises