The Mamanuca Islands in Fiji (Photo: Bell-Davey Photography/Shutterstock.com)
So you've been to Noumea, New Caledonia and Vanuatu, or you don't like the idea of cruising a long way to get anywhere. To dive straight into the action, spending every day of your holiday in a tropical paradise, look no further than a small ship cruise around Fiji's Yasawa and Mamanuca islands. Here's why a Fiji fly-cruise makes sense.
---
1. Flying to Fiji gives you four more days on land.
A South Pacific cruise from Australia takes two days to reach the first port, potentially in rough conditions, and then another two days sailing home. If you're prone to seasickness -- or impatience -- this is not the ideal way to kick off your travels. Some people love days at sea, but first-timers and thrill-seekers may prefer to get off the ship and explore the destination as soon as possible. Nadi, the nearest airport for Fiji cruise departures, is a three-hour flight from Auckland and four hours from Sydney -- about the same time it takes to check in to a cruise at the OPT!
---
2. Your first port of call is a couple of hours away.
Fiji-based cruise lines don't waste time. On Captain Cook's Reef Endeavour, for example, you'll arrive at the line's private island on the same afternoon that you board the ship. As soon as you step aboard, food is served, a band is playing and your cabin is ready at 2 p.m.
---
3. The beaches are blissful and almost deserted.
If you've ever been on a big ship and struggled to escape your fellow cruisers, Fiji's Yasawa and Mamanuca islands are your answer. Only two small ships -- carrying 60 to 130 passengers -- operate this itinerary, and they make sure to avoid each other along the way, so the ports are never crowded. In fact, you will have the whole beach to yourself. All of the beaches are quiet, dazzlingly beautiful and suitable for swimming and snorkelling. Access is easy, with no rocks to clamber across or rickety stairs to risk -- just walk from the soft, white sand straight into calm, pristine water.
---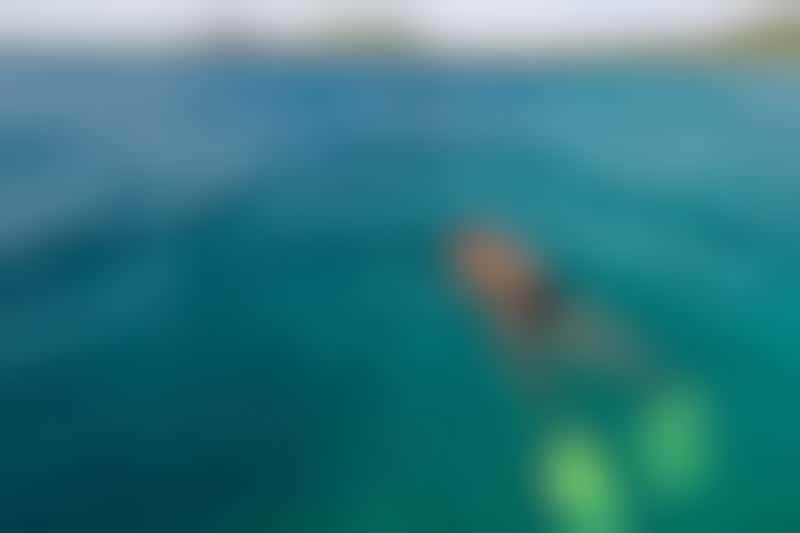 Snorkeling in Fiji's Yasawa Islands (Photo: ChameleonsEye/Shutterstock.com)
4. Tours and water sports are free.
Kayaks, stand-up paddleboards, glass-bottom boat tours and snorkelling equipment are included in your cruise fare on Fiji-based ships. Shore excursions, organised two or three times a day, are complimentary too. Only a few optional tours cost extra. Expect to visit villages, schools and a church and enjoy a lovo (underground oven) dinner with the locals, followed by a kava ceremony, with an opportunity to sample this mildly narcotic drink.
---
5. Snorkelling and diving are offered twice a day.
Every morning and afternoon, passengers can snorkel for free -- either wading in from the beach or by jumping off the side of the tender further out to sea. Keep an eye out for the 'Fijian Nemo' (a clown fish with only one white stripe), turtles, manta rays, stingrays and white-tipped reef sharks. Fiji is also home to some of the world's best scuba diving. Rainbow Reef, between Taveuni Island and Vanua Levu, and a cave dive are among the highlights. Intro dives and PADI certification courses are offered to first-timers too.
---
6. The islands are Hollywood-level beautiful.
Fiji is so idyllic that movies were set here. "Cast Away" (2000), starring Tom Hanks, was filmed at Modriki, in the Mamanuca Islands, where 'HELP' is spelled out in coconuts on the sand. Your ship will also drop anchor near the paradisiacal location used in "Blue Lagoon" (1980) starring Brooke Shields. Swim in the aquamarine water, take Instagram-worthy photos, and relax in one of the most spectacular places in the world.
---
7. Give back to the community.
Passengers can donate school supplies, money, toys or buy souvenirs from handicraft markets. At some stops, a fee of $10 or $15 is charged to swim in a cave or go behind the scenes in a village. The locals are genuinely appreciative of your support and don't try to rip you off or pressure you to buy things.
---
8. Fiji's sunsets are amazing.
The weather is lovely year-round, apart from some rain in wet season, but even an overcast day can deliver the most incredible sunset.
---
9. Fijian crew are fun, friendly and proud of their country.
Who better to show off Fiji than Fijians? On other South Pacific cruises, crew members are rarely from the islands the ship visits (except for some recent P&O recruits from Vanuatu) so they don't know much about the culture, the region or things to do in port. Being surrounded by Fijians in Fiji immerses you further into the destination, and you can ask them questions about their beliefs, customs and lifestyle -- or the best places to eat, drink and snorkel. Ships like Reef Endeavour have all-Fijian crew and they even join the passengers to drink kava (at no extra charge) some nights -- that's when the party really gets started. Fijians are famously friendly and welcoming; you can't walk past someone without a "Bula" (which literally translates as "life" but can mean everything from hello to goodbye, welcome, thank you, good luck, bless you and anything else you want it to mean).
Show South Pacific Prices