For many runners, running is a pleasurable -- and non-negotiable -- part of the day. We pack our running clothes even when we go on vacation. But what happens when you get on your cruise ship and realize the running track and treadmill aren't quite what you expected?
While the days of seeing the "No Running on Track" signs are long gone, unfortunately the tracks on the majority of cruise ships offer a less-than-stellar experience for runners. You're dodging pool-goers and swerving around walkers, and you feel like you're always running on an angle because the tracks are so small you are literally running in tiny circles. And how many times do you have to go around that loop just to equal a mile?
Treadmills in the onboard fitness centers are often not a great alternative, either. Cruise ship gyms are usually cramped, and cruise lines constantly get the placement of the treadmills wrong, rarely facing them toward the forward part of the ship so you're running in the same direction the ship is sailing. Most face the side of the ship, so as you're running in place, the view in front of you is moving sideways. It's a recipe for motion sickness.
If you want to improve your vacation run experience, here are eight running hacks that will help you find alternatives to the treadmill and onboard running track and keep you geared up for effective, hydrated and odor-free runs on your next cruise.
---
1. Find an Alternative Outer Deck
Most ships (especially larger ones) have open-air lower decks that wrap around a good portion of the ship. These decks are by no means designed for running, but you'll be able to stretch your legs and pick up speed without dodging chairs and fellow cruisers. The caveat is that this really only works for early-morning runs. In the afternoon, passengers strolling and playing shuffleboard will get in your way, and if you need to cut through the inside portion of the deck to make a full loop, you'll encounter more crowds.
On Norwegian's Breakaway Class, the open-air deck on Deck 6 is great for running and The Waterfront on Deck 8 is another option -- but only early in the morning before activities start picking up. Harmony of the Seas actually uses Deck 5 (next to the lifeboats) as the main running track. Hands down, it's the best running track we've seen on any ship so far.
---
2. Map It Out
Unless you're on a transoceanic cruise, you don't just have to run onboard; you can also log your miles in port. Use sites like mapmyrun.com or mapmyfitness.com to search routes that other runners have created in the ports of call you're visiting on your cruise. Be sure to print out the route or save a picture of it on your phone to avoid using pricy onboard Wi-Fi. And try to stick to routes that are close to the cruise terminal to avoid needing transportation.
Keep in mind that many of the island roads in the Caribbean don't have sidewalks, so your best bet is to run in the touristy areas, along the sea wall or at a nearby beach. In Alaska, you don't want to run the trails at the same time the salmon are running the rivers for one main reason -- bears. If you choose a trail run in Alaska, make sure it's far from any rivers, and make sure your presence is known during your run. Consider wearing bear bells, listening to music on your phone without headphones or even talking. The last thing you want to do is round a corner and startle a bear. In Europe, many of the roads switch from cobblestoned to brick to cement. Consider wearing trail runners for support and traction.
---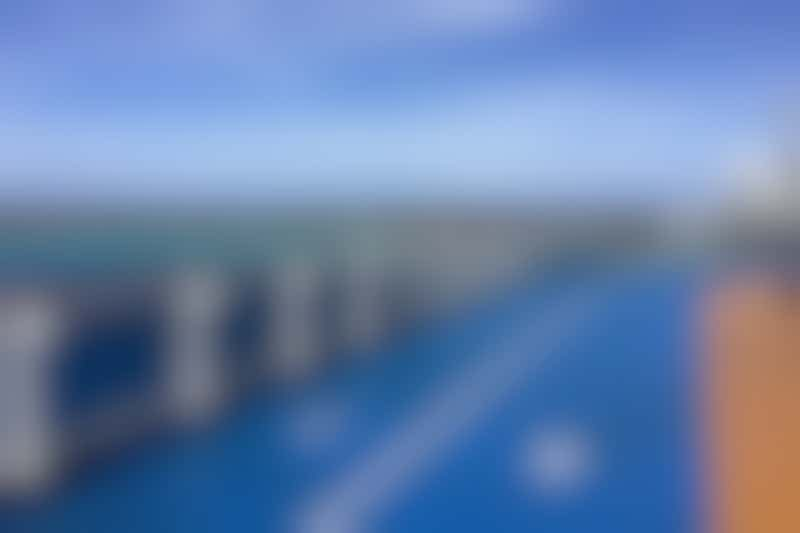 View of the Caribbean from the Regal Princess running track (Photo: Lauramay LaChance/Cruise Critic)
3. Ask a Local
Search for a running store or a running club in the port you're visiting, and reach out to them for tips and running routes.
If you're cruising to ports in the U.S. (think destinations like Alaska, the Pacific Coast, New England, the U.S.V.I. and Puerto Rico), you can also reach out to the National Park Service. Staffers will be able to direct you to a park ranger or someone local who can help you find routes (or trails) and give you information about the terrain. For instance, Perseverance Trail is easily accessed from downtown Juneau and might look like a good run, but you'll learn that, due to its steepness and sometimes-slick conditions, it's a better option for a hike over a run.
Also, talk to the people working on your ship. The athletic staff (people who teach workout classes) on various cruise lines usually have great suggestions for running routes in port and tips on which areas to avoid.
---
4. Sightsee on a 5K
Just like food- and wine-themed tours, running tours are becoming more popular. Cities in Europe, the Pacific Coast and Canada/New England have various options. Though group runs are harder to find in the Caribbean, Disney Cruise Line does offer a free 5K on Castaway Cay, its private island in the Bahamas. You even get a bib and a finisher's medal.
Here are a few running tours to check out:
Also, if you're staying a night in town before or after your cruise, check to see if your hotel offers any running tours. Westin Hotels has a running program, RUNWestin, where they have organized runs led by a Run Concierge on specific days of the week. They even offer a map for you to follow if you're there on days with no runs planned.
---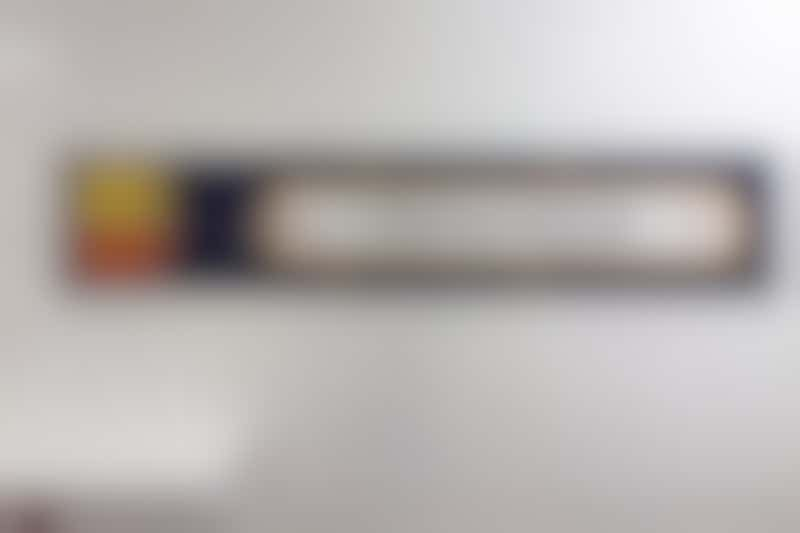 Running track on Harmony of the Seas (Photo: Lauramay LaChance/Cruise Critic)
5. Book Running Themed Cruises
There is definitely a cruise for everyone, including runners. "Runner's World" columnist Jenny Hadfield and her husband John blended their love of cruising and running and created the Running Cruise in Alaska, the Caribbean and Southern France. The focus of these running-themed cruises is not so much on how many calories you are burning but rather the exotic destination you're in, the environment around you and the like-minded people you're running (and cruising) with.
These partial charters keep the total number of participants to a maximum of 150 to give the runners an almost boutique running experience (unlike the typical races going on now where there are thousands of participants). The organizers work with the locals and establish running routes in each port around what makes the port unique. One day you might be running up a mountainside, and the next you'll be running through a historic neighborhood.
Back on the ship you'll have opportunities to hear talks about running and healthy living, join early morning group stretches and runs/walks, dine together and take part in other active vacation events.
---
6. Hit the Track at Night
Hadfield gave us one of her favorite cruise running hacks -- running on the track at night. "There is something magical about running in the evening under the stars with a sea breeze and having the track all to yourself," she says.
Even better, most people are off having dinner at this point, and the chairs are neatly organized against the railing, so your route is obstacle-free. Consider packing your light-up running gear to add a bit of fun to it, even if it's just to distract you from the fact that you're running in small circles in the dark.
---
7. Be Strategic When Running in the Cruise Ship Gym
As we said earlier, if you are prone to motion sickness, stay away from the treadmills in the cruise ship gym if they're facing out toward the sides of the ship, especially while it's moving. Look for forward-facing treadmills so you're running in the direction the ship is sailing.
And while modern-day ships have stabilizers, you might still feel the ship pitching a bit. Rather than jumping on the treadmill and setting up with your normal incline and speed, slowly increase every few minutes to allow your body time to adjust to the movements.
The gym on the ship is similar to a gym on land in that it gets packed in the morning, especially the first few days of the cruise. Avoid the crowds by hitting the gym extra-early, on sea day afternoons or right when you get back from port. Or go at the busy time and try secretly racing the person running next to you. (You know you do it.) Just remember to be considerate to fellow runners waiting for a machine, and limit your run time to 30 minutes.
---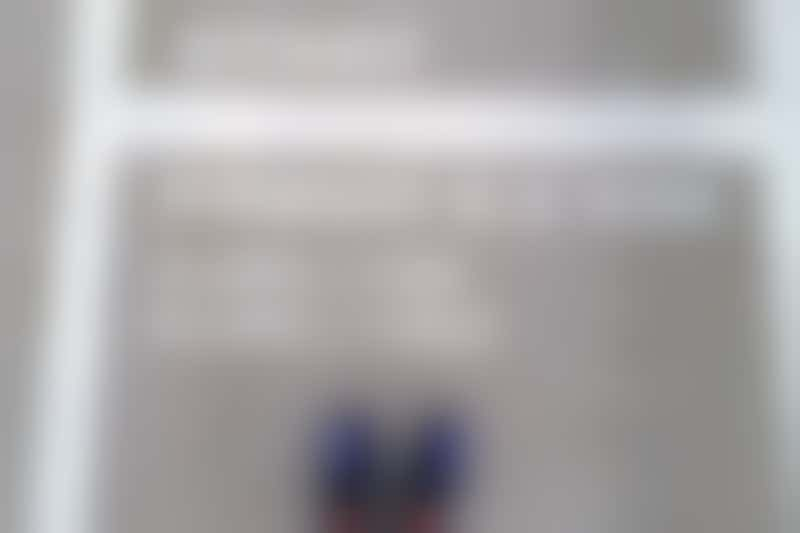 The running track on Norwegian Getaway (Photo: Lauramay LaChance/Cruise Critic)
8. Pack the Essentials
There are a few essentials you'll need if you plan to run on your cruise:
Extra running gear: As you do with bathing suits, you'll want to pack at least two running outfits (including sport bras). If you choose not to wash them after each run, be sure to hang them in your cabin to dry rather than folding them and storing them away. It will help prevent some of the odor and buildup of bacteria.

Laundry detergent: You'll save money if you wash your running clothes in your cabin's sink, rather than send them out to be laundered or use the ship's self-service launderettes. Leave your big bottle at home, and buy a travel laundry soap like Woolite that's individually packaged, or bring some powdered soap or individual pods from home.

Waist pack or arm pocket: Both on and off the ship, you should always have your cruise card with you. It's also worth carrying your phone, both as a safety measure and because you're probably going to see some photo-worthy sights when you're running in port.

Water bottle: Pack a palm water bottle or even a belt water bottle to take with you on your run. It's most important in tropical climates, but really it's beneficial no matter your destination. Most mainstream cruise lines charge for bottled water, so a reusable option will save you money.

GPS watch: Your watch won't work correctly on the ship while it's moving, but it's great to have in port to track your miles. Also, if you're not sure of the distance of one of the decks, walk or run it while the ship is in port.

Anti-chafe cream: Hot and humid climates will make you sweat, which can lead to uncomfortable chafing.

Running shoes to match your destination: In the Caribbean, you'll be fine with road-running sneakers, but if you have trail runners, consider bringing them for Alaska, Europe and even Canada/New England cruises, as the terrain can range. Trail runners can also be great if there's a bit of sea spray on the deck when you're running on the ship.

Sport sunblock: You'll want something that doesn't come off once you start sweating, especially if you're cruising to the Caribbean.