Princess Cruises isn't known for family cruising the way, say, Disney Cruise Line is, but it's a great option for families -- and Caribbean Princess is its family-friendly flagship. In fact, some families and multigenerational travel groups might prefer this ship since it never feels overrun by kids. After a weeklong family cruise in the Caribbean, we can vouch that the ship has plenty to offer parents and children.
Like all modern big ships, Caribbean Princess offers cool hangout spaces and supervised activities for kids and teens, late-night group babysitting and a range of shore excursions to suit a range of ages and interests. Here are seven ways it stands out from the competition, and why families will love it.
1. Size and crowds are manageable.
Many family-focused ships are also mega-ships, carrying upward of 3,500 passengers at double occupancy, more when lots of families are squeezing three, four or five to a cabin. Or the ships feel crowded, with long lines at the buffet and packed sun decks. Caribbean Princess isn't small -- it has 15 passenger decks and holds 3,112 passengers at double occupancy -- but its particular combination of size and layout makes the ship feel manageable for families. On a weeklong summer Caribbean cruise, there were only 400+ kids onboard -- not the 1,000 you can find on other ships. It makes for a more relaxing family getaway.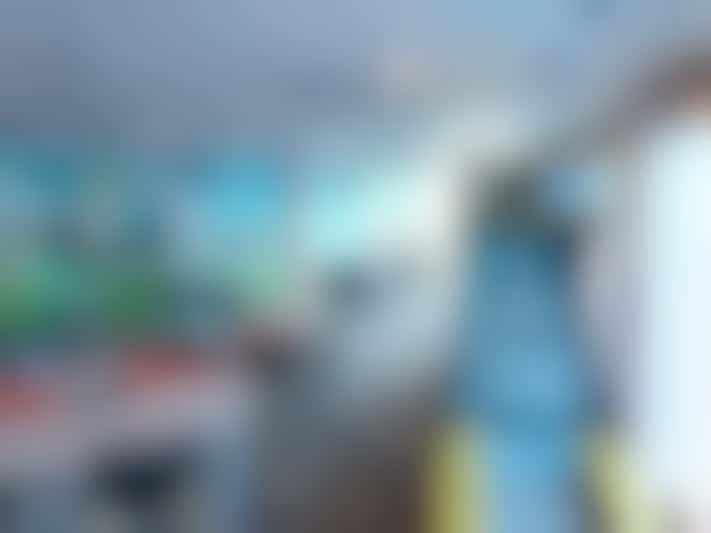 2. There are kid-focused outdoor spaces.
Most kids clubs lack outdoor play areas (some even lack windows), and only a few ships have dedicated sun deck space for littles. Caribbean Princess has both. In its Camp Discovery kids club, the Treehouse (ages 3 to 7) has an outdoor area with a cool water play table, akin to what you'd find in a children's museum, and The Lodge (ages 8 to 12) has an enclosed area perfect for dodgeball and other games.
Plus, up on Deck 17, The Reef is a splash area with a spray park, toddler slide into a wading pool, shallow plunge pool for kid swim time and a hot tub set to warm bath temperatures (but with all the cool bubbly cache of the real deal). The associated deck area has shaded chairs, comfy couches and oversized Connect Four games, plus a bar with an added mocktail menu for thirsty junior cruisers.
3. Room service is free.
Room service is clutch for families, whether the kids want to eat breakfast in their PJs or mom needs to order lunch while baby is taking a midday nap. While some lines charge for room service order, Princess does not tack fees onto the majority of room service orders and even offers a kid menu. (Or, for DIY in-room dining, take yogurts and fruit from the breakfast buffet and keep them chilled in your cabin's mini-fridge until the midafternoon munchies hit.)
4. Kid activities are not limited to the youth club.
Families can have fun together, with a variety of kid-friendly programming on Caribbean Princess. Family fun fairs take place in the Deck 5 Piazza, sometimes with a theme, and might include games, arts and crafts, temporary tattoos or face painting. Kids might also like some of the activities created in partnership with Discovery, Inc., such as the High Seas Heist mystery game, the pop-up planetarium show and live animal events (such as Parrots in the Piazza).
5. Dining options are family-friendly.
The main dining rooms offer a kids menu, as well as complimentary baby food. Once per cruise, it hosts the extra-fee Breakfast with Stanley, where kids can enjoy a special bear-themed breakfast menu and photo op with Princess' mascot, a bear dressed in a captain's uniform. Also on the lower decks, the International Cafe serves small bites 24/7.
The pool deck has a pizza counter, the Salty Dog Grill (for burgers, hot dogs, tacos and chicken sandwiches), an ice cream counter with free soft-serve and extra-fee ice cream sandwiches and milkshake, and a buffet with a wide variety of options that is open continuously from 6 a.m. to 11 p.m.
6. OceanMedallion technology makes cruising easier … and more fun.
With Princess' OceanMedallion tech, cruisers ditch keycards for quarter-sized medallions that can be worn in lanyards, wrist bands, clips and necklaces. You never have to worry about which pocket your card is in, or whether Junior lost his at the beach, because you're always wearing your combination room key/ship's credit card/ID.
The tech unlocks your cabin door when you're near it (useful for parents carrying all the things … or the baby), and lets you stalk -- er, locate -- your teen on the ship when she's missed curfew or just hanging out with friends. You can order drinks on an app from your spot by the pool if you don't want to leave the kids alone. And you can figure out the fastest way to get from wherever you are to wherever you need to be, even if your tired family is whining at you.
Kids love creating animal avatars called tagalongs, who follow them on touch-screen portals around the ship. They can play games and go on scavenger hunts using a phone app or the ship's portals.
7. Poolside movies and on-demand TV are great for downtime.
Princess invented the "Movies Under The Stars" concept, and Caribbean Princess shows movies on its giant poolside screen in the afternoon and evening -- including family-friendly flicks. In your cabin, you can catch a variety of on-demand programming, including shows by Discovery Channel and Animal Planet, as well as a selection of movies. Order some cookies and milk from room service, and enjoy some family snuggles on a rainy day while you watch a show.