Special Themed Food and Num Nums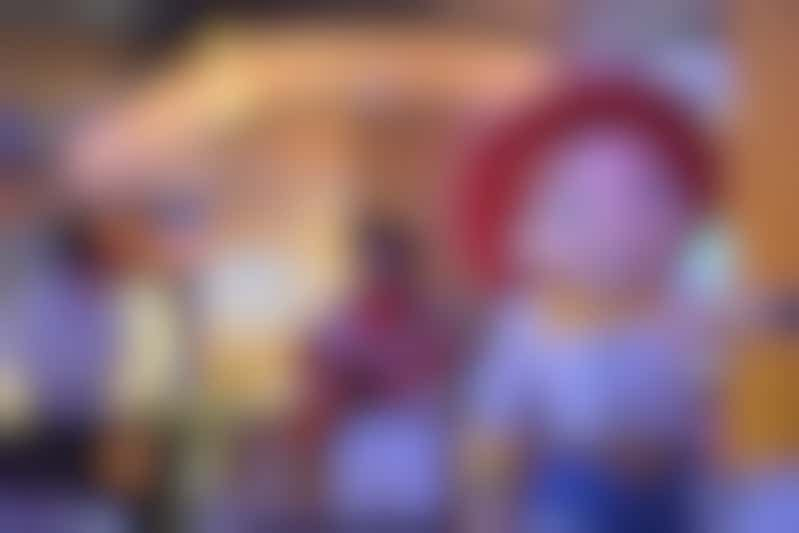 In Pixar's "Ratatouille" Remy the rat proclaimed, "if you are what you eat, then I only want to eat the good stuff." Disney Cruise Line's culinary team created plenty of good stuff on this trip.
Our favorite was the Hey Howdy Breakfast with Woody and Friends. This interactive breakfast character show features Woody, the rootinest, tootinest cowboy from the "Toy Story" films. In addition, there's Jessie the yodeling cowgirl, Bullseye (he's Woody's horse), and cowboy guitarists to get your hands clappin' and feet stompin'. Fixins' include hearty breakfast fare such as biscuits & gravy, burritos, eggs, bacon, pancakes, waffles, etc., but the musical moments with Woody's Roundup Gang are the stars. We loved this breakfast, and it set the stage for the rest of the Pixar Day at Sea festivities.
Dinner also featured a new menu in all Disney Fantasy restaurants with dishes inspired by the Northern California home of Pixar Studios. Highlights included smoked salmon and trout, a bao bun, Indian curry butter chicken, vegetarian poke bowl, and a signature Pixar Ball cheesecake dessert.
Finally, the Sweet on You ice cream parlor had special treats inspired by Pixar films. There was a Joyful Lemon Cupcake, Toy Story Letter Blocks, Edna Marshmallow Stick, and more. There was also a Num Num Cookie that would be delicious slightly warmed with a scoop of gelato on top.