From virtual reality trampoline experiences to electric go-kart race tracks and underwater lounges, the new and refurbished ships of 2018 have introduced several you've-got-to-see-it-to-believe-it attractions. Here are five of the most mind-blowing experiences that debuted or will be debuting on cruise ships in 2018.
---
1. Sky Pad
Combine virtual reality and trampolines and you've got one of the quirkiest new attractions at sea. Called Sky Pad, this bouncy VR experience debuted first on Independence of the Seas in May and then Mariner of the Seas in June. Strap into a bungee-style harness, fit the VR helmet over your head and then start bouncing your way through three different settings: a Candy Crush-style game, a pop video and a battle against aliens. Even better, you don't need to pay extra to try out the Sky Pad.
Independence of the Seas Cruises
---
2. Magic Carpet
Celebrity Edge, which debuts in late November, presents a silhouette unlike any other cruise ship. That's because it has the bright orange Magic Carpet hanging off one side. The tennis-court sized Magic Carpet can travel between Decks 2 and 16 -- imagine a cross between a giant balcony and an elevator (except you don't ride it) -- taking on different uses on different decks. It can be a tender boarding platform, an alfresco sushi restaurant, chic bar and lounge and exclusive dining venue for high teas or themed dinners. You've never seen anything like it before!
---
3. Go-Karts
One of the most popular features on Norwegian Bliss has turned out to be the two-level go-kart racetrack, which debuted as a first-in-cruise attraction in 2017 on Norwegian Joy. Would-be Mario Andrettis can zip around the S-shaped track at up to 30 miles per hour, trying to pass each other while imagining the cheers of a roaring crowd. It costs $10 for eight laps, and time slots fill up fast.
---
4. Blue Eye Lounge
For a fish-eye view of the ocean beneath your cruise ship, check out the Blue Eye Lounge, which debuted this year on Ponant's Le Laperouse and Le Champlain expedition ships. Located beneath the water line and built into the hull, the lounge offers views of the underwater realm for up to 30 people at a time. Take in the view through large windows cut out to look like whale eyes; cameras mounted on the outside of the ship display live images on TV screens throughout the lounge; and hydrophones pick up the sounds of whales and dolphins, while the sofas vibrate in unison.
---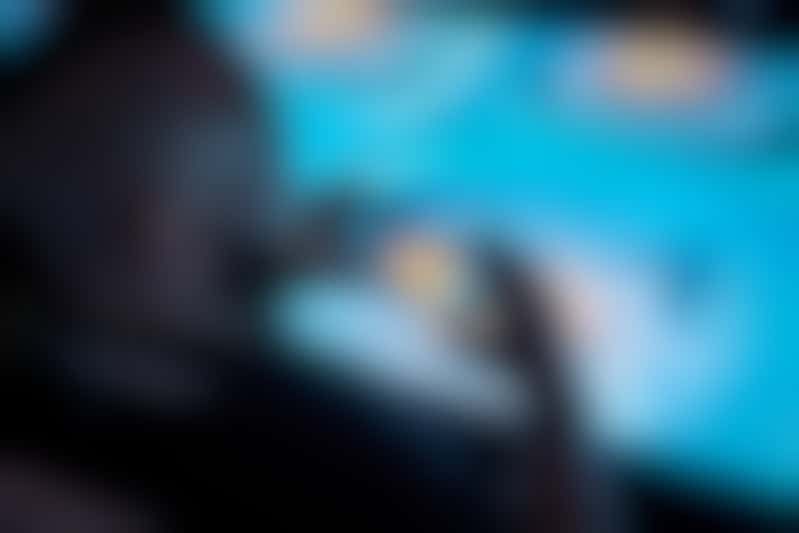 5. Le Petit Chef
Le Petit Chef is a dining experience with a sense of humor. Its star is a cute animated French chef who guides you through your meal. The chef is projected onto your table, which is actually one giant digital screen, where he goes about showing off his peculiar cooking skills. For instance, for your seafood stew, Le Petit Chef first throws dynamite into the water to bring up your lobster and scallops, or, for dessert, he harvests ice from a polar region and heaps on chocolate syrup with a fire hose. Le Petit Chef will be found within Le Grand Bistro on Celebrity Edge when it launches, and is already bringing out the smiles in Qsine on Celebrity Reflection, Celebrity Infinity, Celebrity Eclipse and Celebrity Silhouette.