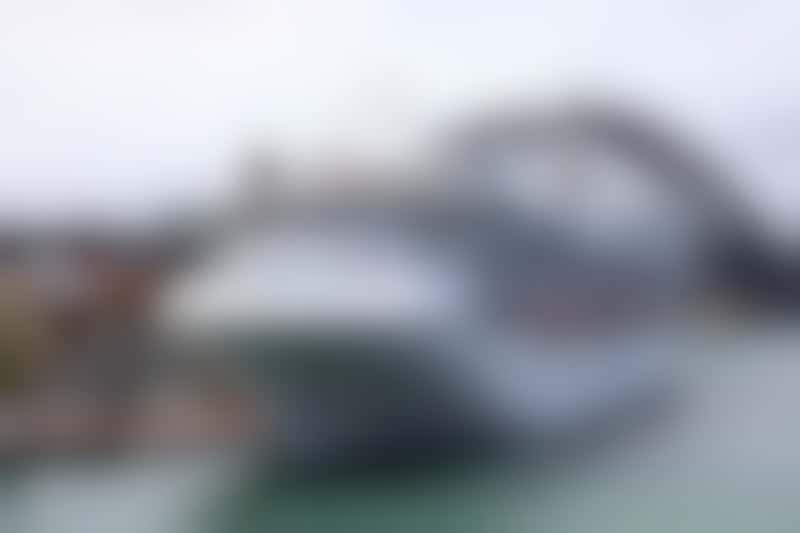 Golden Princess in Sydney, Circular Quay port. (photo: Princess Cruises)
Princess Cruises' Golden Princess has moved to Melbourne for summer 2015 - 2016 and will return in October 2016 for another six-month season. The largest cruise ship ever based in the Victorian capital, Golden Princess is not short of dining, drinking, relaxing and entertainment options, from a day spa and 24-hour cafe to a casino and nightclub. Here's all the insider info we discovered on our cruise.
Show Prices
---
Tip 1: Enjoy Discounted Drinks
OK, we know most of you just want to find out the drink prices on Golden Princess, so here you go. The good news is cocktails are cheaper onboard than at most bars on land in Australia. Long Island ice tea, margaritas and tequila sunrise are AU$9.95, vodka or gin martinis AU$11, Jack Daniel's AU$7.75. Beers range from $5.50 for a Cascade Premium Light and $5.95 for a VB to AU$7.95 for a Corona. Wine by the glass costs AU$8 to $10.
For all types of beverages, the Wheelhouse Bar on Deck 7 has a happy hour from 3 p.m. to 4 p.m. and 9:30 p.m. to 10:30 p.m. -- buy one, get one for $1. And for a free glass of sparkling wine, go to the art auction in the Explorers Lounge.
Interestingly, Golden Princess has a list of AU$13.95 cocktails called the Sydney Selection (sorry Melbourne) with concoctions such as the North Shore and White Marlborough Sangria.
---
Tip 2: There's No Tipping; Room Service is Free
As is the case on all Princess Cruises ships departing from an Australian port, you don't have to tip on Golden Princess when you're sailing out of Melbourne. This applies to your drinks, as well as any daily account charges. Also, there is no delivery fee for room service (except the $3 for a pizza) and most of the meals are free (unless there's a price listed next to it). If you get a receipt requiring a signature, you are not obliged to add a gratuity, unless you want to. Envelopes are provided at the guest services desk for passengers who wish to reward crew members for their service.
---
The Santuary on Golden Princess. (photo: Princess Cruises)
Tip 3: The Sanctuary is Not a Cone of Silence
The Sanctuary is an adults-only indoor-outdoor area (Deck 16 forward) with more comfortable, shaded lounges that face the ocean behind glass walls that block out the wind. Stewards are on hand to bring you healthy snacks (free, but with an AU$3 delivery fee), smoothies, juices or alcoholic beverages (not free). The privilege of this exclusive deck is worth AU$40 per day but you can do half a day for AU$20. If you're seeking peace and quiet, be warned you can still hear the faint sounds of music and movies from the main pool area, and there's no blocking out the noisy pool games (usually played for half an hour once a day). Passengers also sit outside the massage tent, so they may be chatting while you're trying to zone out. But it's generally relaxing and spacious and ideal for cruisers who want to escape the other 2,600 passengers.
---
Tip 4: Find the Almost Secret Spots
Few people realise that the pool near The Sanctuary, that looks like it's part of The Sanctuary, actually isn't. There's no fee to use this adults-only hideaway with a hot tub and bar, which can be found on Deck 15, near the entrance to the gym. Adjacent to it, closer to the main pool, you can also find a nook with just enough room for six sun lounges, which is the perfect place for a family or small group of friends to have a semi-private space. People will walk through to reach the other end of the ship, but you won't have any neighbours sitting next to you. Grab this spot early in the day.
---
Tip 5: Save Money at the Spa
On the first day, the Lotus Spa holds a free raffle to win credits to spend on a long list of indulgences. Ladies Pamper Hour is a seminar with free skincare and makeup application (seats are limited), and complimentary consultations are offered on services such as acupuncture. Always ask about any specials before booking any beauty treatments -- you can usually save up to 30 percent if you purchase three services. The Salon Sampler costs AU$99 for three or AU$149 for five express versions of various massages and facials. Port days are sometimes cheaper than sea days, but even at full price, the hot stones massage comes highly recommended.
Show Prices