From free food to exclusive splurges, here are our expert tips on how to navigate your way through the great eating options onboard Australia's Carnival Spirit.
---
1. Pepperoni pizza at Pizza Pirate
Mmmmm, pizza. There are so many eateries that beckon while onboard a Carnival Spirit cruise. But Pizza Pirate is poised to prove that pizza -- this signature dish of Italian origin -- is one of the most seductive options on offer on the 88,500-gross tonnage ship. The talented young pizzaiolis who work in the snug Pizza Pirate space are intent on spinning pizza at sea into delicious new territories and the thin-crust rendition they serve is exemplary.
Our Pick: Pepperoni with pomodoro and fresh mozzarella delivered straight to your door or enjoyed on the Lido Deck.
---
2. Macarons at Mad Hatter's Tea Party
Enjoy endless pots of tea paired with tiered trays of petite cakes, house-made pastries and tiny cubed sandwiches during the Mad Hatter's Tea Party. Whether you have a sweet or savoury tooth, this dining event will satisfy with its slightly bonkers version of a high tea thanks to the mad-hatted waitstaff, fun decorative elements and visually arresting plates of food. Linger a little longer over a glass of bubbles to enjoy the racing views of sea and sky. Oh and BYO mad hat, if you please.
Our Pick: The amazing neon-bright macarons.
---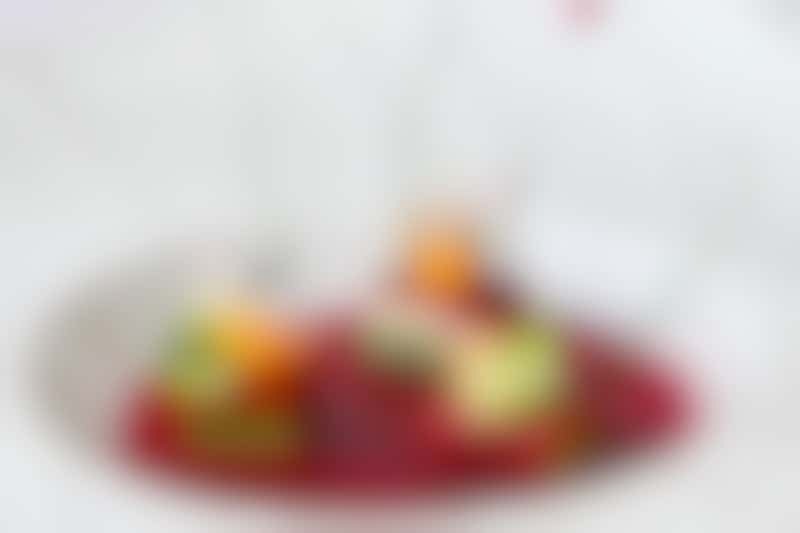 The Beet blanket with spiced grape tea at Chef's Table (Photo: Carnival Cruise Line)
3. The Chef's Table Degustation
The concept of enjoying intricate dishes while being hosted by a master chef in the gleaming galley onboard Carnival Spirit is compelling. The Chef's Table Degustation Dinner extends far beyond the plate as a select group of 12 are afforded a clear view of the kitchen and the chefs who calmly prepare their food in this pressure-cooker environment. Food-lovers will glean a lot from the experience, which includes a multicourse degustation of intricate dishes and a tour of the galley. The degustation feels exclusive, because it is: none of the dishes are served on the regular dining menus.
Our Pick: Beet blanket with spiced grape tea.
---
4. Chicken schnitzel Californian roll at Bonsai Sushi
This contemporary Asian restaurant is one of the most popular restaurants on Carnival Spirit for a reason: the food is consistently good. Do as your waiters suggest and order a nourishing miso soup, followed by delicate rolls of sushi, which you can dress yourself, in soy and a wallop of wasabi. Here, the ribbons of raw fish sitting atop lightly vinegared rice are balanced with pickled cucumber and salads, which are all worth clashing chopsticks over.
Our Pick: The quirky pairing of a chicken schnitzel with a Californian roll. Trust us: It's a beautiful thing.
---
5. Tacos con pollo at BlueIguana Cantina
The tacos and burritos served at the BlueIguana Cantina have a cult following, as the diners coming in and going out again, like the sea, will attest. Mexican food is all about lightness and brightness, colour and punch, which is exactly what the handmade tortillas deliver when filled with pork or chicken, topped with cheese and lettuce and slathered with spicy sauce. After ordering a couple of tortillas with chicken (pollo), head to the salad station where you can add mounds of shredded lettuce, a whack of salsa verde and a liberal application of lime juice.
Our Pick: The tacos con pollo, which can be rolled up into tiny cylinders of joy.