Royal Caribbean's Oasis Class contains some of the largest cruise ships in the world. As such, there is an astonishing number of things to do, see, taste and experience while sailing. Even after a week onboard, most people won't even get close to uncovering everything on offer across a staggering 16 decks. Not only that, but so many of the attractions on Oasis-class ships are actually free of charge -- you just need to find them, and the time.
In addition to the pools, water parks, adults-only Solarium and mini-golf found on many other mega-ships, these 5,400 (plus)-passenger behemoths offer seven entirely different neighborhoods, each filled with a bounty of amusements from a carnival ride and hot dog carts to live trees and the piped-in sounds of birds chirping among them.
Cruise Critic wants not only to highlight some of the best things to do during your cruise vacation on an Oasis-class ship but also to save you some money in the process. We bring you 19 free things to do on Oasis of the Seas, Allure of the Seas, Harmony of the Seas and Symphony of the Seas.
1. Ride the Carousel
Enjoy the simple pleasure of riding a carousel (or watching a loved one ride) without reaching for your wallet. Located in the Boardwalk neighborhood, each carousel is custom-designed by a company called The Carousel Works for Royal Caribbean International and inspired by the carousels from the turn of the century. Find horses, of course, but also a giraffe, an elephant and even a frog prince among the 18 animals. An ADA-accessible chariot means that everyone can partake in the nostalgic fun. Don't miss the chance to ride at night when the whole carousel is aglow in lights.
2. Take in the Dive Show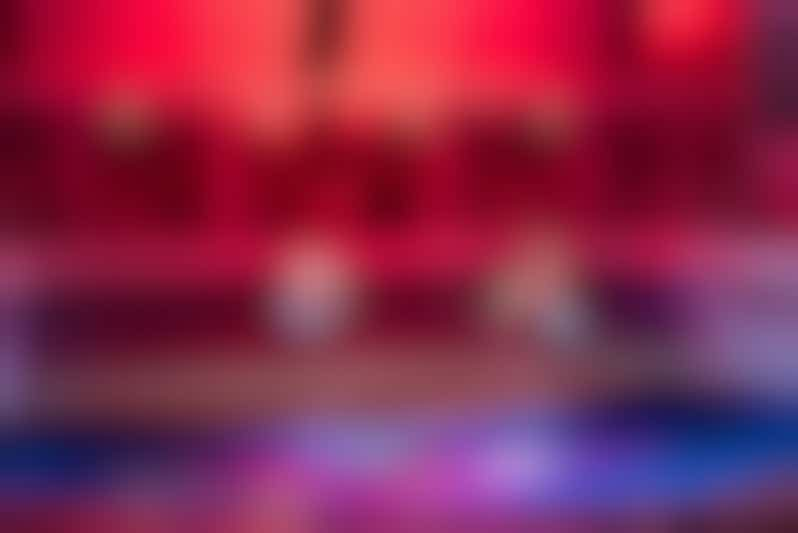 Get ready to hang on to the edge of your soaking-wet seat because the performances at Royal Caribbean's signature AquaTheater are superbly thrilling. (We promise you'll only get wet if you're in the first few rows.) The line makes use of Oasis-class ships' impressive size with this dramatic open-air venue at the very back of the ship, which hosts two unique shows per cruise. Themes include "Hideaway Heist" on Harmony, or a circus-comedy called "Splish Splash" on Oasis of the Seas. Acrobatics combine with high-diving stunts to capture the audience's attention for the full 30 minutes. Just remember to make reservations -- even though the show is free, you'll need to save yourself a spot.
3. Hit the Ice
Cruise lines often compete to bring the "next big thing" to the high seas, but so far none have imitated Royal Caribbean's ice rink, located in the Studio B space on Oasis-class ships. Check the daily schedule for open skate sessions; you will be provided with complimentary ice skate rentals, or if you take your skating seriously, you can bring your own. (Advanced ice skating sessions are available for those with more experience.) If you'd rather not touch ice on your Caribbean vacation, sit back and watch the professionals perform; each ship offers its own ice show -- catch a Jules Verne-inspired performance with a steampunk twist on Harmony of the Seas with "1887." If you do decide to skate, don't forget to pack long pants; they're required, as is the use of a helmet (issued onboard). We also suggest socks.
4. Play Tag, Laser-Style
Kids of all ages will love the heart-pumping fun of glow-in-the-dark laser tag -- Battle for Planet Z on Symphony of the Seas and Clash for Crystal City on Oasis of the Seas (and coming to Allure of the Seas in 2020) -- which take place in Studio B, when not in use for ice-skating. (Don't worry, they cover the ice so you won't go slipping and sliding.) The arena is basically an inflatable maze with "command station" tents, through which two opposing teams make their way while trying to take out the competition. It's open to kids of all ages, though smaller kids must be accompanied by an adult.
5. Catch a Broadway Production
One of the best values onboard an Oasis-class cruise ship is the theatrical productions onboard. Each ship offers its own in-house production of a popular stage show plucked from Broadway: "Cats" (Oasis), "Mamma Mia!" (Allure), "Grease" (Harmony) and "Hairspray" (Symphony). Anyone who's bought tickets to one of these productions on land knows the ticket price isn't cheap and it's certainly never free. Just make sure to book reservations to save your spot.
6. Eat La Vida Loca
Who doesn't love free food? On Oasis and Symphony of the Seas, you'll find delicious Mexican favorites at the grab-and-go El Loco Fresh. You'll find traditional South of the Border options including tacos, burritos and quesadillas, for lunch. There's also a sizeable salsa station; don't miss the homemade guacamole! (El Loco Fresh will also be added to Allure of the Seas in March 2020.)
7. Go Barefoot in the Park
We don't recommend literally kicking your shoes off since you're not actually allowed to tiptoe among the flowers, but it's hard not to appreciate the romantic notion of a live park in the middle of a massive cruise ship, floating on top of the ocean. The Central Park neighborhood -- measuring the size of a football field -- is a unique feature to Oasis-class ships. No pun intended, but it's a calming and natural oasis among the hustle and bustle of a busy cruise ship, complete with bird sounds that are fed in through hidden speakers. A stop into the Park Cafe makes for a quaint -- and free -- lunch date with an offering of soup, salads and paninis, including the venue's signature kummelweck roast beef, a sandwich native to Western New York.
8. Breakfast at Johnny Rocket's
Your first meal of the day doesn't have to be knocking elbows in the buffet. Burger chain Johnny Rocket's, available on all Oasis-class ships, offers a complimentary sit-down breakfast. Cruisers can head to the restaurant's open-air seating area on the Boardwalk for a menu of eggs, bagels, French toast and pancakes. Not only do you get the enjoyment of having a meal "out" but the '50s-style diner is typically way less crowded in the mornings than later in the day.
9. Hang Ten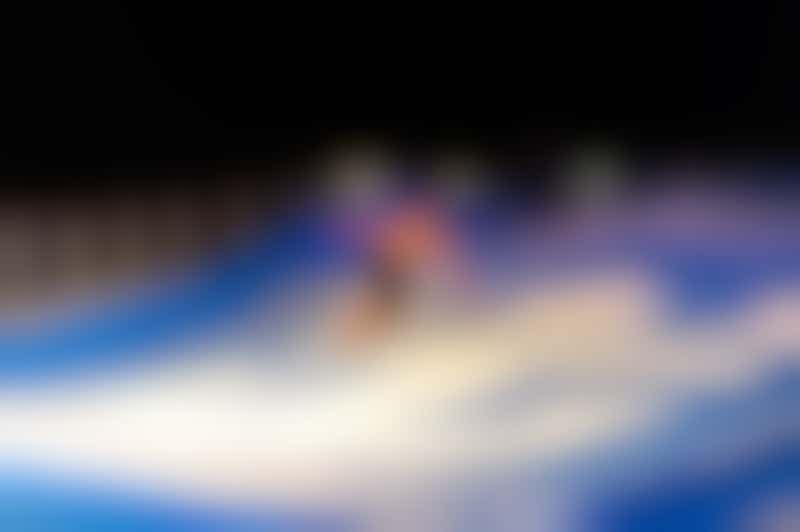 Possibly Royal Caribbean's most signature feature, the FlowRider is an exhilarating surf simulator, and the cruise line has kept this attraction free to all. (The trick is figuring out how to avoid a wait!) Perhaps equally entertaining is watching the bold give it a go from the sidelines -- wipeouts are inevitable. FlowRider lessons are offered for anyone looking to perfect this aquatic balancing act, but those will cost you extra.
10. Zipline Across the Ship
What do you do when your ships are more than 1,000 feet long? You put a zipline overhead and let passengers careen across 82 feet, nine decks above the sea. The ride only lasts a few seconds but soaring through the air is totally free -- so do it as many times as you desire. The only stipulations are that riders weigh more than 75 but less than 275 lbs. and that they're at least 52" tall. This feature is only available on Royal Caribbean's Oasis-class ships, offering a fun view of the Boardwalk neighborhood below.
11. Get Wet and Wild
For younger cruisers, the Splashaway Bay water park, on Harmony of the Seas, Oasis of the Seas and Symphony of the Seas (and coming to Allure in 2020), is the place to cool off. The water park features a Splash Pad for the toddler set, plus three child-sized waterslides, water cannons and fountains and drenching buckets.
12. Plunge Down a Slide
Considering all of the attractions on Royal Caribbean ships, it's hard to believe that the cruise line didn't offer adult waterslides until 2016. Start by getting wet with the Perfect Storm waterslides found on Harmony of the Seas, Symphony of the Seas and Oasis of the Seas (and coming to Allure of the Seas in 2020). Each offers a trifecta of wate slides, with two known as Cyclone and Typhoon, but the third slide varies by ship. Don't want to get wet? Careen down 10 decks on the Ultimate Abyss, an intimidating dry slide.
13. Join the Parade, Follow a Theme
No matter if you're young or old, a parade will snap you right into the festive atmosphere of your Oasis-class cruise. All four ships offer themed spectacles (such as celebrating festivals around the world) with a bit of costumed pageantry along the promenade. We're told Sorrento's is a great spot to sit back and watch the procession go by. Adults can take part in some dress-up with Royal Caribbean's many theme parties, from toga to a masquerade ball. And, they're all free to anyone who is game to participate.
14. Sing Your Heart Out
Karaoke-lovers flock to the On Air karaoke bar on Harmony of the Seas and Symphony of the Seas, and to Spotlight Karaoke on Oasis of the Seas (and Allure starting March 2020). The former has one main stage for singers to rock out, while the latter also offers two rooms that can be reserved for private parties.
15. Take a Self-Guided Art Tour
Royal Caribbean takes its art collections very seriously. For Symphony, the newest Oasis-class ship, the line claims that the ship holds more works of art than paintings in the Louvre. On Harmony of the Seas, artists spanning 60 countries present more than 3,000 works under the exhibit "The Wonder of Our World, the World We Live In." You could spend an entire afternoon wandering the corridors of an Oasis-class ship, admiring its various art installations or access self-guided art tour materials from the front desk. Keep an eye out onboard Oasis of the Seas for an exhibit called 42 Small Wonders -- 42 "hidden" objects around the ship. The concept makes for a great scavenger hunt for the whole family; the front desk should have a list of all the objects so you can make sure not to miss one.
16. Stay Hydrated on the Rising Tide
OK, so a bar is never free in the sense that you will have to pay for drinks, but it's worth hitching a ride on this moving bar for the sheer novelty of it. Rising Tide Bar, found only on Royal Caribbean's Oasis Class, is a mobile watering hole (affectionately called a "wet elevator" by the line) that shifts up or down a deck, from Central Park to the Royal Promenade, every half an hour or so. The oval-shaped glass space offers skylight views and your favorite beverage, for the 21-and-over crowd.
17. Watch Robots Get Funky
Similar to the Rising Tide Bar, you'll have to pay for your drinks at the Bionic Bar, but it's not the libations that draw in audiences day and night. It's the two robotic bartenders who, in between mixing cocktails, stop to dance -- as much as two robotic arms can be said to dance. Still, it's worth at least one visit and several Boomerang videos. You'll find the bar on all four Oasis-class ships by mid-2020.
18. Climb a Wall
As possibly the most well-known cruise line for active pursuits, it should be no surprise that you can climb a rock wall on a Royal Caribbean cruise ship. In fact, Royal pioneered the rock wall at sea concept: expect up to two different walls at 200 feet about sea level on Oasis-class ships. Not only will you feel accomplished after scaling this feat of cruise ship engineering, but it affords spectacular ocean views from the top. No Royal Caribbean cruise is complete without an attempt; don't worry -- you're harnessed in at all times.
19. See a Cover Band
On Oasis of the Seas (and coming to Allure in 2020) you'll find Music Hall, a nightclub-style live music venue with a rotating roster of cover bands, an expansive dance floor and a second level of loungers for just hanging out. It's dim and loud, and one of the coolest places to hang out after the sun goes down.