Traveling with children is always a bit dicey; like "Forrest Gump's" box of chocolates, you never know what you're going to get. Solo parenting while traveling with a child is family travel leveled up. You get new challenges added on top of the normal craziness of kid travel.
Would the convenience of a cruise vacation make single parent travel easier -- or not really? Here's what I learned after a weeklong Caribbean cruise with just me and my 5-year-old daughter.
1. Meals can be tricky but fun.
Little kids often go on partial food strikes when outside their comfort zone and refuse to eat at-home favorites. My daughter mainly ate pasta, cereal and dessert all week; even milk, hot dogs and pizza weren't cutting it. Once, you accept that that's OK, and they'll eat food again at home, it's fun to watch their eyes light up when you hand them a waffle topped with sprinkles or the waiter brings over a massive hot fudge sundae.
Also, if you're not one for dining with strangers, use your kid as an excuse to skip the communal tables and the desultory small talk. Instead, you might find yourself coloring pictures of animals or in a heated contest of tic-tac-toe.
2. Bathroom breaks are a complicated group endeavor.
Despite my begging/threatening/bribing, my kid refused to use the bathroom before dinner. Yet apparently there's a Pavlovian response to my food arriving that made her need to urgently use the bathroom. So then we'd have to alert the waiter that we're not actually leaving or finished eating, and we abandon our table for two for five minutes. Awkward.
And, of course, should I need to use the restroom after playing in the kid pool for an hour, there was hell to pay because she didn't want to leave. But I couldn't exactly leave an unattended kid in a hot tub, or on a beach, or otherwise alone in a cruise ship public area, so had to endure the complaining and force the issue.
Solo parents, you can't win this one. Just try to use the bathroom in the cabin as much as possible.
3. The kids club is a blessing.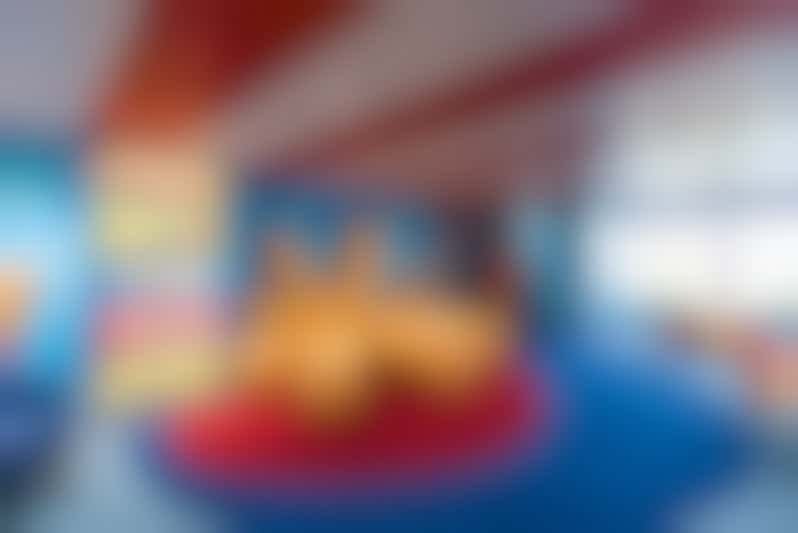 The kids club was the only way to have my daughter safely occupied while I enjoyed more grown-up ship entertainment, like a comedy show or a massage. Lucky for us, it was great, with cool art activities (including trinkets she could take home), cartoons and even a water play table. While she griped about going on a couple of occasions, mainly she asked to go after dinner -- even turning down the option of watching a magician or Broadway revue.
Pro tip: For reluctant kids, make sure you explain exactly how long they'll be staying and discuss the activities they might be doing while they're at the club. It will keep them from wondering when mom or dad will be back, and maybe even get them excited about camp time.
4. The ship can be your biggest ally.
Our ship, Caribbean Princess, made a huge difference in the success of our mother–daughter adventure. It had a kid pool and splash park area where we hung out on several afternoons. The main pools were deep and crowded, and we wouldn't have had much fun without them. We discovered a library with kids books before I went crazy reading the same five bedtime stories over and over again. The ship's OceanMedallion wall portals let us pass the time making turtle avatars, playing scavenger hunt games and racing sea creatures.
Tip: There could have been more complaints of boredom if the ship didn't offer good distractions, so picking the right ship for your family is key.
5. You need to think differently about tours and shoreside activities.
Forgetting I was a solo parent on this trip, I shelled out for clamshell shades for our lounge chairs on the beach. What was I thinking? We spent zero time on Princess Cays sitting in the shade. We were on a hunt for magical animal eggs in the water or digging in the sand for an entire morning. We were not lounging in the shade. On the other hand, paying a bit more for beach chairs in St. Maarten that had easy and clean bathroom access was a total win. It was a different mindset from my usual shore tour booking, but once I readjusted port time was tons of fun.
For example, the tour we picked in St. Thomas -- a semi-sub ride and visit to the marine attraction Coral World -- was something I never would have picked as an adult, but it was the right speed for a 5-year-old. She was so excited about seeing all the fish and turtles and going to a sea lion feeding -- and, as it turns out, iguanas are REALLY SCARY. We'll know for next time.
6. You can't avoid screen time.
All parents struggle with how much screen time to allow on vacation, and solo parents should not feel bad about relying on TV, video game or tablet to get through the day. We managed to avoid bringing the tablet to dinner -- coloring pages got us through -- but we saw several families with little ones on devices to enable them to have a pleasant meal. On the other hand, Princess' Animal Planet on-demand TV channel allowed me to have a real shower every afternoon, with time to dress and put on makeup, without complaints from the pip-squeak. Thanks, "Animal Cribs," for being so engaging!
7. Strangers are cooler than you.
As soon as my daughter met another 5-year-old at the kid pool, I effectively disappeared and she happily went around the splash area with her buddy. Guess I should have bought a book! And while my kid was not the chattiest at dinner, she happily gabbed away like an expert conversationalist to the nail tech painting her toenails pink and purple, or told strangers in the elevator how this was her third cruise.
To be fair, we were spending every minute of the day together (minus kids club) so it makes sense that at times she was done talking to me and more interested in others. I was grateful that she made friends onboard because she seemed so happy playing with peers.
8. You will win some and lose some in the packing game.
Bringing a nightlight was a total mom win. I did not hear any of the usual complaints about it being dark or scary at night. And the mini-pail-and-shovels kit I bought at Dollar Tree was a raging success for beach days. On the other hand, I brought way too many protective pads for the mattress in fear of bedwetting, and we never used our bulky sweatshirts or all the kid medicine I brought. But it was probably smart to pack those things just in case because you can't buy them onboard.
Also, I forgot my sports bra, but I never managed to find time to go to the gym when she was in the kids club, so it didn't matter.
9. Prepare to get stuck in the cabin.
My daughter is a hard-core napper, especially when she stays up too late the night before. So every afternoon from 2 to 4 p.m., I was trapped in the cabin. On the one hand, I like afternoon naps, too. On the other, I would have liked to explore more of the ship or spent more time by the pool.
Also, even with late nights at the kids club, I couldn't imagine letting such a little kid stay up until midnight in a room full of strangers. So we were both in bed by 10 p.m. every night with the lights out. Some nights I would read; others I'd pass out. It was very different from my usual cruise ship M.O. where I stay out later than usual. Then again, afternoon naps and early bedtimes with no chores are every parents dream, so enjoy it.
10. She is grateful -- really.
You take the kid to the Caribbean, let her eat nearly unlimited sugar, buy her a stuffed bear, take her to the beach, let her stay up late -- and what do you get? "I want to go home," she says on day four or five. "I've had enough Mommy time. I want Daddy."
Don't let it get to you. Despite her overtired, far-from-home protests, she will remember this cruise fondly. She will come home and proudly show everyone her painted toes and new teddy bear, tell them about the fish and the beach and the fancy desserts, and remember all the time you spent playing in the sand and in the splash area, reading stories snuggled with all the fluffy blankets and pillows of a cruise ship bed and gazing at the ocean from your very own balcony.
And long after you've forgotten the tears and the tantrums, you will remember the time you spent together, one-on-one, without the hassles of everyday life getting in the way -- and cherish those memories.