Sponsored by Princess Cruises and Holland America Line
Cruising Alaska is on many a wish list, but seeing Alaska both by land and by sea elevates a merely epic trip to bucket-list territory. Come along for a taste of what we experienced on a two-week land-and-sea tour of Alaska with Princess Cruises.
Alaska by land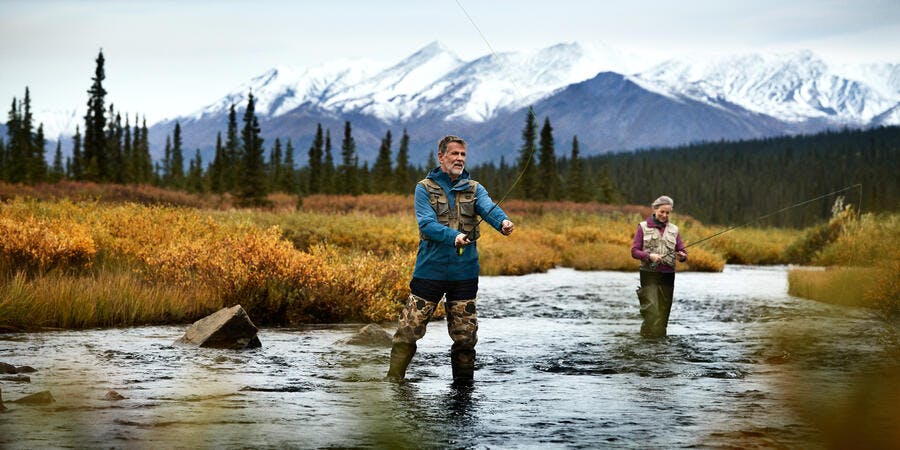 Confession time: Before I encountered the world of Princess cruisetours, I didn't realize that exploring Alaska by land was really an option. My perspective on Alaska was formed primarily by survival shows such as "Alaskan Bush People" and "Deadliest Catch"; I knew it was

possible

to visit mainland Alaska, of course, but I didn't think of it as

practical

, much less desirable. I might have a frontier spirit, but I'm a Florida girl through and through, and securing an adequate coat was enough of a task for me. Suffice it to say, visiting Alaska by land had never crossed my mind.
However, my main takeaway from the trip -- and the element I ramble on longest about when sharing our Alaska experience with anyone who will listen -- is the fact that if you skip inland Alaska, you're missing out on some of the most spectacular beauty of the state -- the

real

Alaska -- an experience you'll treasure for the rest of your life. My jaw dropped on a daily basis, and I learned more about history, Alaskan people and culture, and our environment than I ever could have by sea alone. Plus, Princess has held a presence in Alaska for more than 50 years, so there's no better guide with which to explore the area.
Our Princess cruisetour began upon touchdown in Anchorage, Alaska's largest city. Sandwiched between the Chugach Mountains and the Cook Inlet -- named for British navigator Captain James Cook, who made three voyages across the Pacific -- Anchorage's history dates to 1914, when it popped up as a tent city during efforts to construct the Alaska Railroad.
In all, we'd be spending about a week exploring inland Alaska across three lodges and then a week sailing from Whittier (near Anchorage) south to Vancouver, Canada, where we'd disembark.
Biking the 11-mile Tony Knowles Coastal Trail is a favorite among passengers who have a free day in Anchorage before the cruisetour officially begins -- you have a chance of spotting whales and moose, and a guarantee of amazing views of Downtown Anchorage and Mount Susitna -- but I wouldn't blame you for taking the day to decompress from traveling, as we did. You can stick around Hotel Captain Cook to enjoy the athletic club facilities or grab a drink at Whale's Tail Bistro and Wine Bar or English pub-style Fletcher's, or wander the streets of Downtown Anchorage by foot or by trolley.
Anchorage is Mile 0 on the George Parks Highway, with 361 miles to Fairbanks, the northernmost of the most-often visited cities of Alaska. We only went as far north as Denali National Park and Preserve, but I saw far more than I had expected.
Mt. McKinley Princess Wilderness Lodge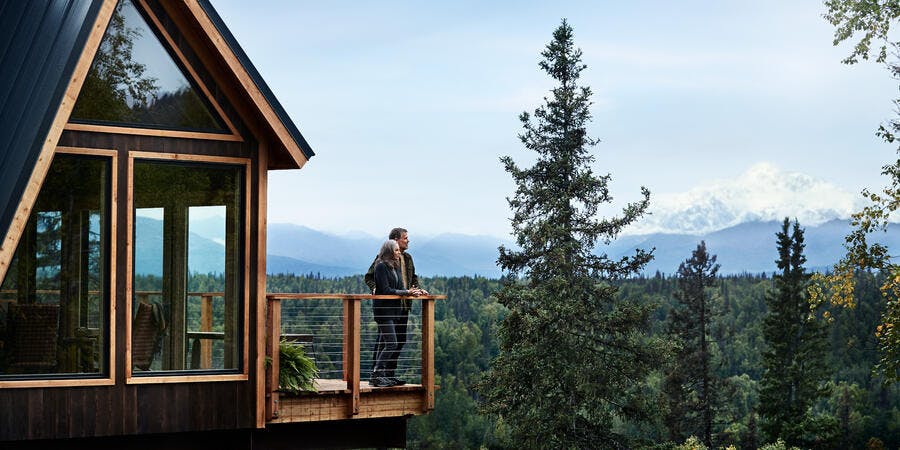 From Anchorage, we rode a motorcoach three hours north to Mt. McKinley Princess Wilderness Lodge, where a roaring fire and floor-to-ceiling windows onto stunning natural scenery awaited in the main lodge. Here, clouds parting to offer a glimpse of Mount Denali, the highest peak in North America at 20,310 feet, is a highlight. The back deck of the main lodge quickly fills with photographers and selfie sticks when a rare appearance of "The Great One" takes place. (Some estimates say only about one-third of visitors actually see the elusive mountain, so if you're lucky, be ready to snap away!)
Visiting the Land of the Midnight Sun means you won't really get darkness, and that increases the time you have to see Mount Denali in all its glory. You can set up a wakeup call if the mountain comes out in the middle of the night, so you won't miss a thing. Visitors to Mt. McKinley Princess Lodge also have a chance to spot the northern lights late in the Alaska season -- from September onward. If you requeste a nightly northern lights call, Princess will alert you any time from midnight to 2:30 a.m. if the phenomenon emerges.
Daily activities at Mt. McKinley Princess Wilderness Lodge range from nature walks and naturalist talks to a fun "sappy hour," a maple syrup tasting in a treehouse featured on Animal Planet's "Treehouse Masters." We opted for a land excursion, too: a jet-boat adventure through the wilderness, where we rode 20 miles up the Susitna River and visited an authentic trapper's cabin and re-creation of a native Dena'ina Indian village.
Whatever excursion you choose, save a little time to walk the tiny, one-street downtown of Talkeetna, from which many of the excursions depart. Handmade Alaskan fireweed ice cream from Shirley's is a must. Fireweed is one of the state flowers of Alaska and got its name because it's one of the first plants to grow back after a fire. Somehow, it makes one of the most delicious (and pretty pink) ice cream flavors I've ever tasted.
Denali Princess Wilderness Lodge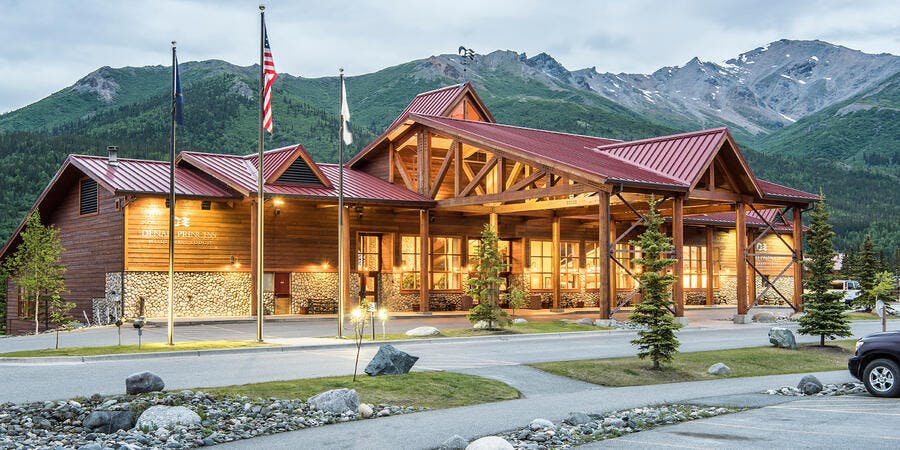 I was sad to leave the cozy Mt. McKinley Princess Wilderness Lodge, but only because I had no idea of the otherworldly views awaiting us at our next and final stop, Denali Princess Wilderness Lodge. It's located on the Nenana River Canyon, a mile from the entrance to Denali National Park and Preserve, and is the largest hotel in Alaska. One glance out over the forest land and river gorge below you, and you, too, will be mesmerized.
Included in your visit is an eight-hour narrated Tundra Wilderness Tour, where you'll travel the one road through Denali's 6 million (yes,

million

) acres of tundra. It's a long safari-style day heading deep into Denali National Park alongside the Alaska Range, but checking off sightings of Alaska's Big Five (moose, bears, Dall sheep, caribou and wolves), plus regular stops for bathrooms, snacks and photo ops, makes it go quickly. Pro tip: Put binoculars at the top of your packing list!
After returning to the lodge at the end of the day, we had one more adventure in store: a glacier landing by helicopter. Alaska is a series of incredible experiences, one right after the other, and this excursion was no exception. We lifted off and, within minutes, were taking in some of the most awe-striking sights I've ever seen, the kind of views that bring tears to your eyes at their majesty. Landing and walking around on a glacier, ice crunching under my boots, felt like landing on another planet, and it's without a doubt a can't-miss Alaska experience.
Our other excursion in Denali, a fixed-wing flight through the backcountry to land at a remote homestead, was equally epic. We touched down on a small gravel strip, miles from civilization, to visit a family of 12 engaged in the process of creating one-of-a-kind backcountry accommodations. The only way to reach their lodge, once it opens, is by air; there are no roads or practical ways to traverse the landscape. (Arriving by horse is an option, I was told, but it takes three days.)
In the evening, returning to the lodge to enjoy Fannie Q's Saloon front-porch lemonade -- making it memorable is mint, ginger and splash of Woodford Reserve -- or a Denali Gold microbrew while kicking your feet up fireside is among the "good stuff" of life.
Dining at King Salmon when visiting Denali Princess Wilderness Lodge is another strong recommendation because you can't leave Alaska without sampling a variety of the state's famous fish and seafood. Alaska's waters feature several types of salmon, including sockeye, coho, pink and king salmon. (Who knew salmon came in pink

and

white?) Diners also feasted on halibut and massive king crab.
Soon, our land portion of the trip drew to a close, and it was time to head back south to board our ship. Our itinerary in the Great Land might seem dizzying, but Princess keeps you organized with the daily delivery of the Princess Patter, your guide to all that's important during your trip. Princess also sees to transportation, luggage handling and, best of all, check-in: your room key, along with any necessary information, is enclosed in a packet that's given to you en route so there's no check-in process to bog you down upon arrival, and you can head straight to your room from the bus. Your luggage won't be far behind. The entire trip, on land and off, is hassle-free thanks to Princess's meticulous attention to detail.
Alaska by rail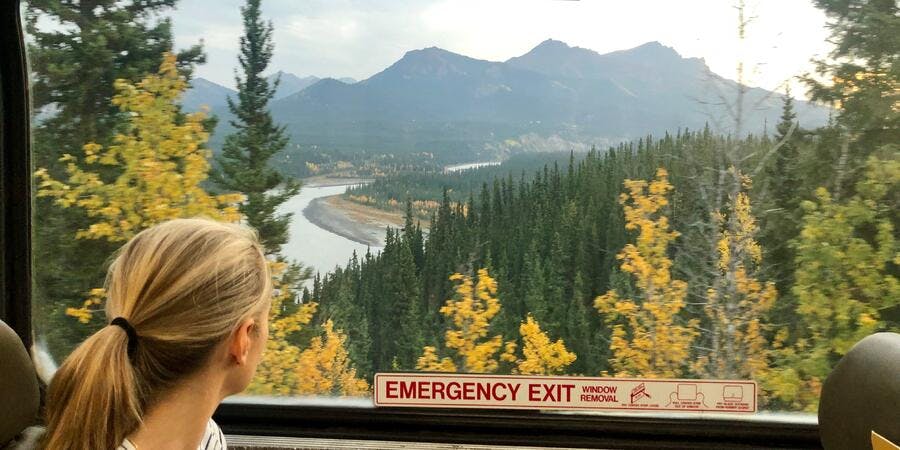 Connecting the land and cruise portions of the trip is a train journey that turned out to be one of my all-time favorite travel experiences; in fact, I'd venture to categorize it as a life highlight. Board the special Princess cars and you're whisked away on an Alaska Railroad adventure, where domed glass cars, featuring the largest window panes ever built for a rail car, and open-air viewing platforms reward passengers with uninterrupted views of Alaska's extraordinary landscape. The Alaska Railroad is one of the last with open-air viewing platforms, making the trip an especially memorable adventure.
If the views tire you out with their beauty, a hearty bowl of reindeer chili, which earned the People's Choice Award at the Alaska State Fair Chili Cook-Off, will refuel you.
After nine hours winding through Alaska's rugged, breathtaking landscape, you emerge from a tunnel in the tiny town of Whittier, where all 208 residents live under one roof. I had seen a viral story on this bizarre town make the rounds, but it wasn't until our train arrived that I realized that's where we'd be boarding our ship. I wished I had time to explore and ask questions, but alas: Royal Princess awaited.
Alaska by sea: The cruise portion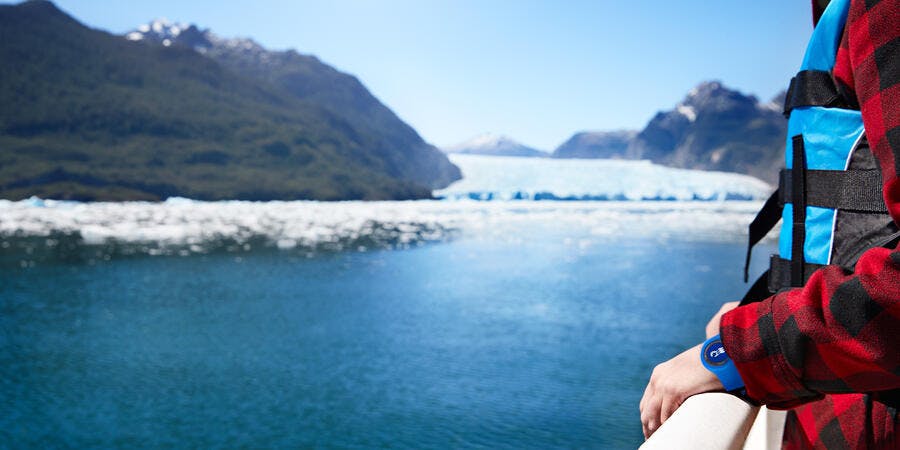 Royal Princess is a Medallion-class ship featuring the line's state-of-the-art OceanMedallion technology, designed to make the voyage seamless. Getting OceanReady before boarding will make the embarkation process much smoother, and once you're on, the OceanNow app lets you order a drink or snack to be delivered wherever you happen to be on the ship. Plus, you can use OceanCompass to find your way around the ship (this was a daily necessity for me) or locate friends and family onboard.
Booking a room with a balcony is an investment I highly recommend, though it will be hard to pry yourself away from the mesmerizing beauty of Alaska's hundreds of shades of blue painting the sea, sky and imposing glaciers.
Aboard Royal Princess, you'll have plenty of time for sipping hot cocoa while cruising along Hubbard Glacier, Yakutat Bay and Glacier Bay National Park, a UNESCO World Heritage Site where you'll witness ice chunks calving off the cliff sides of glaciers that tower hundreds of feet. While cruising Glacier Bay National Park, rangers board the ship in the morning to illuminate all there is to learn and love about the park. (At the end of the day, make sure to watch them rappel down off the side of the ship!)
Another highlight of cruising with Princess is the line's North to Alaska program, which aims to enhance the visitor experience with a slew of enriching activities, speakers and events that bring you all the closer to the true essence of the Great Land. As part of the program, Princess brings aboard naturalists, notable locals, guest speakers (lumberjacks! mountain climbers! fishermen from Discovery's "Deadliest Catch"!), sled dog puppies and their legendary mushers, and even fresh, locally caught seafood for a truly immersive experience -- and educational encounters you won't soon forget. There's even a Cook My Catch program, which allows you to dine on whatever you reeled in on one of the Princess-approved fishing excursions. Princess chefs prepare your catch to your liking and serve it with your desired accompaniments for one of the freshest meals you'll ever eat.
On our voyage from Whittier to Vancouver, we sailed the Inside Passage and hit the ports of Skagway, Juneau and Ketchikan. If you want to check off another destination from your list during your Alaska trip, take the Bennett Lake & Yukon Adventure aboard the White Pass & Yukon Railway while docked in Skagway. We loved every minute aboard the historic railroad, where we rode in vintage rail cars past crumbling Gold Rush towns and took in views of mountains and lakes coated in dramatic greens, yellows and blues.
Back in Skagway, before you reboard the ship, explore the area's many remnants of the Gold Rush: Stop by the famous Red Onion Saloon for a drink or grab a hot, fresh Alaskan fry bread, a unique sweet treat that's chock-full of carbs (and joy).
Next up was Alaska's capital, Juneau, the only U.S. capital with no road access (you can only get there by boat or plane). I was told Juneau is the best port for whale watching, so that's what we did, though you can also spot orcas and humpbacks from the cruise ship if you sit observing the horizon for long enough. But nothing beats the excitement of boarding a whale-watching excursion ship, where passengers hold vigil with eyes on the horizon while the captain radios to nearby vessels on the lookout for whale activity. Whales are massive mammals, but they keep a low profile, only alerting to their presence with a discreet puff of air from their blowholes. Your first spout spotting -- or maybe the breach of a dorsal fin, or, if you're lucky, a full-on tail-out dive -- will take your breath away. We were fortunate to spot a pod of whales during our adventure, including a mother and calf who swam near our boat for several minutes before carrying on their way.
In our final port, Ketchikan, it was time for fjords. We booked the Misty Fjords National Monument by seaplane excursion and were blown away when we landed the antique de Havilland Beaver floatplane in the water next to a fjord and felt its cool mist. Misty Fjords National Monument encompasses more than 2 million acres of granite cliffs, cascading waterfalls and lush forests, and the scenery from the air is unbelievable.
Back in Ketchikan, we walked to Creek Street to observe the salmon fighting their way home to their natal stream to spawn. Like them, we were nearing the end of our journey, though ours was a happier venture with a happier ending.
What about the weather? And, other helpful notes on visiting Alaska with Princess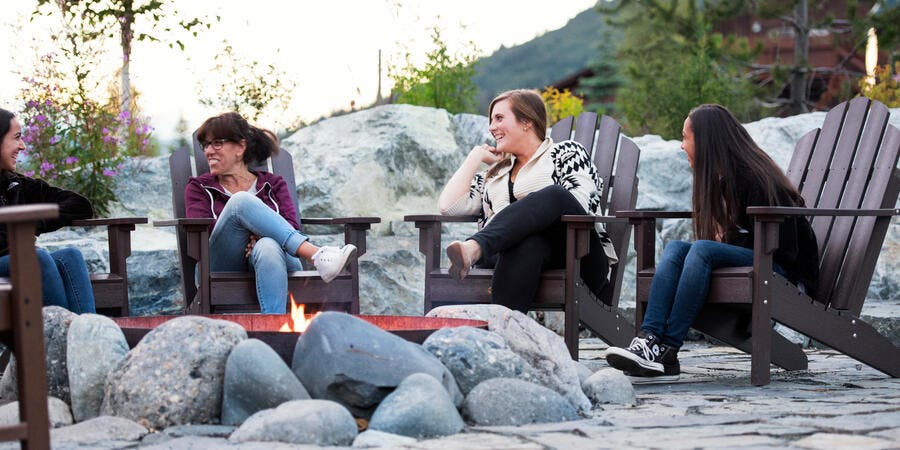 I was told the best times to visit Alaska are late May to early June, when summer's longer days provide more hours of sunlight, and animals are in their more active, pre-hibernation hyperphagia. But September, when we went, has its perks. Leaves are already turning, imbuing your trip with a colorful fall foliage element, and there's still a high probability of seeing wildlife.
Few think to plan a leaf-peeping trip to Alaska, but the state gives New England a run for its money. Going toward the end of the tourist season also means there are sales in the shops and on the ship, and fewer children and families because kids are back in school.
I pictured inland Alaska as a barren, snow-logged wilderness, and while it might be during the winter months, most tourists aren't visiting during that time. Alaska is a seasonal destination, easiest for visitors to access in the summertime.
I loved that both the lodges and the ship have laundry rooms available to passengers; we never pack more than a carry-on, even for Alaska, but with bulky clothes, like sweaters and hiking gear, comes little room for variety, thus a necessity to rewear and repeat outfits. Having the ability to wash, dry and fold to keep our clothes fresh made all the difference.
What I love about cruising, and specifically the indulgent vibe of Princess, is that you can make your days as full or as relaxing as you please. The variety of activities on offer presents a wide array of enriching things to do: dog sledding, trout fishing, whale watching, "Deadliest Catch"-style crab boat adventures. But, the siren song of the Lotus Spa with its heated waterbed loungers and soaking tubs will also leave you better than it found you.
I know the point of cruising Alaska is to see and explore Alaska, which we did with zeal, but I'd be lying if I said I didn't look forward to the trip's scenic days at sea, slowing the pace to drink in some of the most outrageous beauty to be found on Earth.
---
Skye Sherman is a private pilot, scuba diver and travel writer covering destinations, cruises, trains, travel news and all things Florida for publications including Travel+Leisure, The Epoch Times, Palm Beach Illustrated and more. She is based in West Palm Beach, Florida.
---
Discover why cruising is the best way to experience Alaksa!