Starting with Norwegian Breakaway, Norwegian Cruise Line reinvented its promenade decks so passengers can soak up the sea with a bite to eat on The Waterfront, an oceanfront destination onboard.
---
What It Is
Passengers who love to cruise want unobstructed ocean views and sea breezes, yet many mega-ships are floating amusement parks that offer everything but. To re-connect its passengers with the sea, Norwegian Cruise Line replaced the old-school promenade deck on its newest ships with The Waterfront.
Located on Deck 8, The Waterfront features a quarter-mile oceanfront walking path along with comfy sectional sofas and armchairs. Located on both sides of Deck 8, it also offers alfresco outlets of several of its most popular restaurants including Ocean Blue, Cagney's and La Cucina, along with bars that include The Cellars Wine Bar, Sugarcane Mojito Bar and The Cavern Club.
Featured Videos
Live Interview With Frank Del Rio, NCLH President And CEO, About Company's "Safe To Sail" Campaign
Video Scenes From The Golden Girls Theme Cruise 2019
Norwegian Bliss Virtual Tour - Why You Should Be Excited About Norwegian's Newest Ship - Video
Norwegian Breakaway Highlights
The Waterfront On Norwegian Cruise Line - Video
Norwegian Getaway Highlights
Inside Look: The Haven On Norwegian Cruise Line - Video
Norwegian Escape's Ropes Course - Are You Brave Enough?
Inside Look at Norwegian Sky In Cuba
Norwegian Escape Attractions - 7 Free Things You Have To Try - Video Tour
Sneak Peek: "Beauty And The Beast" On Disney Dream -- Behind The Scenes Video
The Himalayan Bridge On MSC Meraviglia - Ropes Course POV Video
4 Exclusive Spots On Norwegian Escape - Video Tour
Norwegian Escape Photo Tour
Harmony Of The Seas Pool And Sports Zone
Harmony Of The Seas Boardwalk
Harmony Of The Seas Entertainment Place
Harmony Of The Seas Royal Promenade
Plunging Into Adventure On The Tallest Slide At Sea: Royal Caribbean Reveals 10-Story Ultimate Abyss
Norwegian Breakaway Video Tour (2013)
Oasis Of The Seas Flowrider - Cruise Critic Goes Surfing
Oasis Of The Seas Jazz On 4 Performance
It's also the place to swing by and grab a cup of something decadent at Dolce Gelato.
Take a morning stroll, snuggle up with a book or watch the ship pull into port and snap photos from the perfect vantage point. It's one of the least crowded spots onboard, and the lounge areas are covered if you're looking for respite from the midday sun.
Price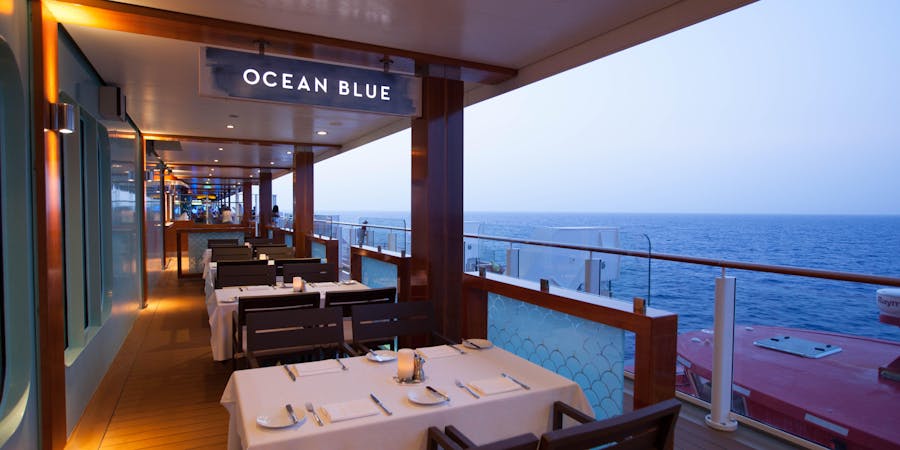 Access to Norwegian's The Waterfront is free, as is settling in to any of the comfortable seating. Dining or drinking at any of the outdoor food and beverage venues costs extra.
---
Ships
The Waterfront is available on the following ships:
See photos of The Waterfront on Norwegian Bliss.