Ready for a rollicking good time? If so, The Choir of Man, a musical-cum-acrobatics show, set in an Irish pub, is sure to please.
---
What It Is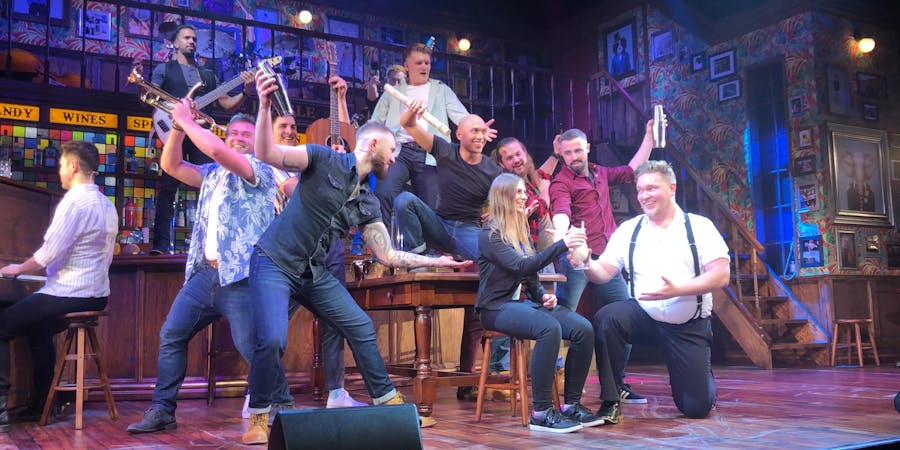 Choir of Man isn't a traditional musical; it doesn't have a plot. Instead, it's a musical performance starring an eight-strong cast of the men -- all of differing heights, weights and personas -- who each get to tell their story by singing cover songs relevant to their lives.
That's a simple description. The reality is that Choir of Man is a downright rollicking show during which the men perform their hearts out. The show takes place in an Irish pub, and the men use the setting to its full musical advantage by dancing, playing instruments, hurling themselves into the air and jumping over tables and bars.
It's joyous and tender and heartwarming and funny. It also challenges a lot of male stereotypes about just wanting to get drunk, raising some real questions about ostensibly "macho" guys talking to each other and opening up, so by the end of the show you feel a real affinity with the characters.
But, primarily it's all about the music, which starts with "Welcome to the Jungle" and encompasses traditional Irish songs, Queen's "Don't Stop Me Now" and other crowd-pleasers, along with incredible harmonies (there is a live band) and perfect pitch. It may look and feel (deliberately) like a bunch of guys in a pub having a laugh, but it's much more than that, and we'd hazard a guess it'll be one of the best things you see on a cruise ship. Pure, joyous entertainment.
Featured Videos
Live Interview With Frank Del Rio, NCLH President And CEO, About Company's "Safe To Sail" Campaign
Video Scenes From The Golden Girls Theme Cruise 2019
Norwegian Bliss Virtual Tour - Why You Should Be Excited About Norwegian's Newest Ship - Video
Norwegian Breakaway Highlights
The Waterfront On Norwegian Cruise Line - Video
Norwegian Getaway Highlights
Inside Look: The Haven On Norwegian Cruise Line - Video
Norwegian Escape's Ropes Course - Are You Brave Enough?
Inside Look at Norwegian Sky In Cuba
Norwegian Escape Attractions - 7 Free Things You Have To Try - Video Tour
Sneak Peek: "Beauty And The Beast" On Disney Dream -- Behind The Scenes Video
The Himalayan Bridge On MSC Meraviglia - Ropes Course POV Video
4 Exclusive Spots On Norwegian Escape - Video Tour
Norwegian Escape Photo Tour
Harmony Of The Seas Pool And Sports Zone
Harmony Of The Seas Boardwalk
Harmony Of The Seas Entertainment Place
Harmony Of The Seas Royal Promenade
Plunging Into Adventure On The Tallest Slide At Sea: Royal Caribbean Reveals 10-Story Ultimate Abyss
Norwegian Breakaway Video Tour (2013)
Oasis Of The Seas Flowrider - Cruise Critic Goes Surfing
Oasis Of The Seas Jazz On 4 Performance
Make sure you come early (or stay late) so you can have a pint onstage with the guys.
Price
The Choir of Man on Norwegian Cruise Line is a complimentary show staged in the main theater. You will want to make reservations in advance, as the show is popular.