For many people, reality TV shows about Alaska are the first entry point into learning about the 49th State. And, perhaps one of the biggest is "Deadliest Catch," on the Discovery Channel. The series, which follows commercial fishermen searching for king crab in the Bering Sea, has been going strong since 2005.
The Bering Sea is pretty far -- and pretty rough -- for the typical cruise ship. Luckily, people who want to learn more about the risky conditions aboard crab fishing vessels can take a Bering Sea "Deadliest Catch"-themed tour in Ketchikan. The three-hour tour, held twice daily, features Aleutian Ballad, a ship featured in the second season of the series.
The Experience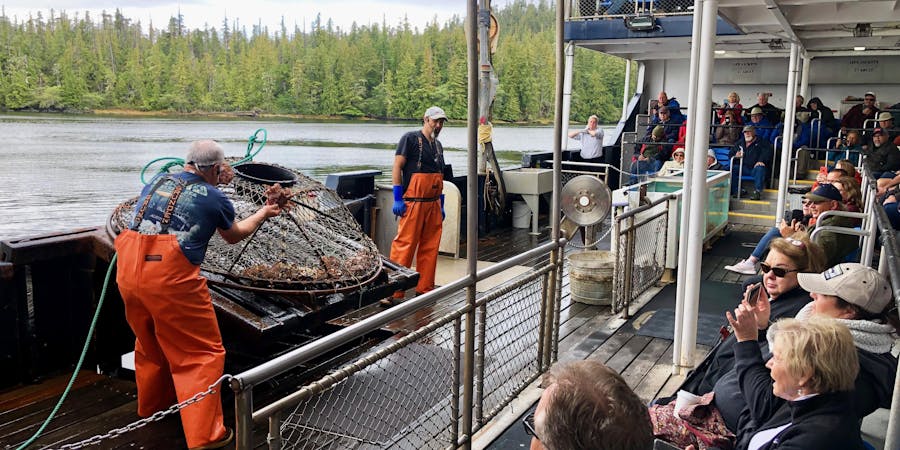 (a TripAdvisor company) for $199 and you can also book direct.
Our Take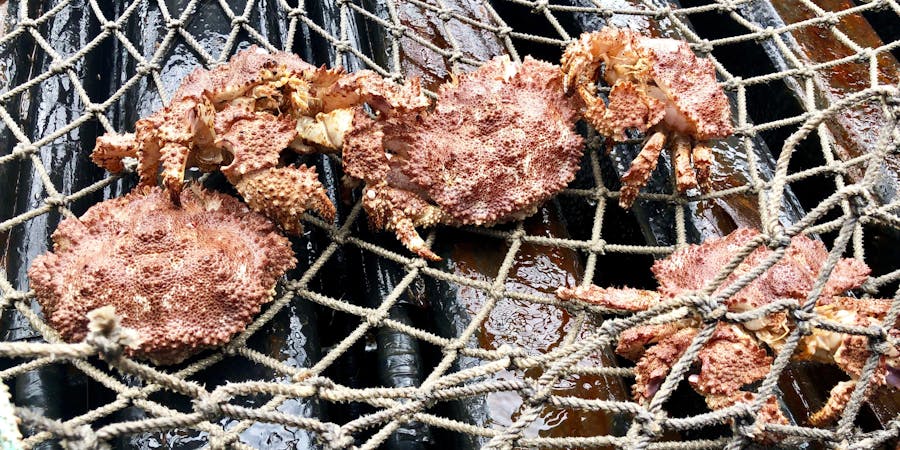 We boarded Aleutian Ballad on a typical Ketchikan day -- overcast and raining. We opted for the upper level for photo purposes, but the higher seats meant more exposure to the wind and rain. A deckhand gave us a warm fisherman jacket to wear.
Featured Videos
Here's What It's Like Onboard the First Large Cruise Ship to Alaska in 21 Months
Perfect Day at CocoCay: Here's How We Spent 2 DAYS at Royal Caribbean's Private Island
Our Celebrity Silhouette Cruise Experience: March 2020 vs. July 2021
Back on Celebrity Silhouette: Here's What It's Like On One Of Our Favorite Ships 15 Months Later
Celebrity Millennium -- Video Tour & Ship Review (2021)
LIVE: Cruise Critic is Onboard Celebrity Apex -- The Magic Carpet
Q&A: Cruisers and Crew Chat About The Joy of Cruising's Return
LIVE: Cruise Critic is Onboard Celebrity Apex -- Eden
LIVE: Cruise Critic is Onboard Celebrity Apex -- The Retreat
LIVE: Cruise Critic is Onboard Celebrity Apex -- Infinite Veranda Cabins
LIVE: Cruise Critic is Onboard Celebrity Apex -- Your Cruise Director
LIVE: Cruise Critic is Onboard Celebrity Apex -- Pools
LIVE: Cruise Critic is Onboard Celebrity Apex -- Embarkation
Live From Adventure of the Seas: What's the Same, What's Different and What's Better?
5 Reasons MSC Cruises' Yacht Club Is Worth The Splurge
7 Can't-Miss Experiences on Allure Of The Seas
Best Spots For Adults On A Disney Cruise Ship
Video Highlights From The Impractical Jokers Cruise 4 (2018)
How River Cruising Allows You To Explore Like A Local
Inside Look 2018 Ship-Hop: A Cruise Vacation For '90s Lovers
Highlights From Regent Seven Seas Explorer
River Cruising: Video Q&A With John Waggoner On American Countess, American Queen Steamboat Company's Newest Ship
The Most Luxurious Cruise Ship Suites at Sea - Video Guide
5 Ways A Seabourn Cruise Will Make You Feel Special - Video Tour
Love Luxury Resorts? Here's Why You Should Cruise Seabourn
Cruise Critic Tries The Ultimate Abyss Slide On Harmony Of The Seas (POV Video)
5 Best Onboard Spots For Wine And Tapas
5 Crazy Cruise Deck Attractions For the Adrenaline Junkie
Cruise Embarkation Tips: What NOT To Do On Your First Day
MSC Virtuosa Ship Tour: What It's Like Onboard MSC's Newest Ship (May 2021)
Alaska 2021: Inside Passage Businesses Talk About A Devastating Season Without Cruise Tourists
Video Scenes From The Golden Girls Theme Cruise 2019
4 Best Places To Get Craft Beer At Sea - Video Guide
Harmony Of The Seas Cabins - Video Tour - Cruise Critic
HRH Prince Phillip Visits Cunard's Fleet
Baltic Family Cruise On Disney Magic - Day 5
As the boat set off from the Ketchikan pier, we heard a bit about the Aleutian Ballad's history. Its claim to fame came after a rogue wave hit the ship in season 2 of "Deadliest Catch," resulting in some of the series' most dramatic (i.e., terrifying) footage. After it stopped being used for fishing, the boat's owner, David Lethin, spent $2.5 million to turn it into a tour boat.
While the boat might be the draw, it's really the deckhands -- Andy and Dave -- who made the crab fishing world come alive. We listened duly to their explanations of the boat's machinery and it was pretty cool to watch them reel up the troll lines and crab pots (although it wasn't as dramatic once we learned they had already staged them with crab and fish, as well as an octopus). The crowd loved being able to take photos with live crab, some of which spent their time in an aquarium on deck.
But, the best moments of the trip came when Andy and Dave told personal stories about their lives on fishing boats. Andy, now white-haired, first joined a fishing boat at age 15, as a "last resort before military school," as he put it. Slightly younger, Dave got into fishing so he could raise money for his Alaskan rock 'n' roll band. Both men were engaging storytellers, and incredibly personable; it wasn't surprising that people lined up at the end of the tour to take photos with them.
The landscape, too, is a draw. Ketchikan is an amazing place to get out on the water and the Aleutian Ballad's destination, Annette Island, was as pretty as they come. The tour company has made an exclusive agreement with the Metlakatla Indian Tribe to lease the land, which means they can drop their crab pots and do things like feed bait fish to eagles without federal oversight.
Bottom Line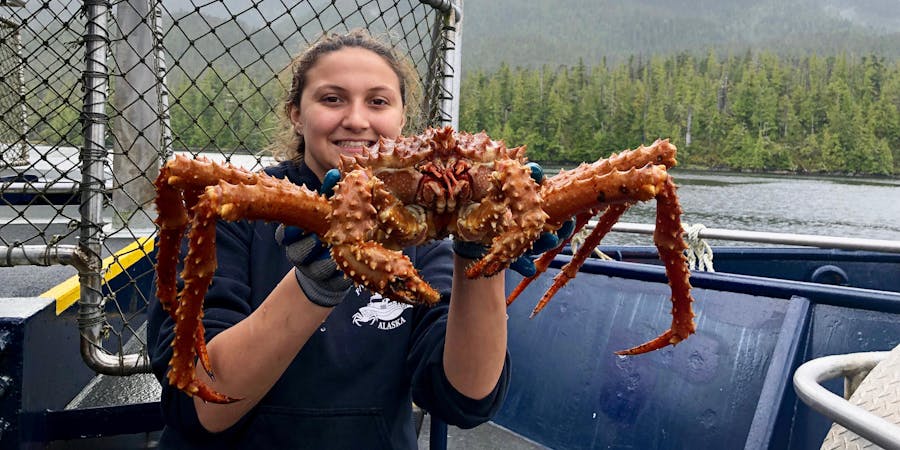 The "Deadliest Catch" crab fishermen tour is both educational and entertaining, thanks primarily to the guides and their sea tales. If you like the TV show, you'll likely love this tour.