Norwegian Cruise Line's Sun Class comprises the line's two smallest ships. Although they're among the line's oldest vessels, large-scale refurbishments have kept the them relevant and able to offer a full complement of dining venues, bars and outdoor activities.
Sun-Class Ships
Sun-Class Amenities
Despite their smaller sizes, Norwegian Sky and Norwegian Sun, launched in 1999 and 2001 respectively, pack quite a punch with numerous dining venues, bars and lounges. Each offers multiple main dining rooms, a top-deck buffet and a diner-style pub and grill, all included in the price of the cruise.
There are also several extra-fee specialty venues that include a steakhouse, French bistro and Italian trattoria. Add to that a minimum of five bars and lounges, and cruisers on these ships never go hungry or thirsty.
When it comes to entertainment and recreation, the two ships in the Sun Class have pools (one on Sun, two on Sky), as well as hot tubs, a main theater with song-and-dance revue-style evening shows, a jogging track and a basketball/volleyball court. They've each got a golf driving net as well, plus the usual array of cruise activities and games.
Featured Videos
NCL's Restart: What It's Like On The First Norwegian Cruise Ship Back in 16 Months
Best Spots For Adults On A Disney Cruise Ship
The Most Exciting New Ships In 2021
5 Crazy Cruise Deck Attractions For the Adrenaline Junkie
Cruise Embarkation Tips: What NOT To Do On Your First Day
Live Interview With Frank Del Rio, NCLH President And CEO, About Company's "Safe To Sail" Campaign
Norwegian Bliss Virtual Tour - Why You Should Be Excited About Norwegian's Newest Ship - Video
Norwegian Breakaway Highlights
The Waterfront On Norwegian Cruise Line - Video
Norwegian Getaway Highlights
Inside Look: The Haven On Norwegian Cruise Line - Video
Inside Cabins On Cruise Ships: Whose Is Best?
Norwegian Escape's Ropes Course - Are You Brave Enough?
Inside Look at Norwegian Sky In Cuba
Norwegian Escape Attractions - 7 Free Things You Have To Try - Video Tour
4 Exclusive Spots On Norwegian Escape - Video Tour
Norwegian Escape Photo Tour
Cruise Critic Tries The Ultimate Abyss Slide On Harmony Of The Seas (POV Video)
Norwegian Breakaway Video Tour (2013)
Cabins are pretty standard across the Sun Class. Neither ship has The Haven, but they do have suites, including Owner's and Penthouse varieties. Both ships also have designated family cabins, but neither has cabins designed for solo travelers.
Differences Among Ships Within the Sun Class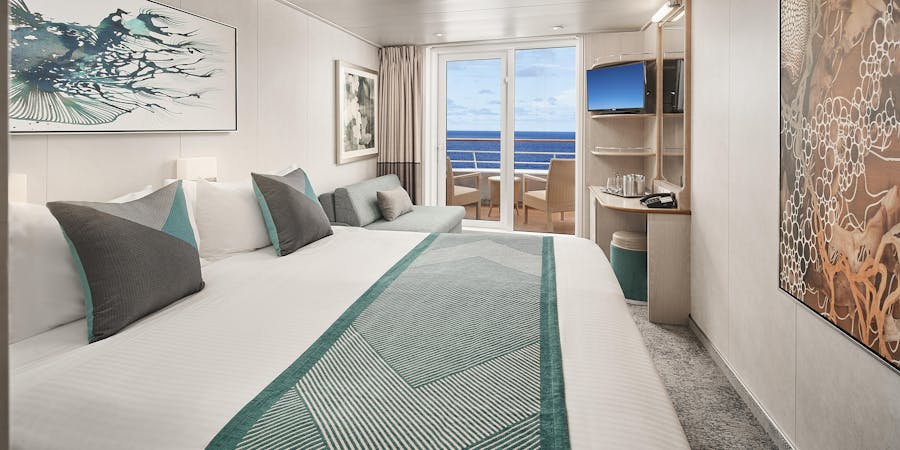 The main difference between the two Sun-class ships is that Norwegian Sun has just a little bit more of most things than Sky in the way of restaurants and cabin choices. Among these extras, Norwegian Sun boasts the Moderno Brazilian churrascaria restaurant, Teppanyaki hibachi eatery and Los Lobos Mexican venue.
As for cabins, the ship has family-designated balconies, ocean views and inside rooms, while Sun has only family-designated ocean view and inside cabins. Sky is the only one with mini-suites.
With that said, Sun has a Starbucks outlet, as well as the Sugarcane Mojito Bar, while Sky does not.
Best For
Norwegian's Sun-class ships are best suited for people who want a smaller ship experience and can keep themselves occupied with reading or activities such as trivia, Pictionary and Bingo, but who don't want to sacrifice choice when it comes to dining and evening entertainment.
Both ships are a good choice for someone new to cruising who wants to start with a shorter cruise, as they both do three- to five-night sailings. Norwegian Sky, in fact, only does these shorter cruises, while Sun also sails longer Alaska and Panama Canal itineraries.  
These ships are not suited for anyone hoping to avoid extra expenses onboard, particularly when it comes to alternative dining. Cruisers looking for a lot of whiz-bang attractions -- such as ropes courses, water slides and other high-energy activities -- should also look elsewhere.
Suite cruisers wanting a truly elite cruise experience should seek out the line's newer ships, which all have The Haven, Norwegian's most exclusive suite experience.
To learn about other Norwegian Cruise Line ship classes, see Norwegian Cruise Line Ship Classes.