Princess Cruises' partnership with Discovery offers unique educational and entertainment options to cruise passengers. Lovers of marine wildlife might want to check out the summertime Shark Week cruises in the Caribbean.
What It Is
Don't let the name mislead you; designated Shark Week cruises take place over the course of several weeks in the summer, with activities mainly offered on the first day of the cruise. They're centered on Caribbean Princess' family-friendly summer Caribbean sailings.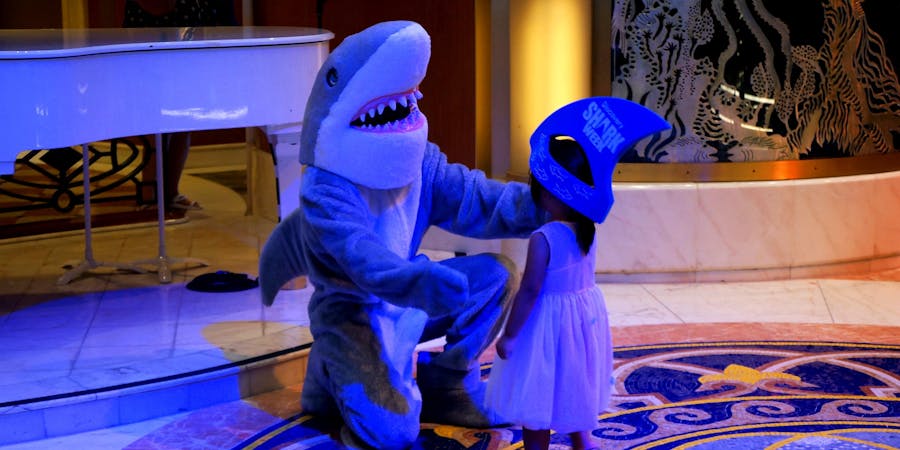 Kids will find shark-themed activities at the Family Fun Fair in the piazza, including shark-themed face painting, glitter tattoos, shark coloring pages and a contest to guess the number of shark teeth in a jar. A crew member dressed up as a shark is on hand to dance and take photos with the kids. Shark fin foam hats are passed out to all passengers, young and old, who pass through the piazza during the fun fair. Shark-themed activities might also be offered in the kids and teen clubs.
Featured Videos
Star Wars Day At Sea On Disney Cruise Line
Adventures By Disney Seine River Cruises
3 Reasons To Book An Adventures By Disney Cruise Tour - Video
Photo Tour of Regal Princess
Sneak Peek: Disney Fantasy Highlights For Kids - Video Tour
Carnival Corporation Introduces the Ocean Medallion at CES
Harmony Of The Seas Youth Place
Gavin Macleod - Capt. Stubing On "The Love Boat" -- Cruise Critic Interview (2013)
NCL's Restart: What It's Like On The First Norwegian Cruise Ship Back in 16 Months
Live From Carnival's Mardi Gras: The French Quarter
For adults, Princess shows Discovery's latest Shark Week show on the poolside movie screen, as well as shark-focused on-demand TV. Depending on your sailing, you might be getting a sneak preview before the show airs live on TV. Be on the lookout for shark-themed cocktails and mocktails, such as the Shark Attack Margarita and the Super Strawberry Shark Chum, as well as snack items such as shark decorated cookies.
Price
Princess Cruises' Shark Week activities are free for all onboard. Specialty drinks cost extra.
Ships
Caribbean Princess is the only ship to offer full Shark Week activities. Ships sailing Alaska and Europe in June and July will also screen the premier Shark Week video content.