Carnival Cruise Line provides a variety of venues offering music and drink, including the ever-popular piano bar. It might go by different names on each ship, but it remains the same throughout the fleet: a hot spot for late-night entertainment with jovial sing-alongs and sometimes nutty piano players dedicated to giving everyone a good time.
Ambiance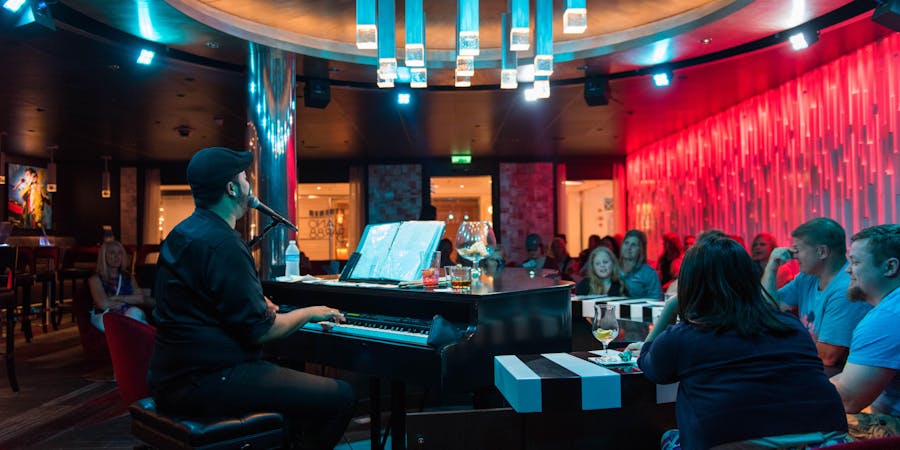 Regardless of what names they go by -- most are called Piano Bar 88 -- Carnival's piano bars have an old-fashioned lounge feel with dark ambient lighting. The piano sits in the middle of the space, partly encircled by bar seating decorated to look like a piano keyboard. There, cruisers take a seat, order their favorite cocktails and request their favorite tunes, with many joining in to sing along.
It typically opens around 9 p.m., and sometimes takes a little while to warm up. But once it gets going, it's usually standing-room-only, and you can be sure to see people singing the rousing chorus of "Sweet Caroline" at the top of their lungs at least once per night.
For the first two hours, the piano bar is open to all passengers; after 11 p.m., it's limited to cruisers 18 and older.
Drinks
The piano bar's drink menu is composed of music-themed cocktails, martinis, shooters and nonalcoholic beverages, plus a large selection of beer. Jazz fans might like the "Ragtime," which is a "harmonious chorus" of spiced rum, peach schnapps, cranberry juice and grenadine. Broadways babies can sample a martini called "The Show Stopper," which is a mix of Absolut Citron, Champagne, strawberry puree and lime juice.
Featured Videos
Video Scenes From The Golden Girls Theme Cruise 2019
How To Make A Towel Animals: Swans, Dogs And Elephants
Towel Animals With Carnival Cruise Line And Cruise Critic: How To Make A Towel Dog
Towel Animals With Carnival Cruise Line And Cruise Critic How To Make Towel Swans
Towel Animals With Carnival Cruise Line And Cruise Critic: How To Make A Towel Elephant
[Sponsored] Interview With John Padgett
Cruise Critic Quick Chat With Carnival CEO Arnold Donald
How To Make Carnival Cruise Line's Famous Warm Chocolate Melting Cake - Video
Shaquille "Shaq" O'neal Named Chief Fun Officer Of Carnival Cruise Line
Carnival Cruise Line's "Choose Fun" Commercial
Carnival Splendor Highlights
Carnival Conquest Highlights
Carnival Pride Highlights
Carnival Dream Highlights
Carnival Sunshine Highlights
Carnival Breeze Highlights
Carnival Liberty Highlights
Sneak Peek: "Beauty And The Beast" On Disney Dream – Behind The Scenes Video
The Himalayan Bridge On MSC Meraviglia - Ropes Course POV Video
Skyride On Carnival Vista: Cruise Critic Tries It
Carnival Vista Top Deck Attractions
Behind the Scenes at CSMART - Carnival's Arison Maritime Training Center
Cruise Pier Runners In Cozumel -- Carnival Liberty
Harmony Of The Seas Boardwalk
Harmony Of The Seas Pool And Sports Zone
Harmony Of The Seas Entertainment Place
Harmony Of The Seas Royal Promenade
Plunging Into Adventure On The Tallest Slide At Sea: Royal Caribbean Reveals 10-Story Ultimate Abyss
Oasis Of The Seas Flowrider - Cruise Critic Goes Surfing
Oasis Of The Seas Jazz On 4 Performance
Price
There is no fee to visit the piano bar, but regular beverage prices apply. A 15 percent gratuity is automatically added to all bar drinks.