When it comes to popular foods, pizza remains a perennial favorite the world over. No matter your age, you're never too old for a slice, whether you give it the Brooklyn fold or use a knife and fork. Carnival knows what its cruisers want, and on select ships it offers 24/7 fresh, hot pies at Pizzeria del Capitano.
Ambiance
Pizzeria del Capitano is an ultra-casual 24-hour pizza counter located outside, aft, on the Lido Deck on select Carnival ships. It features a traditional pizzeria red-and-white theme with booths and tables so you can grab a pie and dine alfresco.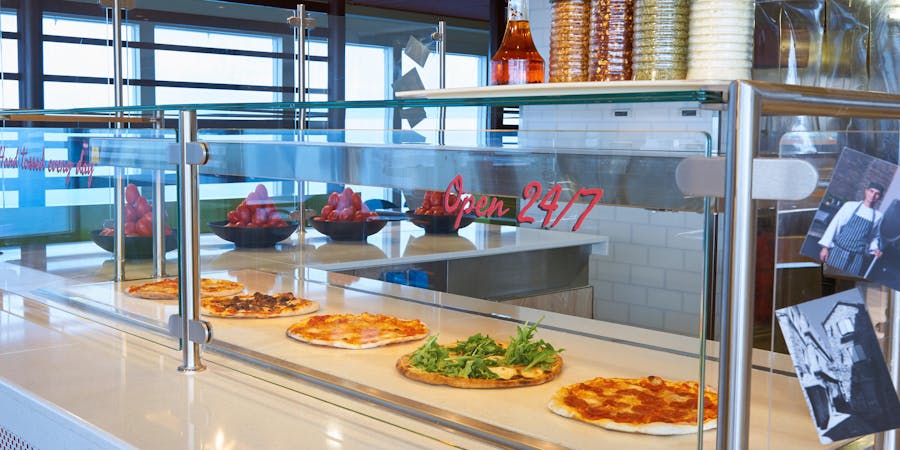 Meals
Pizzeria del Capitano offers hand-tossed thin-crust pies in five options: Margherita, Funghi (mushroom), Pepperoni, Quattro Formaggi (four cheese) and Prosciutto. Made fresh, these pizzas are served directly from the pizzeria's kitchen. (You can also request a gluten-free pie any time of day, but be prepared for a longer wait.)
Fresh grated Parmesan cheese and pepper flakes are available for anyone who'd like to enhance their pizzas. In addition, the pizzeria offers Caesar salad upon request.
The handmade pizzas are approximately 12 inches in diameter, or the size of a dinner plate, with four slices per pizza. More often than not, people order an entire pizza, which can -- and often does -- lead to lines and long wait times at the counter. This is particularly true at lunchtime, in late afternoon and in the evening.
Featured Videos
How To Make A Towel Animals: Swans, Dogs And Elephants
Towel Animals With Carnival Cruise Line And Cruise Critic How To Make Towel Swans
Towel Animals With Carnival Cruise Line And Cruise Critic: How To Make A Towel Dog
Towel Animals With Carnival Cruise Line And Cruise Critic: How To Make A Towel Elephant
[Sponsored] Interview With John Padgett
How To Make Carnival Cruise Line's Famous Warm Chocolate Melting Cake - Video
Shaquille "Shaq" O'neal Named Chief Fun Officer Of Carnival Cruise Line
Carnival Cruise Line's "Choose Fun" Commercial
Carnival Splendor Highlights
Carnival Conquest Highlights
Carnival Pride Highlights
Carnival Dream Highlights
Carnival Sunshine Highlights
Carnival Breeze Highlights
Carnival Liberty Highlights
SkyRide On Carnival Vista: Cruise Critic Tries It
Carnival Vista Top Deck Attractions
Behind the Scenes at CSMART - Carnival's Arison Maritime Training Center
Cruise Pier Runners In Cozumel -- Carnival Liberty
Cruise Critic Quick Chat With Carnival CEO Arnold Donald
Pizzeria Del Capitano Menu
Editor's Note: This is a sample menu only, and it's subject to change without notice.
Price
There is no charge to dine at Pizzeria del Capitano.
Ships
Pizzeria del Capitano is available on the following ships: