What is Price Alerts?
Price Alerts is a cruise price tracker shopping tool from Cruise Critic that allows users to sign up to receive email price drop notifications when prices change on specific cruise sailings, itineraries, destinations, cruise lines and more.
How do I sign up for Price Alerts?
There are a few options to sign up for alerts.
On the
Find a Cruise
page, users can search for cruises using different filters, such as destination, cruise line, ship, departure port and sail date. Next to each result is a "Get Price Alerts" link and bell icon, which, when clicked, will prompt for an email address where the alert will be sent.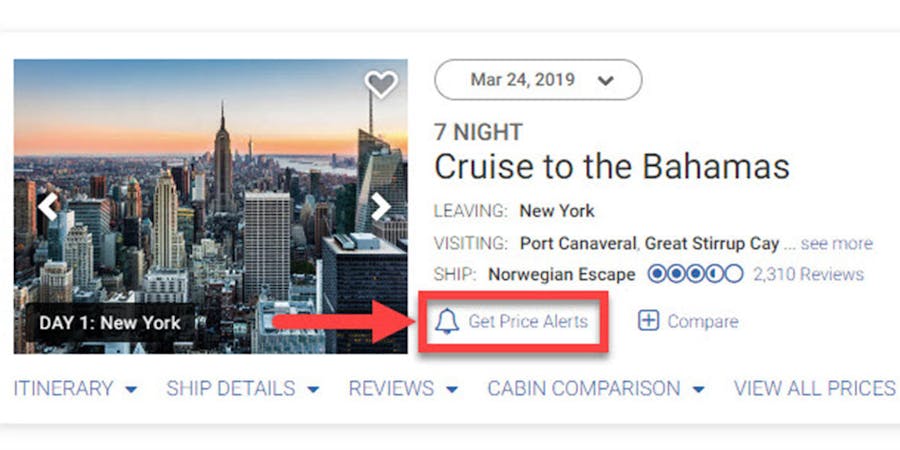 Or you can use the Price Alert signup widget, seen below. For example, you can register for Alaska cruise price changes on the Alaska page. If you sign up on the Carnival Cruises page, you'll create an alert for Carnival price changes. Alert registration requires only your email address; you can give it a try below.
When are Price Alerts notifications sent?
Price Alerts are sent as often as once a day when:
The lowest price has dropped 10%+, or more than $100 (whatever the higher amount) for the specific sail date or itinerary of the alert. 
The lowest price remains unchanged, but there is a 20%+ drop for a higher cabin type in the selected alert.
When there is an increase in price of 10%+ or more than $100.
How does Price Alerts get its information?
Cruise Critic compares current fares across major cruise lines and online agents several times a day. If prices change, the new price is featured on the site, giving our users the most up-to-date pricing information.
Cruise price drop alerts are sent every morning if there's a change that triggers an alert. If the price changes after the email is sent or the price listed is no longer available, the site will reflect the current price.
What are the benefits of Price Alerts?
Keep Watch for the Latest Drops
Watch for new price drops by selecting Price Alerts based on your cruise preferences. These will be delivered daily (if there is a change) as an email digest for each of your specified criteria.
Monitor When Prices Rise
Our cruise price drop tracker notifies you when prices increase on the types of cruises you're following. These will be delivered daily, giving users the ability to monitor prices and potentially save on fares before they increase even more.
Snap Up The Latest Deals
By comparing rates multiple times a day, we are able to publish new deals on a daily basis, offering more chance to take advantage of the best deals before they sell out.
Better Price Visibility and Convenience
Price Alerts compare fares across multiple sites -- both when prices rise, and when they fall -- giving users insight into pricing trends and activity, all in one place, to find the best price.
Suite Discounts
Some of the largest discounts occur when cruise lines cut the price of suites and luxury staterooms. By signing up for Price Alerts cruise price notifications, users will automatically see when a suite falls to a more affordable price range.
All the Answers to Your Questions Just a Click Away
When it comes to choosing a deal, cruise shoppers can find everything they need to know about the cruise line, ship, ports of call and shore excursions, simply by looking at the
reviews on Cruise Critic
or asking a question in the
Cruise Critic forums
.
How can I manage my Price Alerts?
Users can manage their Price Alerts in the User Center Email Settings page, which is linked in every email alert sent.
Remove unneeded alerts by clicking on the "Delete" link next to the alert: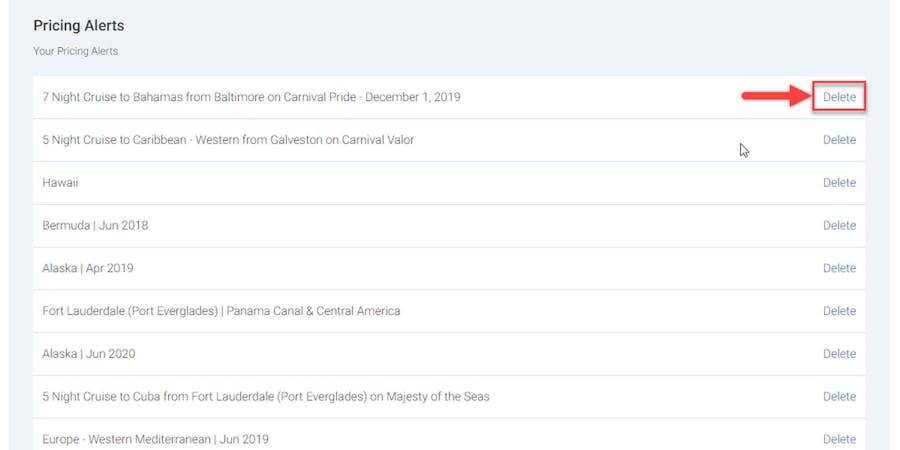 Does Cruise Critic sell cruises?
No. Cruise Critic highlights cruise deals and prices, but it does not sell cruises. Once compelled to book a cruise, shoppers can visit our cruise line or travel agency partner sites to actually book the cruise. 
As an independent cruise review site and community, Cruise Critic provides information about all aspects of cruising to help travelers choose the right ship, cruise line, itinerary, and site on which to purchase, without affiliation to any line or agency.