Can a luxury cruiser, accustomed to small ships with just a few hundred like-minded passengers, enjoy cruising on Cunard's 2,691-passenger Queen Mary 2? If they book a Princess or Grill Suite, we certainly think they can.
If you're contemplating a transatlantic crossing or other cruise on Cunard's flagship, here's our scoop on the line's upper-class Grill Suites and the Cunard cruise experience, from a luxury traveler's perspective.
Queen Mary 2 in a Nutshell
For a luxury cruiser, think of Queen Mary 2 like you would an airplane ride: The experience matches the class you travel in. The Princess Grill is akin to business class, and the Queens Grill is hands-down a first-class ride. Book any other cabin class, and you'll feel like you're flying coach.
Unlike with airplanes, when you venture beyond the exclusive Grills venues, you'll discover a beautiful ship with many elegant public spaces and passengers adhering to an evening dress code. The ship will most likely be a hit for luxury cruisers, as long as they come in with the right expectations.
Cunard's Fare Inclusions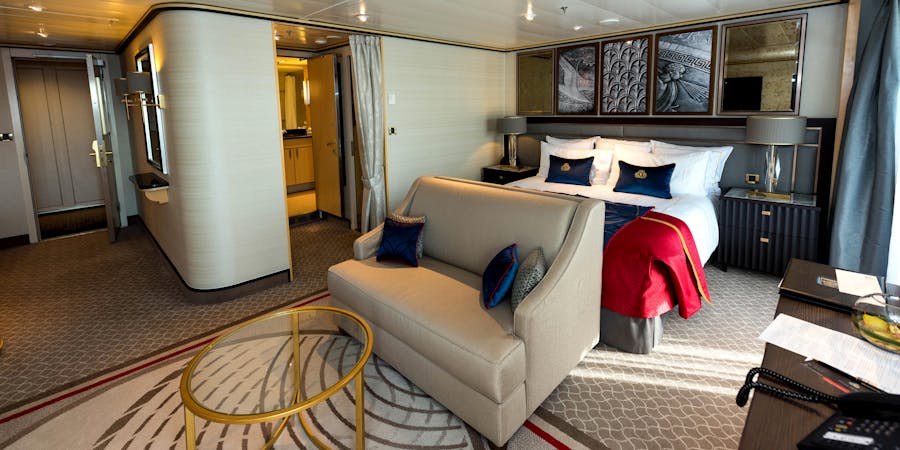 Cunard's fares are more a la carte than true luxury lines, and luxury travelers must understand that even for Grill passengers, alcohol (other than a welcome gift), gratuities, Wi-Fi and shore excursions cost extra. All Grill passengers have exclusive access to restaurants and lounges regular passengers can't use and receive priority embarkation and debarkation. Queens Grill passengers also receive priority tender service.
Princess and Queens Grill Suites
All Grills passengers bed down in suites. Princess Grill suites are a comfortable 381 square feet. Think of these suites as comparable to a lower-level balcony suite on a luxury line. Queens Grill suites are offered in five categories, beginning at 506 square feet and running up to uber-lavish 2,249-square-foot duplexes. Queens Grill suites -- with marble baths and stunning high-end furnishings -- are comparable to the midlevel and grandest suites on luxury ships.All Grills suites possess comfortable seating areas and king-sized beds accented by buttery leather headboards and silky soft
sheets (a higher grade than those found in standard cabins). You can play with pillows from a nine-choice menu. Balconies are large, with seating for two at the minimum.Bath amenities are England's pricy Penhaligon toiletries, luxury by anyone's standards, but available in all cabins onboard. Velour robes and slippers are good enough.All Grill suites feature bars stocking complimentary bottled still and sparkling water, an illy coffee machine with plenty of capsules, electric tea kettle, Twinings tea and Walkers biscuits. Welcome amenities include delicious chocolate truffles for all Grills passengers, plus inexpensive sparkling wine for Princess Grill passengers and Champagne for Queens Grill's.Princess Grill suites' most attractive assets are the light wood accents, such as the coffee table, bar and desk, but the blue couch and beige chair, while comfortable, feel more Westin than Four Seasons. Only the spacious bathroom can disappoint the fussiest cruiser. It's tiled -- no marble -- and there's but one sink (though some luxury ships offer one sink, too). Some luxury travelers might object to the shower curtain (versus glass doors), although it looks new and spotless.You won't have butler service, but your steward perfectly maintains suites and fulfils requests quickly. You will feel well taken care of, if not pampered.A Queens Grill suite is a luxury cruiser's dream come true. Expect much marble and furnishings befitting a high-end Manhattan designer showroom. At the highest end, bask in a sweeping staircase, butler's kitchen, exercise bike and his/hers dressing rooms with connecting baths. The sea views, from nearly everywhere, mesmerize. Queens Grill passengers enjoy butler service, as pampering and indulgent as butler service on any luxury cruise ship; passengers rave about their butlers.
Grill-Class Dining
On Cunard, each Grill level has its own main dining room; only Princess Grill passengers eat in the eponymous Princess Grill, and only Queens Grill passengers can dine in the Queens Grill. You'll feel most like a luxury cruiser in these restaurants than in any other suites-only space -- particularly for Princess Grill passengers, as they lack butler service.
Breakfast, lunch and dinner, the charismatic maitre d' dashes to your side, looking genuinely happy to see you, and attentively escorts you to your table. (There are many tables for two, and if you don't like your seating, expect the maitre d to change it discreetly and quickly.) Smiling servers appear instantly, pouring water, offering menus and presenting bread.
Tables are prettily set with Wedgwood bone china and fine flatware. Dining is leisurely and experiential at all meals. One evening, we rushed into the Princess Grill near closing time, and the maitre d' not only welcomed us without a hint of annoyance but also insisted we take a deep breath and treasure a lengthy repast.
The food, catering to a primarily British and American crowd, ranges between good to excellent. Menus in both venues are similar, but Queen's Grill offerings are more extensive than at the Princess Grill, with more a la carte options. Chefs are only too happy to tweak dishes as you request.
Both menus emphasize primo English ingredients, such as Romney Marsh lamb. Special dinners for two, such as chateaubriand and roast duckling, are stellar. Dessert might be the old school deliciousness of crepes Suzette, flambeed tableside. Three-course Canyon Ranch Spa menus at lunch and dinner -- only for Grill Suite passengers -- impress.
The comprehensive wine list hopscotches the world, offering many high-end bottles. Our sommelier's suggestions were always spot-on.
The Princess Grill sports elegant yet subdued decor, while the Queens Grill's sets a decidedly upper-crust tone with lipstick-red dining chairs and many gold accents. The vibe there is more exclusive country club restaurant.
If the crowd is more British than American, conversation is quieter, but when more Americans are onboard, passengers often chat up a storm with those dining at adjoining tables. It's like everyone's at a party that thousands more want to attend -- which, actually, rings true.
Grills Lounge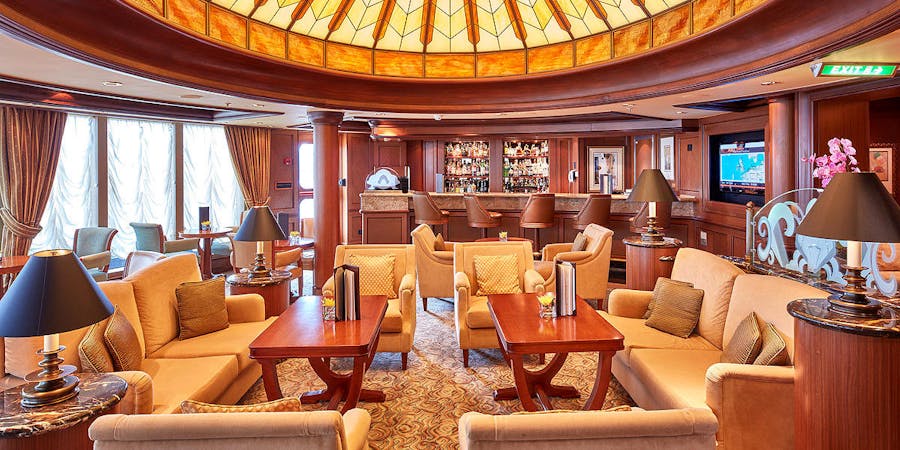 Servers cover cocktail rounds with white cloths and present silver trays laden with small dainty sandwiches, such as open-faced cheese and tomato, or coronation chicken salad in a croissant.The marvelous scones, stamped with a QM2 insignia, come with perfectly clotted cream and mini-jars of Bonne Maman preserves, which are highly regarded for their fruit-driven low-sugar content and flavor. Picky luxury cruisers might quibble that the preserves are French, not English; on the lower end of cost and not served spooned into a bowl.
Grills Terrace
Reserved for Grill suite passengers only, this sun deck offers rows of cushioned lounge chairs flanking a whirlpool. The ocean view is lovely. You will have to spread your own towel on the chaise and fetch your own glass of water. No server will stop by to spritz you with sunscreen or offer a fruit kebab.
A bartender awaits any drink orders at a table setup, although you will pay for soft drinks and alcohol. He may occasionally come around to chairs, but mostly he mans the simple bar setup.
Concierge Lounge
Grills passengers need never wait on lines with everyone else; the concierge handles all requests in this comfy room. Expect plush chairs and sofas, a coffee and tea station, newspaper digests (from countries like the U.K., U.S. and Australia), assorted magazines and a table laden with cookies and other temptations throughout the day. Another attendant sits at a shore excursion desk for itineraries with port visits.
Room Service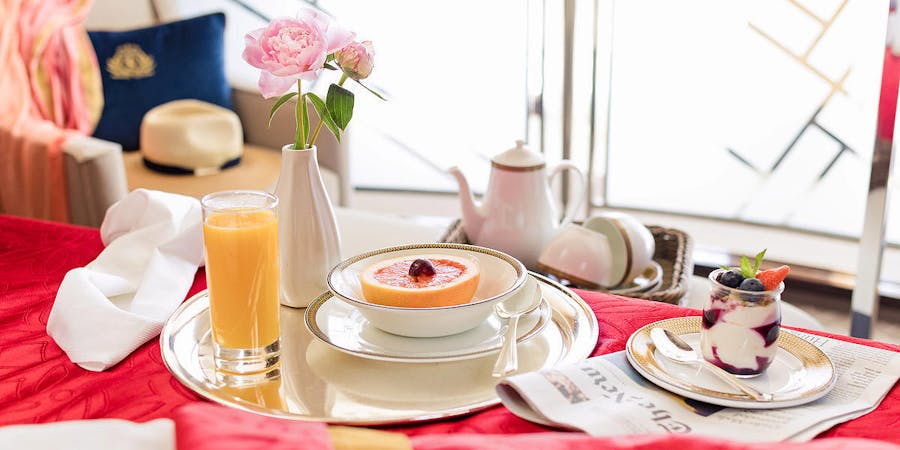 For Princess Grill passengers, the complimentary 24-hour room service will not be your BFF. Although choices are varied, dishes are brought on a tray and left on the coffee table. Only Queens Grill passengers get a proper table setup, done by their butlers with a flourish. In addition, Queens Grill passengers can dine on Queens Grill restaurant cuisine, served course-by-course, in-suite, and have afternoon canapes delivered by their butler.
Queen Mary 2's Communal Spaces
One of the greatest pleasures for a QM2 luxury cruiser is to experience the multitude of stunning public spaces and nonstop activities onboard, such as classical pianist performances and gifted lecturers, both day and night. We sailed with the charismatic Lord John Astor of Hever -- quite the pedigree, who delivered great talks and answered questions on his English aristocratic heritage. Here are a few of our favorite all-passenger venues that will appeal to well-heeled cruisers.
Canyon Ranch SpaClub: While the clean, functional locker room is less than lavish, treatment rooms replicate the cozy cocoons showcased on luxury ships. Luxury passengers will be pleased by the extensive and diversified array of available services, such as oxygen boost facials, black olive and coffee firming body scrubs and reflexology. Plus, spa therapists know their stuff. We sampled a deep-tissue massage by a hands-of-steel masseuse and nearly floated off the table.
Planetarium: Grill suite passengers find hard-to-score planetarium show tickets readily available in the Concierge Lounge. Yes, you must stand in line before the show -- we know, luxury cruisers hate queues -- but it moves quickly and the show's well worth it.
Boutique Shopping: Grab your credit card and hit the shops starring serious luxury goods, such as H. Stern jewelry and on-trend dresses from the Temperley London label, a favorite of the Duchess of Cambridge, Kate Middleton.
Laurent-Perrier Champagne Bar: The most romantic bar onboard, this hideaway features cream and gold chairs, stunning orchid plants and huge pictures of iconic movie stars, like Humphrey Bogart and Lauren Bacall, locking eyes. Choose among lovely bottles of Laurent-Perrier bubbly, including a dazzling rose.
Carinthia Lounge: Added during a 2016 refit, this pretty lounge is a nighttime must-visit. We love the Art Deco-tinged furnishings, with curved-back chairs and sofas in rich blue and gold hues. The gifted musicians who perform here make paying for drinks go down easy.
Golden Lion: This British pub is wildly popular; seek lunchtime seats early or late. We love hopping on bar stools, sipping top-notch ale and tucking into super crunchy beer-battered Atlantic cod and chips. And yes, we love cheering on the football matches, broadcast live on the television from the U.K., even if we don't know who's playing -- or even understand the game.