Load up a bowl of all your favorite ingredients, hand it to the cook and watch 'em shake it up. Carnival's Asian stir-fry bar is one of the line's most loved buffet stations. The options are endless and best of all it's free, so you can come back anytime and try that sauce or topping you didn't get to earlier.
Ambiance
Mongolian Wok shares the ambiance of its neighboring food stations at the Lido Buffet or on the pool deck. (Location varies by ship.) It's a large, bustling space, where lines form quickly, chatter abounds and chefs call orders to each other and to hungry patrons.
The look of the buffet itself varies by ship; most versions embrace some sort of a theme -- such as Rosie the Riveter on Carnival Valor. Newer ships' buffets are more simplified and contemporary, though you'll still see predictable Carnival accents like artificial palm trees and decorative lighting fixtures.
Lines typically peak at noon, when the station opens for lunch, and between 2 and 2:30 p.m., just before close.
Featured Videos
How To Make A Towel Animals: Swans, Dogs And Elephants
Towel Animals With Carnival Cruise Line And Cruise Critic How To Make Towel Swans
Towel Animals With Carnival Cruise Line And Cruise Critic: How To Make A Towel Dog
Towel Animals With Carnival Cruise Line And Cruise Critic: How To Make A Towel Elephant
[Sponsored] Interview With John Padgett
How To Make Carnival Cruise Line's Famous Warm Chocolate Melting Cake - Video
Shaquille "Shaq" O'neal Named Chief Fun Officer Of Carnival Cruise Line
Carnival Cruise Line's "Choose Fun" Commercial
Carnival Splendor Highlights
Carnival Conquest Highlights
Carnival Pride Highlights
Carnival Dream Highlights
Carnival Sunshine Highlights
Carnival Breeze Highlights
Carnival Liberty Highlights
SkyRide On Carnival Vista: Cruise Critic Tries It
Carnival Vista Top Deck Attractions
Behind the Scenes at CSMART - Carnival's Arison Maritime Training Center
Cruise Pier Runners In Cozumel -- Carnival Liberty
Cruise Critic Quick Chat With Carnival CEO Arnold Donald
On ships that have a Ji Ji Asian Kitchen, you'll find Mongolian Wok there, but only open for lunch.
Meals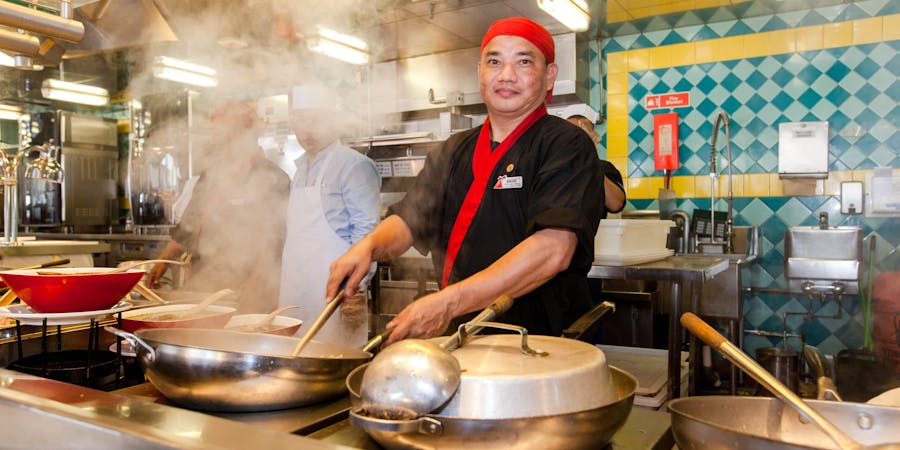 Customizing meals at Mongolian Wok is simple. You start by grabbing a bowl, choosing your desired noodles and filling it with as many vegetables as you'd like from a salad bar-style counter. Ingredients include rice noodles, bean sprouts, peas, green beans, corn kernels, mushrooms and onions.
Once you make your way through the line to the chefs, you hand over your bowl and select a meat -- options include chicken, beef or mussels -- and one of three sauces: black bean (mild), Thai barbeque (medium) or Szechuan (hot). The chef will then dump all the contents into a wok (Chinese-style cooking pan) and stir it up until it's ready to go. Note: Meats are already cooked and simmering on another burner, to ensure the line moves smoothly.
Price
Mongolian Wok is free, as it's part of the Lido Buffet.
Ships
Mongolian Wok is available on the following ships:
• Carnival Breeze
• Carnival Dream
• Carnival Freedom
• Carnival Horizon (inside Ji Ji Asian Kitchen)
• Carnival Liberty
• Carnival Magic
• Carnival Panorama (inside Ji Ji Asian Kitchen)
• Carnival Sunshine (inside Ji Ji Asian Kitchen)
• Carnival Valor
• Carnival Vista (inside Ji Ji Asian Kitchen)
See photos of Mongolian Wok on Carnival Liberty.